Posted on
Warner continues to dominate hitters in two All-Star wins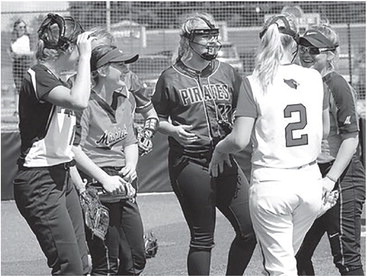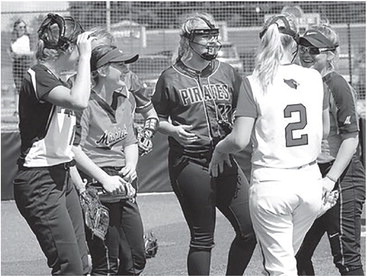 WFSCA SENIOR ALL-STAR GAMES
After a regular season where she was the only senior on Gilman's roster, Addy Warner got a day to play softball with a team filled with seniors and had a blast at the July 13 Wisconsin Fastpitch Softball Coaches Association Senior All-Star Games in Wisconsin Dells.
Warner played for the Division 4/5 Black team, which went 2-0 on the day, beating the White team 9-0 and the Green team 5-4 in eight innings.
The Black team featured four players from Division 4 state champion Mishicot, three players from Gilman's Eastern Cloverbelt Conference rival Greenwood-Loyal and two Athens Blue Jays. The head coach was Kurt Rhyner of Thorp, a former Gilman teacher and softball assistant, who brought along All-Western Cloverbelt player Kaytlyn Stunkel.
Gilman head coach Brian Phelps was an assistant coach for the squad, along with Craig Diedrich of Athens, a longtime coaching friend of both Phelps and Rhyner, and Rhyner's daughter Paige, now a catcher at UW-La Crosse.
"We had a group that felt like they had played together for four years," Phelps said. "They really clicked and I think they had a blast. I know the coaches had a good time."
For Phelps, this was the first time the teams he's been a part of have won games at the all-star event in his multiple appearances since 2003. "It was a super fun experience playing with different kids. I had a great time," said Warner, who was named to the WFSCA All-State Small Schools second team after the event. "I'm going to play in college so I'm going to have to play with different kids there. So it was a good experience to see what it's like playing with a team that knows what they're doing. I was playing with girls who are all leaders, which was great. They all knew what they were doing. I loved having all that leadership on the team."
Warner was a leader herself during the team's wins with solid outings in the circle in both games. She pitched the back halves of both games and allowed just one hit and, to Phelps' recollection, about 13 strikeouts.
"Everything was working for her," Phelps said. "She was able to throw both her low riseball at the waist and then her high riseball effectively. I think we only had to throw about three change-ups because they weren't really catching up to her."
Warner said it was good to have her high school coach in the dugout calling pitches and the outing was a great momentum builder as she moves on to the next chapter in her softball career at Madison College.
"I must've given everything I had because for a couple of days afterward, every single muscle I could've used was sore," Warner said. "I pitched good. The Madison College coaches were there watching me for a little bit, so I was like I gotta make sure I'm doing good so they know they've got a good one.
"It was great going up against good hitters like that and still being a good pitcher," she added. "I don't know how many strikeouts there were, but it was quite a few. At least you know you are actually good, you not just going up against crappy teams and striking them all out. You're actually going up against good players. It was a good confidence booster for me."
Warner also got some time at first base, a position she has played in the past, and put the ball in play offensively, collecting a hit in both games.
"Everybody on the team saw in the book in my little biography thing that I had the most career home runs at my school," Warner said. "They were like 'well, how many did you have?' I said '19 for my career.' They said that's an odd number, you might as well make it 20. I did have one or two good hits, but noth- ing too fantastic."
The only hit Warner gave up was a looper into shallow rightfield. The comical back story is that was the only pitch call where Rhyner overruled Phelps.
"I was totally expecting a riseball," Warner said. "Coach Rhyner was like 'throw it low and outside.' I did and that was the only hit they got off me. No one scored so that was OK. I can just lay the blame on coach Rhyner."
The shutout win in game one came against a team primarily representing southern Wisconsin. The Green team, however, was coached by Cadott's Kari Moldrem and featured players from western Wisconsin, including four from the Western Cloverbelt Conference. That game was tied 4-4 through seven innings. Using international tiebreaker rules in extra innings. The Black team got a run in the top of the eighth and held on to that lead when Warner induced a pop-up that was tracked down by Athens catcher Shauna Belter, who made a difficult play in foul territory to end it with runners on base.
The all-stars got to Wisconsin Dells and met their teammates on Monday morning. After a brief practice, there was an afternoon pizza party at the hotel waterpark, which was followed by the annual all-star banquet Monday evening. Seniors selected to play in the games are required to raise funds, much of which is donated to Special Olympics of Wisconsin.
"We all met Monday morning and everybody was super nice right away," Warner said. "It was funny because I played with Greenwood-Loyal girls. We're usually rivals when we're playing against each other, but when we were on the same team, we were like best friends. You didn't have to worry about it. You didn't hate each other. We're playing together now. That's what I was nervous about. I was like 'uh-oh, I have to play said.
with them and they're going to hate me.' But they were great.
"We went and practiced on Monday and everybody seemed to click pretty well," she added. "We had about a half an hour on the field so it wasn't anything major, but everybody knew what they were doing so we didn't need a lot of time. I played with some Mishicot girls and they just won state, so they were still in the groove."
The rest of the Black team's roster included pitcher Katlyn Lindner of Greenwood- Loyal and her teammates, Kayla Bremmer and Gracie North, Belter and Grace Johnson of Athens, Taylor Weger, Maddie Dokey, Kally Krueger and Abby Garceau of Mishicot and Jordyn Halverson of Cochrane-Fountain City.
After her record-breaking 242 strikeouts this spring with the Pirates, Warner said being named to the All-State team last week was a pleasant surprise.
"That was great news. I was so excited. I didn't expect that," she said. "It was super exciting. I worked hard to get the things that I did get. I put in a lot of time and effort through all of this, so I'm glad it's paying off. I am excited (to play at Madison College). I can't wait for that."