Posted on
Gilman's Boie, Kroeplin among North's leading tacklers in 35-16 loss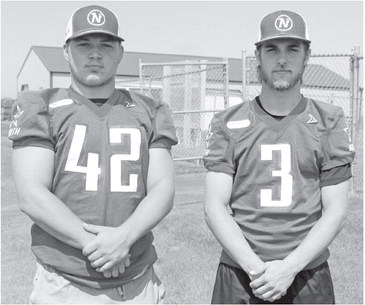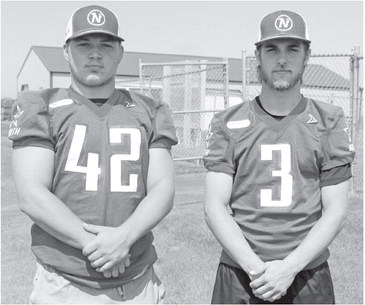 WFCA 8-PLAYER ALL-STAR GAME
Given one last chance to put on a helmet and pads, Gilman graduates Kade Kroeplin and Brayden Boie made the most of it last week during their experience with the North Eight-Player All-Stars.
The team of 19 players and five coaches first got together Tuesday at UW-River Falls and, after three days of practices, meetings and team bonding, took on the South All-Stars Friday night in the Wisconsin Football Coaches Association High School All-Star Classic held at UWOshkosh.
The South won 35-16, proving that turnovers matter no matter what kind of football game it is, but Boie and Kroeplin both had good showings for the North's defense. Playing at a safety position, Kroeplin was credited with seven total tackles –– five solos and two assists –– and a pass broken up. Boie, a defensive lineman, was credited with five total tackles, including a 2-yard sack and another halftackle for loss.
Boie also carried the ball on offense three times for 18 yards and Kroeplin returned two kickoffs for a total of 29 yards.
"That was a lot of fun," Boie said. "That was probably one of the greatest experiences of football in my career. We went from Tuesday night with the team where no one would talk to each other too much to Thursday night, before we left, we all stayed up until 2 a.m. just talking and getting to know each other. It was a lot of fun."
"I loved it, just meeting the new guys and everything," Kroeplin said. "It was like a whole different beast when you're playing with different people that you've never played with. In the beginning we all started off slow, not really talking to each other, so it was kind of awkward. But by Wednesday and Thursday night we were all mingling pretty good. It was definitely worth it playing football one more time. You gotta love it."
Both admitted being a little sore after the week, which wasn't a surprise considering they were coming off a baseball season that ended in late June and they hadn't done much football-related since Gilman's 24-20 loss to Belmont in the final game of the 2020 season on Nov. 13.
Matt Schoeneman of the Mercer- Butternut-Chequamegon co-op was the North's head coach and was the one who personally called the players to invite them to join the squad.
"It felt amazing after the head coach called me," Kroeplin said. "I was just happy that I got to play another game."
"Matt called me and he was like, 'so how would you like another shot at that Belmont quarterback?'" Boie said. "I said, 'oh I'd love to take another shot.' He's like, 'all right, we have the WFCA all-star football game, would you be interested?' I was like, 'I would be very interested in that.'" The team stayed at May Hall on the UW-RF campus Tuesday through Thursday, going through morning and evening practices, a late afternoon meeting, team meals and time to just hang out and get to know each other at night. On the way to Oshkosh Friday, the team stopped in Abbotsford –– where North assistant Ryan Karsten of Luck went to high school –– to stretch and go through a light walkthrough.
At 6 p.m. Friday, it was game time.
Kroeplin got into the action quickly, getting a solo tackle on Belmont's state Player of the Year Riley Christensen after a 6-yard gain on the first offensive play. Boie assisted on a tackle and Kroeplin got another stop on the South's second series, which ended in Schuyler Gilhausen of Auburndale recovering a fumble by Sevastopol's Logan Beyer at the North's 28-yard line. But, a handful of plays later, McDonell Central quarterback Tanner Opsal fumbled the ball away at the 32-yard line and the South used the short field to go ahead 7-0 on Christensen's 11-yard touchdown run.
The North responded with its most impressive drive of the half. A short kick gave the North the ball at its own 47 and the team methodically marched 53 yards in 14 plays and scored on a 1-yard run by Gunnar Lewis of Clayton. Lewis passed to Noah Christopherson of McDonell for the two-point conversion, giving the North an 8-7 lead that stood through halftime.
"Our defense came together pretty good actually," Kroeplin said. "Right away we kind of connected and focused on the assignments we had to do."
The scoring drive included rushes of 10 and 3 yards by Boie. The 3-yard run put the ball at the one, one play before the Lewis touchdown.
"I wasn't expecting to run the ball," Boie said. "They put a formation in Wednesday night, they called it hammer, where they put me in at fullback. We called it 'bigger boys.' Basically it was just up the gut stuff."
Kroeplin started the South's next possession with a solo tackle on Christensen and he assisted on a tackle of Greenwood's Sullivan Whitford. Boie and Gilhausen tackled Christensen for a 2-yard loss and Kroeplin ended the drive by breaking up a pass by Newman Catholic's Dylan Ackermann on fourth and 11 from the North 29.
Boie had a 5-yard carry on the ensuing possession, which was going well until a Lewis fumble at the South's 40 with 3:11 left. The teams then traded interceptions before the half.
Kroeplin returned a deep opening kickoff of the second half 13 yards to the 17 and the North went three and out. The South drove 55 yards in nine plays and took a 15-8 lead on a 2-yard run by Ackermann and a two-point pass from Ackermann to Wonewoc-Weston's Kaden Sprotte.
The South jarred the ball loose from Opsal at the 15-yard line and needed just two plays to score again on an 8-yard run by Christensen that made it 22-8. After a short punt, the South took a commanding 28-8 lead with 2:11 left in the third quarter and a 1-yard run by Whitford. Kroeplin had two solo tackles on the five-play, 49yard drive.
The North didn't quit, putting together its best drive of the game. The 74-yard, 12-play march ended in a 1-yard touchdown run for Lewis and his twopoint run to pull the squad within 28-16 with 10:35 left. But the South covered 53 yards in nine plays to ice it with 7:08 left on Ackermann's 10-yard pass to Jake Oertl of Williams Bay. Boie had his sack of Ackermann on the drive that put the South in a second-and-12 situation. It eventually went to fourth and seven, but Ackermann completed a 9-yard pass to Oertl that put the ball at the one. Joshua Daleiden of Northwood-Solon Springs got a 9-yard sack on first and goal, but Ackerman completed the touchdown pass on the next play.
Boie said he almost had another sack in the game.
"The whole first I was running the ball and playing defense, so I was playing both ways most of the time in the first half," Boie said. "That took a lot out of me. I was really tired in the second half.
"The guys that we played with, my teammates, they played their position very well." he added. "I have to give kudos to the South. They were spot-on with their spots too. It was definitely a tough football game. Everybody was waiting for a high-scoring game and it didn't really come out that way."
"Honestly I feel like if I would've had more practice it would've been better, but for barely a week of practice I think I did pretty good," Kroeplin said. "It's pretty cool because it's different all-stars out there, you know? It's not like a one-man show. You have to earn the trust with everybody else when you're out there."
The South only had a 295-268 advantage in total yardage. But the North lost four fumbles and threw one interception. The South had just two turnovers.
"That was a big thing Friday night, just the turnovers," Kroeplin said. "That's usually how football works."
Six different players ran the ball for the North, led by Lewis, who had 57 yards on 17 carries. Ackermann, who was the South's passing quarterback had a big day both throwing and running. He was six for 12 through the air for 98 yards and he ran for 66 yards on 14 attempts. Christensen, who ran for 350 yards on 42 attempts in the win over Gilman, ran for 68 yards on 14 attempts and the first-half interception he threw was his only passing attempt of the game.
The North won the Small School (17-14) and Large School (7-0) 11-Player games on Saturday. The all-star games raised more than $300,000 for the Children's Hospital of Wisconsin. Kroeplin was right at the top for the North with about $2,000 raised and Boie was only a couple of hundred dollars behind him, which is impressive for two all-stars coming from the same small town.
"It was a lot of fun helping raise money for the kids," Boie said.
"It was definitely worth it for the kids," Kroeplin said.
Both Gilman standouts are now looking forward to new chapters in their lives this fall. Kroeplin is headed to St. Cloud State, while Boie is attending UW-Whitewater. Both have visions of trading in their football equipment for gloves, caps and spikes and playing baseball for their schools.