Posted on
EXPECTING SUCCESS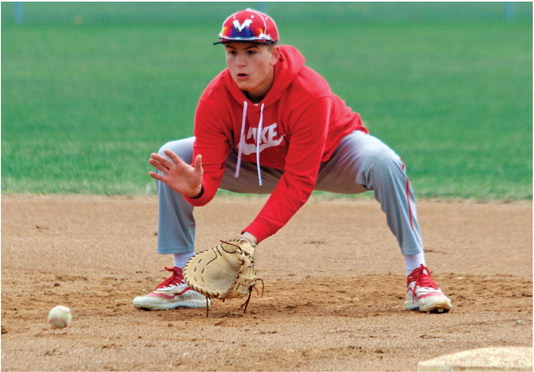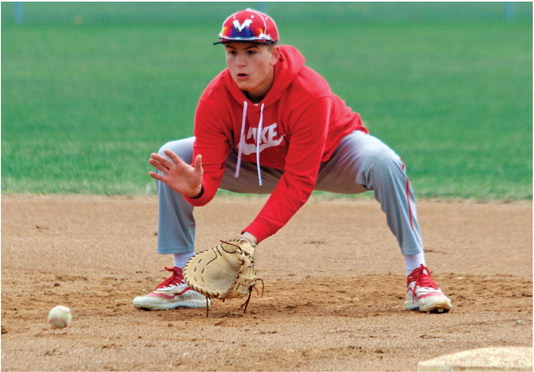 MEDFORD BASEBALL PREVIEW
Raiders think 2019 GNC title was just the start
The outstanding 2019 season had a sour ending, but for those involved in the Medford's baseball program, the belief is that year could go down in history as the start of something special.
Momentum from the program's first Great Northern Conference championship and a 20-9 season stalled in 2020 due to the COVID shutdown, but it has risen again early in 2021 because, on paper, the Raiders have all the makings of a contender under 17th-year head coach Justin Hraby.
The Raiders officially began practice on Monday, but in late March and early April, 15 coaching contact days allowed the squad to ramp up their preparations for the new year, and Hraby could easily tell his crew is thrilled to be back.
"You could tell the enthusiasm in practice was high," Hraby said. "They were flying around having a good time. Even though most our contact days were inside, that didn't seem to bother them. They're just happy to be back at it again. Mother Nature was nice. That gave us five to six outdoor practices out of all those contact days. We were even able to do an intrasquad scrimmage.
"The guys are just fired up. It helped having a little bit of summer last year to get in those reps and just get them out playing ball. But they're ready to get into the grind."
That grind begins Tuesday when the Raiders are scheduled to face Northland Pines at 5 p.m. at Raider Field in the season, home and Great Northern Conference opener. The teams will meet again three days later in Eagle River to kick off the full 26-game journey Medford has scheduled for the regular season. It's an ambitious slate to try to fit into a seven-week timeframe.
Hraby said he wouldn't have put this schedule together if he didn't think this year's group couldn't handle it.
"If we didn't have the pitching, not just with the varsity but just overall, we probably wouldn't have gotten that crazy about it," Hraby said. "We've been having 20-22 guys come in for pitchers' stuff, so I feel like we can play four, five or six games at each level in a week. Obviously we're not going to hurt anybody. I'd cancel a game before I'd put somebody out there with a sore arm. But we'll be competitive. We won't be throwing someone out there who's never done it before."
Since the Raiders last played a varsity game –– a heartbreaking 10-6 WIAA Division 2 regional final home loss on May 29, 2019 to GNC rival Antigo, who went on to win the state championship two weeks later –– team members have been part of a repeat trip to the state's Legion baseball tournament in 2019 and a non-WIAA summer season in 2020 that produced valuable game reps for many of the young men vying for time on the varsity roster.
"Obviously you never want to look too far ahead but this team can compete at every level –– conference, regional, sectional," Hraby said. "I still have a sour taste in my mouth from two years ago with Antigo, knowing they ran the table. That team (in 2019), was about the character, the leadership. That'll be hard to copy. But talent-wise, easily, I think we're more talented (this year). Knowing that and knowing our conference has sent teams to state like the last three or four seasons, I think it's our turn. Now is the time."
Medford's confidence starts on the pitching mound, where Hraby expects to have five quality arms. Senior Spike Alexander brings the most experience. The left-hander struck out 34 batters and walked just 13 in 32 innings as a sophomore and has a career earned run average of 3.24 in two varsity seasons.
Junior Caleb "Chubs" Guden has emerged with a fastball that now reach­es the mid 80-mph range, sophomore Logan Baumgarter is getting there and junior Seth Mudgett will get some innings as well. Senior Nate Retterath, Hraby said, has a good curveball that should keep hitters guessing.
Senior Desmon Firnstahl and juniors Brigham Kelley and Steve Hraby can throw strikes and get outs when needed.
Hraby said fans will see an improved Alexander when he takes the mound.
"Spike has really transformed himself into a solid overall pitcher," he said. "It's not I'm just going to throw as hard as I can and get it by you. The other night I watched him throw five pitches and every pitch had a different speed and a different arm angle. He's really been working on that."
Guden, who played well as a freshman, has enhanced his game and attracted college interest while playing throughout the Midwest for the Greg Reinhard Baseball Academy based in Madison.
Good pitching combined with good defense is what Hraby sees as Medford's number-one strength going into the season.
With Guden at shortstop and Baumgartner at third base, the Raiders should be very strong on the left side of the infield. Baumgartner will play shortstop when Guden pitches. Junior Aiden Gardner returns at catcher after a solid freshman season and an even better summer in 2020. Senior Blaine Seidl is locked in as the starter in centerfi eld after making a speedy recovery from a torn ACL in October.
From there, Hraby will use the next couple of weeks to try to figure how the rest of the pieces fit.
Alexander will be in the outfield or at first base when he's not pitching. Hraby said Retterath will be on the field somewhere on most nights. Seniors Nate Doriot and Emett Grunwald have good speed and can cover ground in the outfield. Firnstahl provides middle infield depth. Kelley and Hraby are vying for time at first base, while Hraby can play some outfield too. Senior Joe Gierl, who projects as a big bat in the hitting order also could find time at third base. Freshman Tanner Hraby is likely to work his way into some playing time as well. Then there's Mudgett, Medford's jack of all trades. "He's probably going to be our guy who's going to play spots when our pitchers aren't playing that spot," Hraby said. "I wouldn't say he's great at any one position, but he's pretty good at all of them. He's even got a first baseman's mitt. He can truly play anywhere. He's actually a pretty good catcher too. He is solid at all nine." Juniors Colby Elsner, Parker Crass and Kale Klussendorf and sophomore Tucker Kraemer also worked with Medford's older group during the contact days. For Medford to reach its ultimate goals, developing a consistent offense and seeing where the leadership comes from are two of the things Hraby is watching most. "Offensively I think we're going to be OK. I do," he said. "I think the one weakness that we have is coming up with that big hit, just coming off of last summer and from that 2019 season. We didn't score a ton of runs that season. We didn't have to. But it's just about coming up with that big hit. If we can get some guys to do that –– and we have the guys to do it –– I think we could score a lot of runs." Hraby added his only concern with leadership is that without a 2020 high school season, leadership is something that may take a little longer than usual to develop.
"Two years ago, we had a really good senior group," he said. "We had some really solid players, plus John McMurry as a junior. We had some really solid leaders. I think once we start to figure out who we are as a team and guys start accepting their roles, I think that will come into shape."
As for the GNC outlook, Hraby said that's hard to predict since there was no 2020 season. His hope is that late-season series with Antigo and Mosinee mean a lot in the title chase and there's good reason to think they will.
"Whoever's deepest with pitching is probably going to be sitting good, so I like our chances," he said. "If the weather cooperates and we stay healthy, I think the schedule is going to be favorable for playing a lot of games and having some fun this season."