Posted on
Dominator win caps Peterson's best Snocross season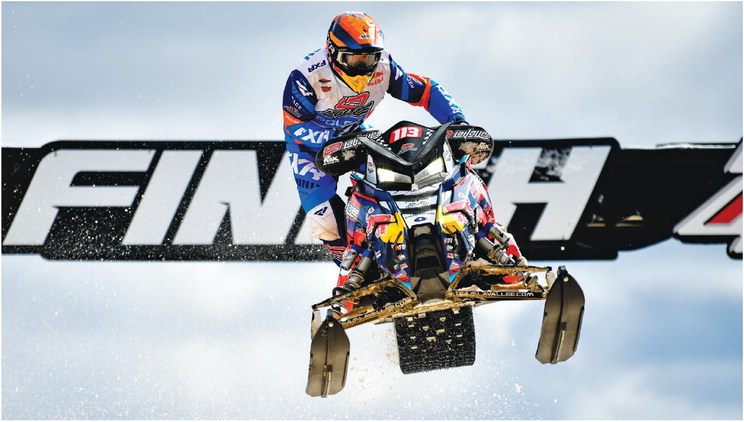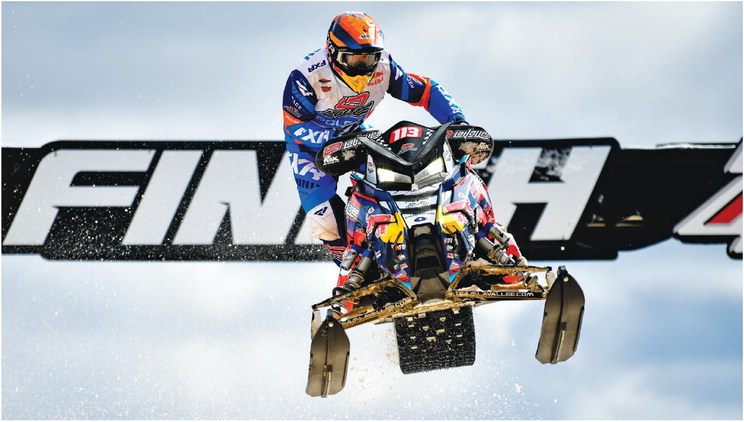 What was already a great weekend for Medford's Adam Peterson got even better Sunday when he capped the 2021 AMSOIL Championship Snocross season by winning the AMSOIL Dominator race Sunday in Eagle River.
A day after clinching the season points championship in the circuit's Pro Lite division, Peterson became the first Pro Lite winner in the 11-year history of the Dominator, an event that pits Pro Lite racers against drivers who are one class higher than them in the Pro division.
This year's Dominator was a 10-minute race, plus two laps. That's three minutes longer than Pro Lite riders typically race. The Dominator normally has a bracketed, head-to-head format, but this year it consisted of qualifying rounds and then the final race. Peterson led early in the final and got passed by 2021 Pro champion Elias Ishoel, who is also a twotime Dominator champion. But Ishoel crashed about halfway through the timed portion of the race, Peterson took the lead and never gave it back, winning the $10,000 top prize.
"It's not for any points or anything," Peterson said of the Dominator. "They take all the semipro riders and put them with the pro riders and you go through qualifying. All the semipro riders got to line up in the front row and then the pros were in the back row. Then it's just like a normal race. When it started out, I got the holeshot, so I was first around the corner. I got passed by the pro open champion for this year Elias Ishoel. He's from Oppdal, Norway and he's fast. I was right behind him for I think it was three or four laps. Then his belt broke so he crashed and went over the handlebars so then I was in first. I held off Emil Harr, who's from Norway, a pro rider."
Beating the pros and taking home a big trophy and check were nice, but Peterson said the greater pride came with clinching the Pro Lite season championship after 16 rounds of competition that started in early January.
"It was really exciting but winning the championship for points for Pro Lite was more exciting because it's a lot harder than people think," the 22-yearold Peterson said. "It's a lot of pressure too with sponsors and everybody is out to get you when you're the points leader. Everybody wants to beat you."
The Snocross season got its full schedule of racing in this winter despite the COVID pandemic, though some events had to be moved because of protocols and another got wiped out due to a lack of snow.
Last weekend's season-ending event was moved to Eagle River after being originally scheduled to be held in Grand Rapids, Mich. The previous weekend's event was originally supposed to be held at Lake Geneva, but it also got moved to Eagle River and the World Championship Derby Complex.
"Lake Geneva is usually my favorite track," Peterson said. "That's usually the only national race they have in Wisconsin. It's a really cool track, but they canceled that race this year because of COVID. We ended up going to Eagle Riv- er, which is even closer to home, so that turned out to be one of my favorite places because all of my friends came to watch.
"I bought a limo this summer. All my friends drove the limo up to watch me. So that was pretty awesome. Everybody knew who the Medford crew was."
Peterson is sponsored by Polaris and races for Team LaVallee, which is coowned by professional snowmobiler Levi Lavallee and Glenn Kafka of Mosinee. His chief mechanic is Brad Salzman of Merrill and Don Behling of Medford drives the Team LaVallee semi. Peterson is the son of Jeff and Pam Peterson.
During the Snocross season, Peterson accumulated 567 points during the 16 rounds of competition to edge Pro Lite runner-up Travis Kern of Aitkin, Minn. by 15 points. Carson Alread of Gaylord, Mich. was third with 504 points. The next-closest racer from Wisconsin was Nickolas Lorenz of Kenosha, who finished ninth with 392 points.
Each weekend during the season consists of two rounds of racing. Typically, there are qualifying rounds and then a final on Friday night, then another round of qualifying and a final on Saturday. Drivers can earn up to 10 points by winning a qualifying race and up to 25 points for winning a final.
The first sign this might be Peterson's year came in the first weekend of racing, Jan. 8-10 in Elk River, Minn. A year from having surgery to repair a torn ACL, virtually wiping out his entire 2019-20 season, Peterson won his first final of the new season. He won a qualifier and took second in the final on Saturday to establish the early lead in the standings and he stayed on top of the standings the rest of the way.
"I was nervous coming into this season, not sure I'd be able to pick up the slack after being out for so long," he said. "We came back, the first race was Jan. 10 exactly a year from when I had my knee surgery and I won it. That was really cool. Ever since then I was the most consistent rider in the semipro class."
In Dubuque, Iowa Jan. 15-16, Peterson won both qualifiers on Friday, but had a tough final, finishing 11th. He rebounded the next day with a first and third in qualifiers and a second-place finish in the 16-lap final.
Peterson won three of his four qualifi ers at Deadwood, S.D. and took fourth and second in finals Jan. 29-30. In Fargo, N.D. the following weekend, he again did well in qualifiers and took second and third in the finals to maintain his top spot.
"You can't have any bad days because that affects you big time for points," Peterson said. "Every race you have to try to get in the top five for points."
Peterson was fourth and fifth in finals races at Sioux Falls, S.D. Feb. 1920. Back in Elk River March 5-6, he took second and first in the finals to put him in great shape heading into the last two weekends at Eagle River. During the first weekend there, Peterson took third and first in qualifying rounds on Friday and placed fifth in the final. He won his opening qualifier on Saturday, but crashed in the second one. He won the Last Chance Qualifier to secure his spot in the final, but another crash dropped him to 14th place in that race.
"Two weeks ago, before going into Eagle River I was 65 points ahead," Peterson said. "But last weekend in Eagle River wasn't a good weekend. I crashed and I finished 14th in the final, so I lost 27 points. I didn't have it completely wrapped up (going into this past weekend). The second-place guy, he was doing really good too, so it was a lot of pressure. I just had to beat him every single race this weekend just to be able to wrap up the points." Two qualifying wins and a second-place finish Friday, one spot ahead of Kern, put Peterson in great shape. He sealed the championship with his win in the first qualifier Saturday, so he said the last qualifier and the final were just about having fun. He actually was disqualified from the final Saturday.
"FXR made me a custom jersey with the number one on it and it didn't have enough orange on it so they DQ'd me," he said.
A competitive racer since he was 12, Peterson said his previous best season was 2017-18, when he took second overall in the Sport division. He was sixth in the Pro Lite series final standings in 2018-19. He said he fell in love with the sport immediately after getting introduced to it by Mike and Jim Bauer of Owen.
"We used to go to the Snocross races they had in Medford," he said. "My dad knew Jim and they just got to talking and Jim found me a snowmobile to race and I just started racing. We were hooked immediately. It was awesome. My first race I got a second place and then we took the sled to Paul Niznik and got some fletching done and then I won that whole entire season, that first season in the 300cc class.
"We just started out doing small regional races around Wisconsin," Peterson added. "Then I think it was 2013 or 2014 we started doing the national series. That's all over, all the way from Jackson Hole, Wyo. to Salamanca, N.Y. and everywhere in between."
Peterson's relationship with Polaris started back in those early racing days. He's at the end of his current two-year contract with Polaris which includes sleds and parts allowances. As he renegotiates a new deal in the off-season, Peterson said his plan is to move up to the Pro division next year.
He was picked up by Team LaVallee a few seasons ago. Red Bull, Walker Evans Racing, FXR, Team Woody's, Rox Speed FX and C& A Pro Skis are among his other major sponsors.
"I was doing good coming up through the ranks in the sport class," he said. "One day Levi LaVallee got a hold of us and asked if we wanted to race for his grass roots program. He gave us all the gear and all his sponsors that he had, but we ran out of our own trailer. I worked my way up from that and did really good. Two years ago he asked me to race out of the semi. It's awesome."
In winter, Peterson spends much of his time practicing in Elk River during the week on two practice sleds. On race weekends, he typically has a main sled and a back-up sled in the trailers.
"The sleds are geared down a lot for short bursts of acceleration," he said. "The fastest you'll ever see in a Snocross race is 60-65 mph. The suspension on them is pretty crazy. We do a lot with our shocks between races."
Which leads to what Peterson believes is his main strength as a driver.
"I'm a good jumper I'm really good at timing the jumps and not coming up short or going too far," he said. "They say, 'jump for show, corner for dough.' But a lot of times in Snocross, jumping is really important. If you mess up one jump, you lose all of your momentum for the rest of the section, trying to get to the next jumps."
Also on the circuit
Medford native Jakki Farmer, now of Big Lake, Minn., and Zak Farmer of Medford also raced on the AMSOIL Snocross circuit this season.
Jakki Farmer finished fifth in the Pro Women's final standings with 490 points. Malene Anderson of Vadso, Norway was the champion with 668 points. Zak Farmer was 14th in the Sport division with 259 points. Evan Christian of Finley, N.D. was first with 601.
At Eagle River this past weekend, Jakki Farmer closed out the year with seventh- and fourth-place finals finishes. In 16 rounds this winter, she finished fourth in finals races six times and fifth four times. Zak Farmer's year was highlighted by fourth-place finishes in Round 7 at Deadwood and Round 10 at Sioux Falls.