Posted on
A SCHOOL-RECORD TIED, MORE BESTS AT STATE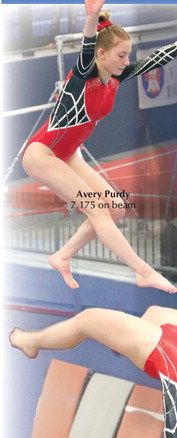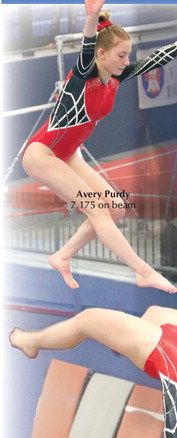 As three-time state gymnastics qualifiers, the Medford Raiders are getting used to big stages.
But, they said, competing in a smaller setting for Saturday's WIAA Division 2 state championships –– the Performance Elite Gymnastics club facility in La Crosse –– was a factor not to be overlooked in a team outing that resulted in the Raiders' second-best score of the season and a handful of personal-record performances.
Competing with three other teams and a handful of individual qualifiers in the day's second session of competition, the
Raiders compiled 134.75 points to finish sixth out of eight teams in the final standings. That included top-10 individual finishes by Kyla Krause on vault and Makala Ulrich on the uneven bars. Ulrich's 10th-place score of 8.75 on bars tied a 17-year-old school record. Krause's 9.275 on vault ranks second all-time in school history behind her own 9.4 from the sectional meet on Feb. 18.
The Raiders set a season-best team score on the bars, nearly did the same in the floor exercise and came up just short of last year's school record team score of 134.901, which was recorded at state, and nearly equaled at the Great Northern Conference meet Feb. 13 when they hit 134.9.
"It was fun," sophomore Anna Wanke said of the scaled-down, intimate version of a state meet. "It was almost like a club meet, it didn't feel too much like state."
"It made it a lot less stressful," Ulrich said. "Normally you see all the teams there, all 20 or however many there are, and you think, 'this is really big.' Today there were five teams here like a normal invite, so it was like, 'just go out and compete.'" "It was like a home meet," Megan Wanke said.
"State can be tough," head coach Steve Cain said. "Athletes are either going to go in on state day and they're going to triumph on a high note at the end of the season or they're going to succumb to nerves and uneasy feelings about the venue, they're going to be questioning every little thing about the equipment they're using. Knowing it was their last meet to hit their PRs, break records and represent the sport with dignity and pride, they simply did all that while doing their best."
All that separated Medford from a new school-record score were some falls from the balance beam, which has been the a W v ke st " U e her g.' n an
M
ch
beam
stages
n
ish na ind
vidual vau bar Ul i h' 10th l f 8 75 b tate." re d com-
b t"
Big finish on floor, season-best day on bars lead to 6th place
Megan Wanke
8.6 on floor
Anna Wanke
8.325 on beam
Avery Purdy
7.175 on beam
8.925 on floor
Kyla Krause
9.275 on vault
Kennedy Bilz
8.3 on vault
Makala Ulrich
8.75 on bars Raiders' most challenging event all season, and some bobbles on vault landings, though many of those can be attributed to the Raiders not settling for their safer quarter/three-quarter vaults and going for more.
"As for things attempted today, maybe they got them, maybe they didn't quite get them, but they attempted them 100%," head coach Steve Cain said. "For that, I'm proud of them."
High floor scores
For the second straight post-season meet, the Raiders were at their best on the floor. In this meet, the floor was their final event and it sent them into the offseason on a high note.
"I like either starting or ending on floor," Ulrich said. "If you start on floor, it just gets your energy up and if you end with it, we usually end on a good note."
Anna Wanke led the Raiders with a 9.05, which was right up there with the best routines of her two years on the varsity. She was part of a three-way tie for 13th in Saturday's individual standings. Her season-best was a 9.075 at Lakeland on Jan. 14 and her personal-best remains her 9.133 from last year's state meet.
Sophomore Kate Malchow did set a personal-best score of 8.925 as Medford's last competitor of the meet, easily beating her previous best of 8.7. Ulrich placed 20th individually with an 8.8, Kyla Krause placed 22nd individually with her 8.45 and Megan Wanke concluded her gymnastics career with a seasonbest 8.6, not bad for a gymnast who didn't think she was even going to compete this winter after hip surgery in October and just 0.05 off her personal-best score from last year.
Just as they did in the sectional meet, the floor routines raised the team's spirits right after a subpar outing on beam.
"When we went to floor, I thought we did a phenomenal job," Cain said. "This is our last meet of the season, I said to the girls, 'I want you to go to floor and I want you to go kick some butt, feel the music. I want you to have a good time. At this point, if you don't have a good time, then you shouldn't be here. You guys go to floor, finish the meet and have a good time. Get out there and just give 'er.'" Medford's second event of the meet was the uneven bars. What was once the toughest event for Raider teams to score on has become a team strength. The Raiders put up 33.55 points, topping their previous season-best of 33.3 from the GNC meet. Ulrich's record-tying performance led the way. Her 8.75 tied the school-record score posted by Maria Kiselicka in the 2004 sectional meet at River Falls.
Malchow was 13th in the final results with her score of 8.475. Anna Wanke's 8.45 was a new personal-best. Krause got a 7.875 and sophomore Avery Purdy earned a 7.15.
"All of the girls got their giants," Cain said. "Makala missed one handstand which brought her score down, but she also got her back uprises. Instead of giants, she does back uprises on the high bars. She got those, which was pretty cool. Kyla got hers too. As a team, they improved themselves over sectionals."
Medford's 34.05 vault points tied for the team's second-best score of the year behind the 34.45 points they scored in the GNC meet.
Krause's Yurchenko vault was again solid, particularly her second attempt, which got 9.275 score.
"If I wouldn't have stepped so far (on the landing) I would've tied or beat my PR," Krause said. Cain agreed.
"She just had that one step," he said. "That one step probably would have given her over a 9.4. It was a pretty big step and it pulled her a little. You might be looking three-tenths (for a deduction). That would've put her over 9.5."
Ulrich turned in a solid quarter/threequarter to earn an 8.325. Sophomore Kennedy Bilz also hit her quarter/three-quarter and got an 8.3. She felt a better landing would've pushed her past her personal record of 8.45. Anna Wanke and Malchow both got 8.15s. Wanke flip vaulted on both her attempts. Malchow's first attempt at a Yurchenko, as it has in recent weeks, was close. The landing just continued to elude her. She went the safer route with a quarter/ three-quarter on her second attempt.
"Kate went for it," Cain said. "She made a rational, mature decision. We talked about it. She was flipping them (Friday). She was flipping them the day before and she could do it, but she had to be consistent. Today her warm-up really wasn't consistent. She looked like she could flip it. I said, 'try flipping it, if you don't flip it, then we'll go for the second option.' She made that decision and worked with me on that."
On the balance beam, Medford's skills and connections looked better than they did in the sectional meet, but collectively, six falls took at least three points off the Raiders' collective score, which wound up being 31.775 points.
Anna Wanke's no-fall routine was a highlight as she bounced back from a tough sectional outing with an 8.375 and Krause earned 8.075. Ulrich placed 17th in the individual standings at 7.8, while Malchow was 18th at 7.525. Purdy notched a 7.175 with just one fall in an otherwise solid routine.
Wanke said she was driven to do well by some inside jokes amongst her teammates and coaches in practice earlier in the week.
"I told (assistant coach) Marissa (Du-Bois) and Steve I'm not going to fall because I'm sick of you guys making fun of me," she said. "Monday at practice Steve said you better work up a sweat, and I did."
The all-around scores show Wanke had her best meet. Though not officially in the all-around competition, she earned a personal-record 34.025 total points. Among Medford's official all-arounds for the meet, Krause and Ulrich tied for 17th place with 33.675 total points and Malchow was 19th with 33.075. Krause's total was a new personal record.
Whitefish Bay senior Addie Gallun solidified her standing as arguably the state's elite gymnast by earning 37.7 allaround points. She won the all-around title by 0.625 points over Mount Horeb senior Grace O'Neil. Gallun also won the vault (9.7) and bars (9.65). Junior Lorisa Shatrawka of River Valley-Barneveld won the beam (9.2) and was second on bars (9.25). River Falls senior Autumn Tiede won the floor with a 9.55 that just got past O'Neil (9.525).
Whitefish Bay won the gold team trophy with a Division 2 record 146.575 points. 2020 state champion Mount Horeb wasn't far behind at 144.025 and Nicolet, who dropped down from Division 1 this year, was third with 142.4 points. River Falls, the only team to outscore Medford in a meet during the regular season, was fourth with 140.975 points, while Sparta (138.9) was fifth. The Raiders, who were fifth in last year's state meet, outscored Reedsburg (133.575) and the Ashland Coop (130.275).
"It was nice to hear all of the cheering," Purdy said. "Whitefish Bay was cheering really loud and it was nice to hear that. It makes you want to cheer louder. It makes a good environment."
Medford outscored three Division 1 teams that competed Saturday in Wisconsin Rapids. The Wilmot Co-op won that team title with 145.8 points. The Raiders' team score was higher than Mukwonago-Kettle Moraine (132.85), Eau Claire Memorial-North (132.525) and Stevens Point (131.85).
A great success
As they closed the book on 2020-21, the Raiders termed their season a great success for several reasons.
First, other than an early quarantine for Purdy in December, the team basically made it through the COVID pandemic without being hit by the virus.
That led to the second major positive. Unlike past years, there were no major injury concerns or time lost.
"This is our first year without any major injuries during the season," said Ulrich, one of the gymnasts who has fought through her share of injuries in her three seasons.
The gymnasts noted their schedule was unusual with some long and short gaps between meets depending on the week and the reduced number of meets was noticeable. The reduced crowd sizes at all venues was something that was hard to get used to and, they admitted, had an effect on their energy levels at times.
But they're proud of the way they looked inward to create their own energy.
"I just felt like it was actually pretty laid back," Megan Wanke said. "Everybody just got along, we all got our work done and meets were good. For the most part, it felt like it went really smoothly."
"This year I feel like we were so supportive of each other," Ulrich said.
"We didn't get as competitive against each other," Purdy said.
"This team basically kept building on a lot of little successes in every meet," Cain said. "We got to a point where the only thing we didn't do, I was kinda hoping we would've broken the school record for team score. But we broke the school record for vault, we broke the school-record for all-around. I can't finish the day without saying how proud I am of these girls."
With everyone except Megan Wanke potentially returning and more freshman reinforcements likely next year, the Raiders expect to remain one of northern Wisconsin's elite gymnastics programs.
"This team had the ability where, every time somebody seemed to lose a little ground, another teammate gained ground with what they were doing to up their score," Cain said. "To get what they got at state this year for where they're at was fantastic."