Posted on
Colby anglers build off first year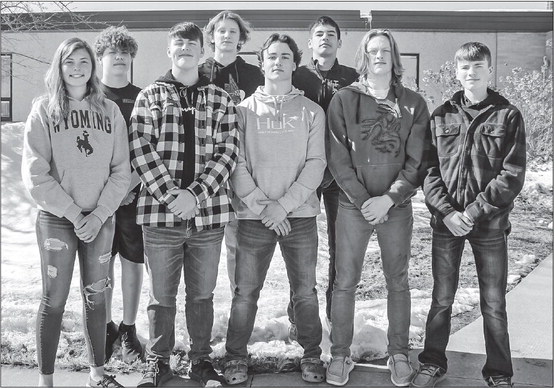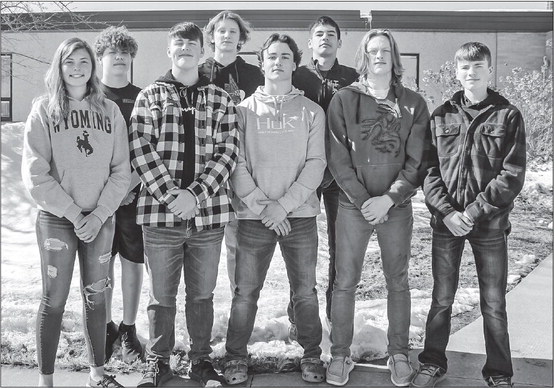 Colby anglers celebrate their second season
A year ago students at Colby High were given an exciting new opportunity, the chance to join a club sport that has been steadily growing since it was introduced to Wisconsin high schools in 2015.
That sport is ice fishing, and with so many students already ice fishing in their spare time, the sport quickly took off at Colby, earning wide spread support among the district and the surrounding communities, with businesses like BBD of Abbotsford donating bait, and Ray's Market donating food and lunches.
"We really didn't have a problem getting the community involved," said Nicole Schalow, a teacher at Colby, and one of three coaches for the club. "A lot of people just like the idea that we're getting more kids involved in something other than the traditional sports."
It's not just Colby that's been on board with the sport. In the past six years since the Wisconsin Interscholastic Fishing Association (WIFA) was founded, over 120 school districts have got on board.
And it didn't take long for Colby High to show they're one of the best at the burgeoning club sport. In their first year, Colby proved to be expert rod wranglers, picking up titles at tournaments in Lake Wissota and Lake Alexander.
"It's a big deal for us to be able to represent Colby and show what we can do, especially since we've only had the team for two years," junior Mason Voss says about the club's exploits. "Every year we've been able to bring home trophies."
But it's not the trophies or the recognition that gets Colby's anglers out on a frozen lake in single digit temperatures. More than anything, it's being part of a team and sharing the love of a big catch with friends.
"I'm not gonna lie, at first I thought it might be a little boring," says Colby High's Brekyn Lieders. "But I was surprised by just how much fun I had last year and then this year.
"Having all your friends fishing together, it's so much fun. Normally, you get one or two guys you go with, but now you got ten of your buddies fishing at the same tournament and you're all fishing for the same thing. That's really cool."
Lessons found on frozen lakes
The club's first year was fun, but there were definitely some lessons that were learned that made Year Two easier.
"I would say the biggest thing we learned . . . was working together as a team, and having everybody move around to different areas to target different fish," senior Emma Oelrich said.
Schalow, who coaches the club alongside her husband Aaron, was impressed with Colby's fast start, and she credits that to how close knit her kids are.
"I think because we have such a great group of kids we didn't really have to work on any of that team building stuff."
Schalow also said club members are committed to doing their homework and getting as much information about each lake they choose to fish on.
This could range from looking up maps that showed depth and topography of lakes, but also asking fellow anglers and guides about where good fishing holes are and recommendations for bait.
It helps that most of the club fishes year long, and are very familiar with many of the best lakes and fishing holes in the area.
"We all fish a lot of these lakes, so we know where to go on the lakes. It's just a matter of trying different things," Oelrich said. "Like Braxton told us that the fish were biting at only a certain time in one area, so we knew that we should be there at that time."
A strange kind of season
If there was one thing that was different from last year, it was the nature of tournaments this season. Last year, Colby would be just one of a dozen schools fishing on the same body of frozen water.
With COVID-19 transmission a concern, teams competed virtually against one another over the course of several weekends. The results from each weekend were then entered online, and the club had to wait and see how they fared.
"We would target one species, so there would be a big crappie challenge between schools, and they would open it for four weekends," Schalow explained. "You could pick the weekend, and you'd only have the one day to enter your fish."
That led to Colby choosing different lakes to fish on in 2021. Instead of Lake Wissota or Lake Alexander, Colby travelled to Wood Lake in Price County for their first tournament, and Lake Wausau for their second competition.
There were some benefits to this arrangement, but also some drawbacks. Brekyn Lieders and his fellow anglers discovered that sometimes that didn't always mean the best outcome, as the playing field was far from even.
"When you're all on the same lake, you're all figuring out that lake and fishing that same body of water. This year all the tournaments were all on different bodies of water.
"It was tough because we can't drive to get to some of these really good lakes, and some kids just live right on them. So there was a disadvantage with that."
As a result, this year's club had a hard time replicating last year's successes. The club finished 39th out of 55 teams at the state tournament on Feb. 27, and succeeded in winning first in Northern Pike and Perch categories at Lake Wausau, and also finished seventh at state for their stringer of ten crappies.
"We had a lot of higher expectations this year," Mateo Lopez said. "I definitely think we were wanting the results that we had last year, and right away, off our first tournament, it was a little disappointing. The results were OK, I mean, we were still doing really good. But we weren't winning like we did last year."
That being said, the club said they enjoyed the season, and were just grateful to be out on the ice.
"I think just getting the kids outdoors was a win," Schalow says. "I mean, they all love being around each other, and they all love fishing, and they fish on the weekend. But how often do you get to do that as a team?"
Planning for the future
Two years are now under the club's belt, and current members and coaches are eager to keep things going and bring in new members.
This also means more female representation. At the moment, the lone girl on the team is Emma Oelirch. But lest you feel sorry for Emma, coach Schalow put to rest any questions regarding her talents as an angler.
"First off, I'm going to say Emma will outfish any of those boys any day." Emma is a little less outspoken than her coach, saying she's enjoyed the experience, and knowing all her club members beforehand makes it easy to participate. Plus, she loves fishing.
"It's not that bad [being the only girl]. I mean obviously fishing is known more as a male sport, but I was OK with that because I love fishing. I get along with all of [the boys] so that made it easier. They never treated me any differently. It's been pretty fun."
These last two years have definitely laid a great foundation for the club. Ensuring the future of the club and growing its membership is the biggest goal for year three says Mateo. That, and doing better at the state tournament.
"We got a lot of freshmen, and we have a lot of guys that are thinking of joining. We want as many guys as we can to come out. The more lines in the water, the more fish we can catch."
More fish is Goal #1 for 2022 says each member of the club. Each member is setting their sights on the state tournament. And after two years of virtual state meets, the club is hoping that they can all be on the same lake. "Next year we definitely want to come out guns blazing," Voss says. "Hopefully next year we'll have a state tournament where we'll all be on one lake. I think that will really help everyone's chances. We want to take home state next year. That's our big focus for next year."