Posted on
WIAA Division 2 state gymnastics meet preview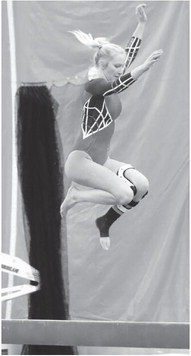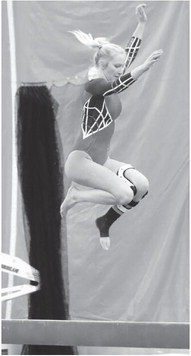 What: The 51st WIAA state gymnastics championships.
Where: Performance Elite Gymnastics, La Crosse for Division 2. The Division 1 meet remains at Lincoln High School, Wisconsin Rapids.
When: Saturday, February 27. Session 1 is at noon, followed by Session 2 at 5 p.m.
Who: The Medford Raiders have qualifi ed for state team competition for the third straight year and will compete in Session 2 Saturday. The Raiders also had a team in the 1972 state meet. The Raiders finished fifth in last year's Division 2 team competition by scoring a school-record 134.901 points. Depleted by injuries, the Raiders were 10th in 2019. Medford won the Feb. 18 sectional meet in Rhinelander with 132.85 points.
Along with the team competition, Medford will have several gymnasts vying for individual awards. Junior Makala Ulrich, sophomore Kate Malchow and freshman Kyla Krause qualified as allaround performers. Krause is the sectional vault champion, Ulrich is the sectional balance beam champion, while Malchow was second and Malchow is the sectional uneven bars champion, while Ulrich was fourth. Sophomore Anna Wanke qualifi ed in the floor exercise by finishing third at the sectional. Ulrich was second and Krause tied for fourth. Senior Megan Wanke and sophomore Kennedy Bilz are likely to fill spots in team competition.
Division 2 team qualifiers: Sectional champions and their sectional team scores include Whitefish Bay (144.725), Mount Horeb (144.1), River Falls (140.9) and Medford Co-op (132.85). Sectional runners-up and their sectional team scores include Nicolet (142.1), Reedsburg (136.55), Sparta (136.225) and the Ashland Co-op (126.7).
Mount Horeb is making its 34th team appearance at state and is the defending champion, knocking off Whitefish Bay, who came into last year's meet as the fourtime defending champion. Whitefish Bay has won the most team championships in WIAA history with 10, excluding two titles it won in a co-op with Shorewood. River Falls has won six state championships. It's the 31st state berth for River Falls, the 26th for Whitefish Bay and the 20th for Ashland.
Division 2 notebook (compiled by the WIAA): Two former champions are returning to competition this season. Senior Addie Gallun of Whitefish Bay is a previous champion in three individual events and the all-around. She is a threetime champion in the uneven bars in pursuit of becoming just the second gymnast in state history to win four championships on the uneven bars. Gallun is attempting to win her third all-around title, which has been accomplished by only two other gymnasts. She is also the defending champion in the vault, and finished sixth last season in the floor exercise after winning gold in the event in 2019. Gallun could also contend for the balance beam crown after finishing runner-up the past two seasons.
Junior Lorisa Shatrawka of River Valley- Barneveld looks to return to championship form in the balance beam. She qualifies this year after winning the title in record-setting fashion in 2019 and slipping to 18th last year. However, the event should be hotly contested with three of the top six finishers from last year returning for another shot at the title, including Gallun, and her junior teammate from Whitefish Bay, Anneh Britz, who placed third last year and fourth in 2019. Senior Autumn Tiede of River Falls is back after placing sixth in 2020.
Tiede will contend with Gallun and a host of other experienced gymnasts for the crown in the floor exercise. She placed third last season in the event and 11th in 2019. Junior Lily Wiegand of Sparta placed fifth in the event last season and fourth in 2019. In addition, the event adds sophomore Cassi Hansen of Nicolet, who moves to Division 2 after finishing fourth in the floor exercise in Division 1 last year. Other top-10 finishers in the floor exercise back this year are Britz, who tied for eighth last year, and junior Savannah Clark of Sparta, who was 10th.
The vault also has competitors with quality State experience returning to challenge Gallun. Among them is a trio of Sparta gymnasts, including Wiegand, who was runner-up last season and fourth in 2019; sophomore Ella Hemker, who was fifth; junior Savannah Clark, who was seventh; and Tiede, who fell to ninth last year after a fifth-place finish in 2019. Other top-10 placers from last season returning to the floor exercise include Tiede, who was third last year after placing 11th in 2019, and senior Kynnedi Malone of Nicolet, who was ninth in Division 1 in 2020.
Among those with state experience that will attempt to prevent Gallun from capturing her fourth title on the uneven bars are Shatrawka, who tied for fourth in the event last season and was seventh in 2019; Tiede, who tied for eighth last year after a 12th-place finish in 2019; junior Kate Graham of Whitefish Bay, who was seventh last season; and senior Grace O'Neil of Mount Horeb, who placed 10th in 2020.
Other than the individuals already identified in the event review, Junior Catie McPherson of Ashland will compete for the all-around title after winning the title at the Rhinelander sectional along with the floor exercise.
Saturday's schedule: There will be five rounds of competition during each session Saturday at La Crosse. Medford is off in the first round of the evening session and then will compete on vault, bars, beam and floor. There are no tickets available to the general public. Only advanced tickets were sold and restricted to three per competitor.
––Sports Editor Matt Frey