Posted on
Gymnasts win the sectional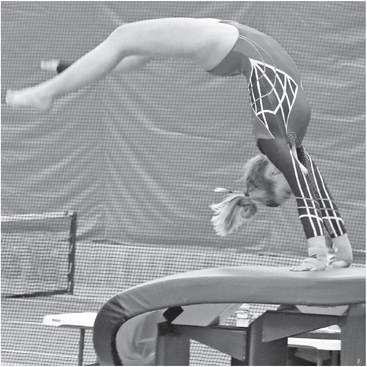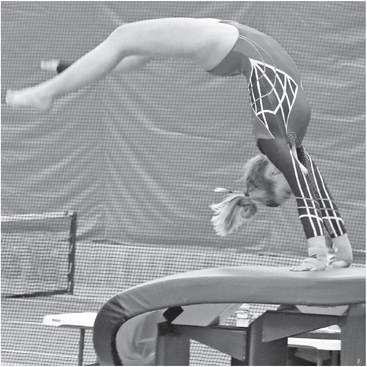 The sectional meet was held in two sessions. The Raiders were in the early session so they didn't know how they finished until long after they had gotten home. As of Monday's practice, they still hadn't seen their sectional championship plaque.
Rhinelander finished fourth with 119.35 points, followed by the Grantsburg Co-op (116.7), Rice Lake (116.275), Mosinee (115.675), Lakeland (100.8) and Chequamegon (58.825).
"It was weird because we didn't know what place we got when we left," sophomore Anna Wanke said. "Coming home we were still wondering how we did."
The Raiders scored 35.4 of their points on the floor, easily a season-high for the event and the program's best floor total in the five years Steve Cain has been the team's head coach, surpassing Medford's 35.133 points last year in the team state meet. The event served as a major rebound after the Raiders started the sectional meet with a shaky outing on the balance beam.
"They did an outstanding job," Cain said. "I told them, 'listen. We're going to go to floor. You can sit and think about beam, but I'm not going to let you. You have to think about floor now' and they did. They absolutely did just that."
Catie McPherson of Ashland won the floor's individual championship with a 9.15, but Medford filled five of the next six spots. Ulrich's energetic routine landed a personal-best score of 9.05, while Anna Wanke was just off her personal best with an 8.9. Krause tied Antigo's Kaley Zarda for fourth with her 8.75. By landing in the top five, those gymnasts earned individual spots in the event at state.
Malchow just missed qualifying individually with her sixth-place score of 8.7 that tied her personal best. Megan Wanke tied Ashland's Jaycee Erickson for eighth place out of 40 gymnasts with an 8.45 in her second floor routine of the season. She bumped up 0.4 points from the Great Northern Conference meet five days earlier.
"Our tumbling was really solid," Ulrich said.
"I thought that the tumbling was very strong and I thought everyone's leaps looked really good, a lot higher than they usually are," Megan Wanke said. "It just looked like there was a lot more energy on floor."
Krause, a freshman, took her Yurchenko vault, where she starts with a round-off onto the springboard then goes into a back handspring onto the vault table, to a new level with scores of 9.25 and then 9.4 on her two attempts. Both of those scores broke the two-year-old school record of 9.2 held by Ulrich.
"Kyla definitely earned that score," Cain said. "She broke the school record. She did a very nice job. What upped her score is she went from a Yurchenko tuck to a Yurchenko pike. Where she flipped it she did it in pike form, which ups her value. She opened up nicely and landed it nice. Every meet she does better and better."
"It felt pretty good," Krause said. "I did a pike instead of my tuck. It helps because my legs are bent so I can land easier."
"It definitely was a good choice and a huge improvement," Cain said.
McPherson hit 9.0 to take second, while Antigo's Claire Musolff (8.95), Chequamegon's Kristina Peterson (8.85) and Rice Lake's Micaela Walters (8.8) also earned state trips. Anna Wanke just missed, taking sixth at 8.6 with a nice flip vault of her own.
Kennedy Bilz was the third-ranked Raider on vault with an 8.1, which tied Rhinelander's Lilli Bishop for 19th, Ulrich tied for 29th at 7.75 and Malchow was 34th at 7.45.
Ulrich and Malchow were the top two finishers on the beam. Ulrich earned an 8.55 despite a bobble or two and Malchow, just like she did in the conference meet, put together a solid performance and earned an 8.45. McPherson (8.1), Bishop (8.0) and Zarda (7.975) earned the remaining state spots.
Krause led off with a 7.375, which put her in 12th place, Avery Purdy earned a 7.3 to tie Antigo's Andrea Shestak for 13th and Anna Wanke had an off day with her 15th-place score of 7.25.
Cain felt the beam set a tone for the day the Raiders never quite shook.
"Anytime in a big meet when you start out on beam, either you nail it 100% and everything from there is rock solid," he said. "But once you start on beam and it's a little bit of a bobble and a little bit of an issue, it kinda has an effect on everything that follows."
Medford finished on the uneven bars. Malchow was spot-on with her routine, which starts on high bar, goes to low and comes back to high, and earned an 8.575 to win it over state qualifiers Avery Ahles of Mosinee (8.05), Erickson (8.0), Ulrich (7.95) and Khyli Young-Garayt of the Grantsburg Co-op (7.875).
Krause and Anna Wanke tied for eighth with 7.7s. Purdy was 23rd at 6.55.
"I felt pretty good about it," Malchow said. "It went better than my warm-ups did. My dismount and my giants were decent."
"We had an off-day on bars," Cain said. "The bars were set right. The girls said they were a little wobbly but you know what, we've had worse. I'm not going to sugar coat it. We had an off-day. They don't have those days at practice. In practice, they nail that stuff.
"Kate's routine was good, and I even questioned the score because I thought it was low, but she did get the points for what she did. We'd like to see it even higher. For bars, anytime you get an 8.0 or above, it's good."
Even with the ups and downs of the day, the Raiders demonstrated their ability and depth by putting four girls among the top six all-around gymnasts in the meet. McPherson was the top scorer with 34.075 points, followed by Ulrich (33.3), who toughed things out at the end of meet while a troublesome ankle injury flared up, Krause (33.225) and Malchow (33.175), who all earned state spots. Anna Wanke just missed, taking sixth with 32.45 points, just behind Musolff (32.675).
On to state
Like the sectional meet, this year's state meet will be run in two sessions. Unlike past years, where the team and individual competitions were held on separate days, everything will be scored all at once on Saturday. Division 1 competition is in Wisconsin Rapids as always.
Medford will be joined in the 5 p.m. late session in La Crosse by the Ashland Co-op, all the individual qualifiers from their sectional and the Whitefish Bay sectional and the teams from Whitefish Bay and Nicolet.
Defending state champion Mount Horeb, Sparta, River Falls and Reedsburg will be the teams in the noon session. Individual qualifiers from the Onalaska and Platteville sectionals will also compete then.
The Raiders' first team appearance in 2019 was riddled with injuries, but last year's produced the current school record score of 134.901 and a fifth-place finish. It won't be easy duplicating a topfi ve finish, but a new record team score is always a goal, no matter what meet it is.
"Last year, the judging seemed to be pretty much on," Cain said. If these guys go for breaking the school record for team, they'll automatically break some of their own personal records. It goes hand in hand. That's what happened last year. There were personal records, and the team record was broken again. If they focus on that, the personal records will fall into place."
"I feel like sometimes you can't predict how the judges are going to score," Megan Wanke said. "Regardless of scores, as long as we get the no falls or no big mistakes we can be happy with how we did."
This week's preparation will focus on making those little fixes on what didn't go right in Rhinelander and staying healthy as most of the gymnasts are feeling those end-of-season aches and pains.
"We're just perfecting the skills we already have," Purdy said.
"We need to maintain the ankles because we have way too many bad ankles in the gym," Megan Wanke joked.
As for the changes in the facility and meet format, the Raiders said there could be plusses and minuses. Cain said the La Crosse facility is built so the bleachers and viewing area are above the competition area.
"Everybody's looking down on what's happening," he said. "It's a pretty big facility. It will work for four teams at a time."
"I feel like it will be more relaxing because we don't have to worry about both days," Ulrich said. "We can do it all in one day and we won't be tired the second day.
"The atmosphere changes the way you look at things," Bilz said. "At the sectional meet, we were saying how everything was so open and we thought it felt weird before the spectators were there. Once people got there, it felt more normal to me."
"I just hope the equipment is nice, because the equipment at state at Rapids was always really nice," Megan Wanke said.