Posted on
Defense, inside game and free throws push Raiders past Merrill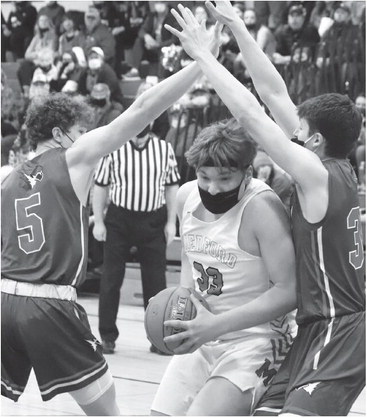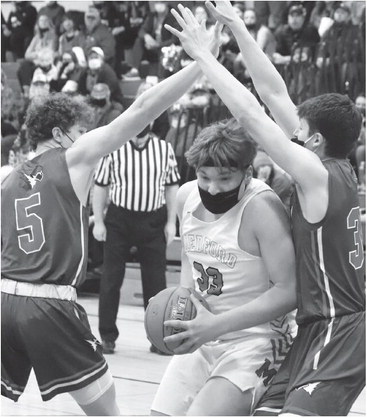 What might have been a major roadblock for many teams to clear along the WIAA tournament trail was nothing more than a slight speed bump for the Medford Raiders Friday in their 66-52 Division 2 regional semifinal win over Merrill.
Playing in a win or go home setting without injured two-time Great Northern Conference Player of the Year Peyton Kuhn, the Raiders played 36 composed minutes of basketball, never trailed and used 19-of-20 shooting from the free throw line to put away the Blue Jays and advance to Saturday's regional final, where they beat Rhinelander 64-54.
"I'm just so proud of these guys," Medford head coach Ryan Brown said. "They're confident in each other. You could see that out there. They share the basketball well. They all defend. When you do that, you can make up for a big loss like Peyton. It would be hard for a lot of teams to make up for a two-time conference Player of the Year.
"We were coming in here anxious but yet so confident with who we are and what we do," he said. "We knew that if we stuck to what we do, especially on the defensive end, we would have a chance. That's what we're going to need to continue to do with or without Peyton."
"We knew we were going to miss Peyton, but we have players besides him who can play without him," senior Nate Retterath said. "We just did our best and we pulled through. He'll be back next week full strength and we'll be even better."
On a night where the 3-point shots weren't falling, the Raiders ran their offense in the paint through senior post Brady Hupf and sophomore Logan Baumgartner, took care of the ball by turning it over just eight times, relied heavily on their defense, which allowed just 12 points in the paint, and scored 26 points off 21 Merrill turnovers.
The main reason Merrill hung around until the last two minutes was its ninefor- 22 shooting from 3-point range. Jake Zelinski hit five of seven and scored 15 points, while Bailey Turenne led Merrill with 18 points, including three-of-six shooting from long range.
Early on, the Raiders' defense was outstanding at preventing Merrill from getting good inside looks. Their effort in shutting off baseline penetration resulted in three charges taken.
"Nate Retterath was awesome early, playing straight-up defense and taking two of those charges," Brown said. "Other guys taking charges. At halftime we said out of their 20 points, 10 of them were off of when they did get middle. When we kept them on a side and pushed them toward our help and rotated early, we got our hands on a lot of basketballs. We were confident in what we were doing at that point."
The Raiders built early offensive confidence while taking a 20-8 lead. Baumgartner had 10 quick points, Joe Sullivan –– who got the start in place of Kuhn, who sprained his ankle in practice earlier in the week –– quickly recovered the ball after his pass was tipped and got to the rack for a key bucket, and Ty Baker was four for four from the free throw in that early stretch.
Merrill clawed its way back within 22-18, then reserves Owen Wipf and Tanner Hraby hit key shots. Wipf nailed a rightcorner 3-ball and Hraby buried an open 15-foot jumper. The Raiders settled for a 27-20 halftime lead.
Sullivan's 3-pointer and his score off a Merrill turnover opened up a 32-23 lead early in the second half, but Merrill wouldn't go away. A Zelinski 3-pointer made it 37-33 and two Turenne free throws made it 39-35. But a Sullivan steal led to a bucket for Baker and Hupf kicked out to a wide-open Retterath, who swished a 3-ball to jack the lead back up to nine at 44-35.
Two Zelinski long balls cut the lead back down to five at 46-41, but a Baker steal and score and pretty spin move from the left side by Baumgartner got the lead back to nine. Retterath got an inside score with 2:43 left, Baumgartner made a tough shot when Merrill recovered to well defend a long inbound pass from Hupf and Sullivan added two bonus free throws with 1:50 left to put the lead into double digits at 58-47. Medford made all eight of its free throws from there.
"It was good to see us keep our composure late," Brown said. "We didn't turn the ball over, we handled their pressure and then came to the line and knocked them down so they didn't really have any hope."
Baumgartner finished with 24 points. He made all 10 of his free throws and adjusted his game to attack inside when his 3-point stroke was just a bit off.
"That's what we've talked about with him," Brown said. "When you can score in those other ways in our offense and then you do knock down the shot, that's really tough to guard. Especially when they're all over them trying to prevent him from getting the ball."
Baker, as usual, contributed in many ways. He had 12 points, five steals, four rebounds, two assists and blocked a shot. Sullivan had 10 points, four steals and three assists. Hupf had eight points, seven rebounds, a teamhigh five assists and two steals. Retterath made three of four shots from the field and scored seven points while adding five rebounds and four assists. Merrill was just seven of 21 on two-point shots and scored just three transition points. Merrill held a slight 28-23 rebounding edge. Merrill's leading scorer, Nathan Woller, who didn't play in Medford's 80-49 thumping of Merrill on Jan. 9, was held to six points. "They started to look to Win
skip to the opposite side when they did drive baseline," Brown said of Merrill's
3-point shooting. "We were a step slow on a couple of rotations. You have to give them credit, they made some deep
3s, some contested 3s. When they got an open look, even if we were getting a hand up they were making it. That's something we'll just work on. When they have shooters, we have to be there a step faster."