Posted on
River Falls dominates early; Medford drops Red Robins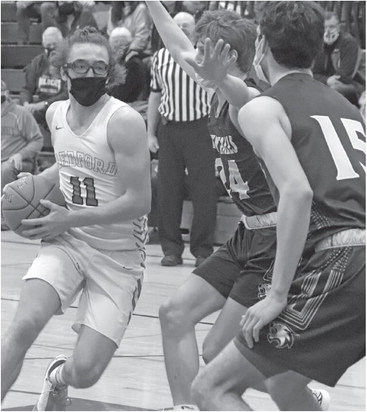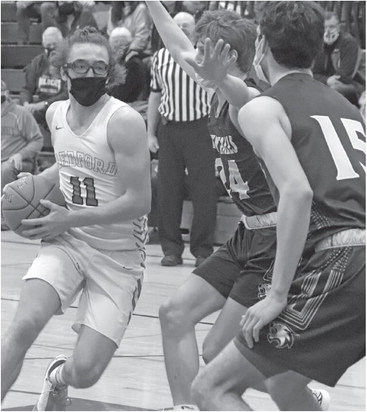 MEDFORD BOYS BASKETBALL
The Medford Raiders dug themselves a 27-point hole they weren't going to pull out of against River Falls Tuesday, but they did turn a potential blowout into a competitive contest in a 63-50 loss at Raider Hall.
The now 12-2 Wildcats figured to be Medford's toughest test up to this point in the season and their size, defensive intensity and deadly 3-point shooting were on full display in the first 14 minutes when they tore out to a 37-10 lead, stunning everyone in the gym wearing red and white.
Medford clawed its way back within 39-19 by halftime and, after holding River Falls scoreless for almost seven minutes to start the second half, got within 39-26. But Wildcat Zac Johnson got to the rim for two, Liam Dougherty hit a 3-pointer and Johnson did as well to push the lead back out to 47-26 and assure a miracle comeback wouldn't happen.
Medford fell to 16-2 overall but head coach Ryan Brown said the challenge was just what the Raiders needed with the WIAA Division 2 tournament fast approaching.
"It wasn't the start we wanted," he understated. "They got hot. We hadn't seen that sort of size and intensity and we just had to learn how to match it. It's not like they gave us anything that let us come back into it. They kept everybody in and we fought and just scratched and clawed our way back into it by, defensively, doing a good job of playing physical and contesting shots and then getting rebounds and trying to get out in transition."
The Raiders knew the combination of Johnson's scoring ability –– he averages 25 points per game behind a sweet, left-handed stroke –– and 6-9 twin brothers JT and Liam Dougherty inside would be nothing like they've seen thus far. The Wildcats' size became a problem for Medford offensively after the Raiders got early 3s from Peyton Kuhn and Brady Hupf and inside scores from Nate Retterath and Logan Baumgartner to hang within 12-10 early. For the next eight minutes, getting to the rim became nearly impossible and outside shots weren't falling.
"6-9 and 6-9 is big and that wasn't a badly- listed 6-9," Brown said. "They weren't giving inches. I thought we got two good touches to Brady early and he made two good moves. That move, his shoulder into the defender's chest, would be a move to create space in any other game. They just walled up and jumped. It affected shots early. The thing is we want to play a team like that so that we get better. Ultimately we're going to get better from this game."
Johnson caught fire in the 25-0 run that broke the game open, hitting four 3s with each seemingly coming from longer distance than the one before. He had 18 points in the first half and finished with 28. The final points in the run came on a 3-ball from JT Dougherty. Kuhn finally stopped the drought with a driving layup. Free throws by Kuhn and Baumgartner and a 3-pointer from Ty Baker cut the lead to 20.
Joe Sullivan sparked the Raiders in the second with 10 points, including three 3-pointers and several steals and rebounds created with hustle. The Raiders did make one more late run, getting as close as 54-44 with 2:47 left.
"In the first half, let's be honest, we didn't shoot very well and that's a credit to what they did," Brown said. "But we also had opportunities. Maybe that's because of the energy we put on the defensive end. We did a much better job in the second half of when they closed out and contested hard, we ran our actions and attacked that closeout. Yeah, they have a lot of size in the middle, but kicking it out or making another pass really got us going and got guys like Joey open shots or got Peyton to the rim and Logan got some points."
Kuhn finished with 16 points and Baumgartner finished with 12. Hupf added seven, Baker finished with three and Retterath had two. Hupf had eight rebounds, Kuhn had three assists and Sullivan had three steals.
JT Dougherty scored 11 for the Wildcats and Chris Chapin hit three key 3-pointers for nine points. Brown said when Medford did a better job of forcing Johnson to his right, it changed the dynamics for the Raiders' defense.
"Ultimately we just got up in the passing lanes and pushed guys where we wanted," he said. "We rotated faster and guys started anticipating passes which led to a number of turnovers and led to points. That's why you have to play these teams. It's the only way we're going to be able to amp it up for playoffs and to play at a high level."
River Falls shot 48.8% from the field (21 of 43), including 11 of 26 from 3-point range. Medford hit 28% of its shots (14 of 50) and was just six of 25 from deep. Medford actually finished with a 31-30 rebounding edge and forced 17 turnovers while committing 14.
Medford still sits atop the Great Northern Conference at 8-0 and the Raiders return to league play Friday by hosting last-place Tomahawk at 7:15 p.m. Of note, Kuhn will enter the game with 1,321 career points, just 20 behind the school's all-time leader Steve Russ, who has held the record since 1991.
Kuhn passed the number-two all-time Medford scorer, Paul Henrichs (1,307 points), Tuesday night. Coincidentally, MedfordwillfacetheAltoonaRailroaders, who are coached by Henrichs, Saturday at 7:30 p.m. in Altoona. The Raiders host Wausau West Tuesday.
Medford 83, Antigo 36
The Raiders remained unbeaten in GNC play Friday by burying Antigo with a shooting avalanche in the second half of an 83-36 blowout at the Sheldon Fieldhouse.
The Raiders made 17 of 25 second-half shots from the field (74%) and shot at a 60.9% clip for the game to overwhelm the Red Robins, who fell to 1-6 in the GNC and overall.
Antigo did get off to a solid start, grabbing a couple of early four-point leads and pulling within 14-13 on a Cole Musloff basket. But from there it was all Raiders, starting with an 18-3 run that gave them a 32-16 advantage. Sullivan hit a tough left-handed shot off a Retterath assist to beat the buzzer and put Medford ahead 40-23 at halftime.
Baumgartner drilled a 3-pointer from the top of the key, then he assisted on a Retterath score. Retterath's steal led to a Kuhn hoop, then his long assist gave Baumgartner a layup. Hupf scored inside to cap an 11-0 run to start the half that broke it open at 51-23.
Hupf owned the low blocks, scoring 17 points on seven-of-10 shooting from the field, and Kuhn finished with a gamehigh 26 points, hitting 12 of 19 shots. Baumgartner hit three of eight 3-point tries and finished with 16 points. Sullivan was six of nine and added 14.
Retterath chipped in with six points and Caleb Guden had four in a solid outing off the bench. Retterath had an outstanding night in distributing the basketball with 12 assists, a season-high for any Raider. Hupf completed a double-double with 11 rebounds while Baumgartner had five. Baumgartner also had five assists, Sullivan had four and Kuhn and Guden had three each.
Baumgartner had four of Medford's 11 steals.
The Raiders forced Antigo into 23 turnovers and gave the ball away just eight times. They scored 54 points in the paint compared to Antigo's 18 and outrebounded the Robins 28-20.
Antigo had just 36 shot attempts from the field and made 13 (36.1%). Medford's 1.4 points per possession was evidence of a highly-efficient night on the offensive end.
Logan Thomae led Antigo with nine points, while Eli Fleischman, Kaden Steckbauer and Musloff scored eight apiece.