Posted on
Raiders soar past T-Birds; JV breaks the 100-point barrier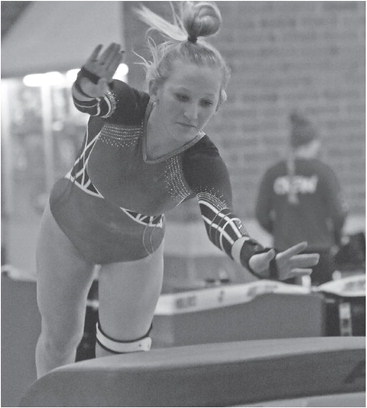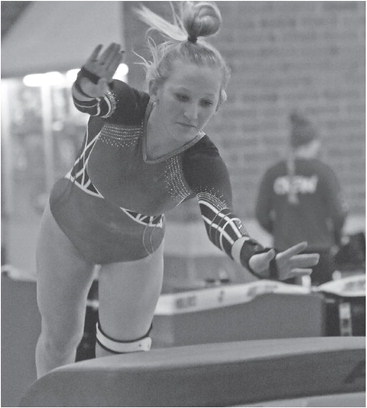 MEDFORD GYMNASTICS
Medford's gymnastics team kept rolling Thursday, nearly sweeping the top five spots in all four individual events during a 129.525-83.75 win over the host Lakeland Thunderbirds.
The floor exercise was the only event the Raiders didn't quite earn a complete sweep in. Medford also had the top four all-around gymnasts in the meet in Makala Ulrich (33.65 total points), Anna Wanke (32.275), Kate Malchow (31.25) and Kyla Krause (31.0).
Medford improved to 2-0 in Small Division meets within the Great Northern Conference and 3-0 overall. Lakeland fell to 0-3, 0-4.
"We had a good meet," head coach Steve Cain said on Tuesday. "Just like the River Falls meet (Jan. 9), we feel like we're right on track. Again, the girls were in the gym on Monday already adjusting their routines and skill. They were making improvements and upgrades, trying to fix what they need to work on heading into the Valders meet this Saturday."
Ulrich won the uneven bars, vault and balance beam competitions, while Wanke won the floor exercise.
On bars, Ulrich earned an 8.2, which was just off her personal-best of 8.325 and put her ahead of teammates Malchow (8.05), Krause (7.7), Wanke (7.2) and Avery Purdy (7.05). Lakeland's Anna Thompson was a distant sixth at 5.15.
The Raiders earned a team total of 31.15 points on the bars, a little below their early-season average but almost 14 points higher than what Lakeland was able to muster.
The scores got higher on the vault, where the Raiders hit 33.6 points, just one-tenth of a point behind their previous two meets.
Ulrich's 8.55 tied her season-best score and just got her past teammate Kennedy Bilz, who earned her best score of the season at 8.45 and tied her personal-best score of a year ago. Malchow was third at 8.4, followed by Wanke (8.2) and Krause (7.8). Malchow nearly equaled her personal- best of 8.45, set earlier this year. Thompson was just behind Krause in sixth place at 7.75.
Wanke earned her third victory of the season in the floor exercise in dual meets. She was a notch below her personal- best score of 9.133 with a 9.075 that is a new season-best for the sophomore, who actually missed a couple days of practice earlier in the week due to illness.
"Of course Anna wants to do well in every event, but floor is the one event she highlights. She wants to set a school record in that event. She's bound and determined."
Ulrich's 8.6 was good for second, followed by Krause (7.9) and Purdy (7.2). Lakeland's Cameryn Teichmiller was fifth at 7.15 and Malchow placed fifth with a 6.6. The Raiders totaled 32.775 points in the event.
Medford improved on the balance beam, scoring 32 points. Ulrich got an 8.3 and edged Malchow by a tenth of a point. Wanke's 7.8 edged Purdy by a tenth and Krause was fifth at 7.6, well ahead of Thompson (7.1). The team reduced its fall number to three. Ulrich and Purdy had none.
Cain said with the second half of the season having arrived, he expects the Raiders will turn up their focus a notch each day.
"A lot could happen yet," Cain said. "These girls know what they have to work on and in what direction we need to be heading toward."
Lakeland only has four gymnasts on its entire roster, meaning the JV meet turned into an intrasquad meet for the Raiders. But it was a huge success as the Raiders piled up an amazing 100.7 team points.
"These girls got up to seven personal records and a team score of 100.7," Cain said. "That score is something I don't think I've ever seen in all my years of coaching. That's why I refer to them as the second-string varsity. It was a job well done and they need to be commended for it. They did really well and it shows what we can expect if it comes to needing an alternate or we need someone to fill in on varsity at some point."
Ellison Carbaugh, Purdy, Kiarah Behling and Brooke Wegerer all won events.
Purdy nudged her score upward with an 8.05 on vault, followed by Carbaugh (7.8), Behling (7.7) and Kaileigh Mientke (7.7). Carbaugh equaled her best score of the season while winning the uneven bars with a 6.4. Wegerer stayed consistent at 4.45, Mientke improved to a 4.3, Bilz set a personal-best with a 4.0 and Behling earned a 3.6.
Behling led a strong Medford showing on the floor with a 7.15, just ahead of Mientke's 6.8. Bilz set a personal-best with a 6.75 and Lindsey Klapatauskas earned a 4.7. Wegerer's win came on the balance beam where she tied her personal- best of 7.1. Bilz set yet another personal- best in her super night, earning a 6.6. Mientke got a 5.8, Behling got a 5.4 and Klapatauskas improved to a 4.3.
Mientke was the all-around champion with 24.6 points, while Behling totaled 23.85.
As Cain noted, the Raiders will be at the Valders-Roncalli Invitational on Saturday, which starts at 10 a.m. They'll return to conference competition Tuesday with a 5:45 p.m. meet at Chequamegon.