Posted on
Raiders get big offense in win, not enough in two losses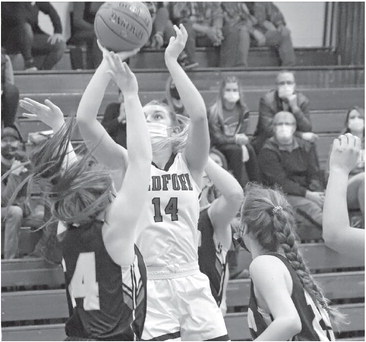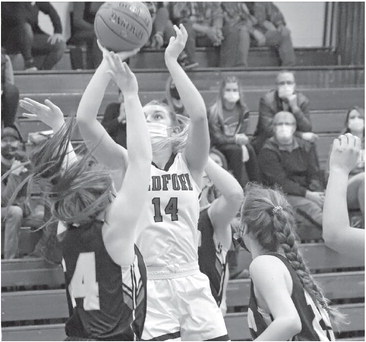 MEDFORD GIRLS BASKETBALL
One night after scorching the nets for 80 points, the rims went back to being unkind for the Medford Raiders Tuesday in a 59-48 non-conference loss at Menomonie.
Head coach Greg Klapatauskas was hoping the Raiders could carry the momentum from their hot shooting against Tomahawk Monday into Tuesday's road trip, but a cold spell midway through the first half coupled with a 3-point shooting spree by Menomonie's Helen Chen put the Raiders in a double-digit hole they only got out of briefly in the second half.
Chen scored a game-high 22 points, most of which came on six 3-pointers and 6-foot junior post Emma Mommsen was a handful as well, scoring 13 points in the post when the Mustangs were able to break down Medford's zone. She scored 10 in the second half.
Menomonie improved to 6-3 overall, while Medford slipped to 8-5.
The Raiders got 15 points from Marissa Fronk who, for the second straight night, got off to a strong offensive start. She scored seven early points to help keep the Raiders close at 19-13. Chen hit back-to-back 3s and Fronk scored in the post to make it 25-15. Chen hit another triple and, after Raider Rynn Ruesch sank two free throws, Mustangs Sammy Jacobsen and Lauren Berg scored to open up a 32-17 lead before Bryn Fronk's steal and score with 35 seconds left closed the halftime gap to 32-19.
In the half, the Raiders did a tremendous job of offensive rebounding, grabbing 10, but the lid stayed on the basket on the putback opportunities. Menomonie finished nine of 21 from 3-point range, while Medford was three of 19. Medford shot 28.6% overall from the field. The Mustangs shot 44.7%. Medford limited its turnovers to 16.
Ruesch, who continued her recent uptick with 11 points, scored to open the second half, Marissa Fronk hit a baseline jumper and Autumn Krause buried a trey to keep Medford close at 36-26. But Chen answered with a long ball and then Fronk was whistled for back-to-back questionable offensive fouls, putting her at four fouls and relegating her to the bench at the 13:58 mark. She was out for over seven minutes. Ruesch scored five quick points to make it 39-31, but the Mustangs then went on a 10-3 spurt to open up a 49-34 lead. The lead reached 18 on another Chen triple that made it 56-38 and then 59-41 on a Berg 3. The Raiders scored the game's last seven points to draw within 11.
Bryn Fronk hit double figures with 10 points and Krause hit a pair of secondhalf 3s to finish with six. Martha Miller, Katie Brehm and Laurissa Klapatauskas scored two apiece.
Medford returns to Great Northern Conference play Friday when it hosts Antigo at 7:15 p.m. At 6-3, the Raiders trail 6-1 Mosinee and 7-2 Lakeland in the standings and will need to win out against Antigo, Tomahawk and Rhinelander and get lots of help to forge their way into a share of first place in the final two weeks. Mosinee will be heavily favored in two games with Tomahawk and one against Northland Pines but the Indians also face Lakeland and 5-3 Rhinelander next week.
Medford 80, Tomahawk 13
After two straight disheartening GNC losses, the Raiders broke out in a big way Monday, blasting lowly Tomahawk 80-13 at Raider Hall.
While the Hatchets weren't expected to give Medford much trouble, it was how the Raiders played that was encouraging.
Most importantly, they found the shooting touch that had been lacking for some time, hitting 33 of 59 shots from the field (55.9%). That shooting percentage wasn't just a result of taking it to the rim against an inferior opponent. They also drained 10 of 21 3-point tries, including six right off the bat that helped the Raiders build a 27-0 lead.
"We were making shots, we were finishing, we were making good passes," Greg Klapatauskas said of the offense. "(Tomahawk's) defense wasn't what we've seen, but just being able to execute despite that was good. Sometimes you can play a team like this and you don't play well. We took care of the ball, even when there was pressure. There can still be a ton of jump balls and things like that in a game like this. We don't succumb to that."
Marissa Fronk scored eight points in the first 87 seconds and carried that confi dence to a 22-point night on eight-of-14 shooting. She hit four of eight from long range. Krause found her stroke as well, hitting seven of 10 shots, including three of five from behind the arc in a 17-point outing. Ruesch slashed to the basket consistently and added 13 points while making six of eight shots.
Medford led 46-6 at halftime and led by as many as 69 in the second half.
"I just liked our body language with Marissa taking some of those 3s and Autumn too, or Rynn taking it to the basket the way she did," Klapatauskas said. "You could tell they were confident. Hopefully this builds confidence, which is what we needed."
Bryn Fronk scored seven points, Sophie Brost and Brehm scored five apiece. Brost hit her first varsity 3-pointer. Laurissa Klapatauskas scored four as did Hope Faude, who hit her first two varsity field goals. Miller sank an early 3-pointer.
Ruesch had a team-high five rebounds, while Lydia Pernsteiner, Brost, Klapatauskas and Brehm had four each. Lindsey Wildberg had a rebound in eight minutes of action. Krause and Marissa Fronk had four assists each, while Pernsteiner and Bryn Fronk both had three. Krause and Marissa Fronk had four steals each and Bryn Fronk had three.
Emily Maki and Haley Liebelt had four points each for Tomahawk (0-6, 1-7).
Lakeland 61, Medford 50
The Lakeland Thunderbirds deflated Medford's conference championship hopes Friday by jumping out to an early lead and then answering every secondhalf run the Raiders made by hitting timely 3-pointers in their 61-50 win at Raider Hall.
The T-Birds weren't overly deadly from 3-point range, making 10 of 33 tries, but every one they hit seemed to come just when they needed them.
While Medford did well to hold Lakeland's sophomore scoring machine Julianna Ouimette to 17 points and without a second-half field goal, Lacy Valliere hit all four of her 3-point tries to score a crucial 14 points, Amaya White hit two 3s and finished with 13 points and Hailey Curtis knocked down a trio of 3s to score 11 for the T-Birds.
"They knocked down a bunch of 3s, but it's not like our defensive effort wasn't there," Klapatauskas said. "We were running around trying to trap and sometimes you get out of a rotation. They did a good job. I'll give them credit. They beat us. They did a good job moving the ball around and they made shots and we didn't. That was the difference in the game. They made shots and we didn't."
Medford got into a 26-9 hole when it went through a stretch of turnovers that Lakeland turned into points. Plus Valliere hit her first two 3s and White, Curtis and Fortier each hit one. Medford turned it over 15 times and Lakeland Girls hoops
turned those into 18 points in the half. The T-Birds led at the half 31-19.
Medford cleaned up the turnover problem in the second half, but an early by White and two from Curtis opened up a 42-27 Lakeland lead. Bryn Fronk hit two 3s, Brehm sank two free throws and Marissa Fronk got to the rack for a hoop and harm. She missed the free throw, but the Raiders got the rebound and were within striking distance at 47-39 with 4:48 to go. A 3-point shot was missed, Lakeland missed a 3, the Raiders turned it over and Valliere made them pay with a 3. After a Ouimette steal, Lakeland found Valliere on a skip pass and she hit another one for the dagger, making it 53-39 with just over 3:30 to go. Medford got it back to eight again at 54-46 on a Ruesch basket with 2:27 left, but the Raiders got no closer.
Finishing at the rim continued to be a struggle for Medford. The Raiders shot 30.2% from the field (19 of 63) overall and just five of 29 from 3-point range. They were 14 of 34 on twos.
"They play hard. They really do," Klapatauskas said. "You can't fault them for their effort. They're taking the ball to the basket and attacking the rim, which is what I want them to do. That's what we need. That's what they are. They attack the rim. That's what they're good at. That's what they're used to. We need to keep doing that."
Marissa Fronk led Medford with 13 points and added two rebounds, two steals and two assists. Ruesch, Brehm and Laurissa Klapatauskas all came close to double-doubles. Brehm had nine points and nine rebounds. Ruesch had nine points and seven boards. Klapatauskas had eight points and 10 rebounds. Bryn Fronk had six points, five steals, four rebounds and three assists. Krause had five points and two rebounds. Pernsteiner had four rebounds.