Posted on
Sweet revenge for Gilman in 52-51 victory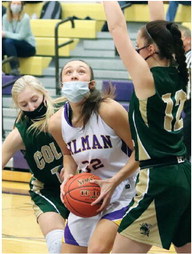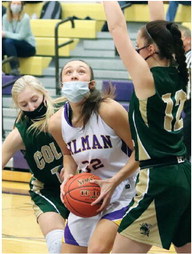 GILMAN GIRLS BASKETBALL
Six days after being handed a 27-point defeat by Colby, the Gilman Pirates returned the favor Monday, using solid defense and just flat out hustle on the boards to upset the visiting Hornets 52-51.
After falling behind 5-0, Gilman grabbed its first lead at 8-7 on a Madisyn James 3-pointer and never trailed again, leading by as much as 10 on several occasions, the last of which was 52-42 with just over three minutes to go.
The Hornets, though, made a frantic run, taking advantage of some turnovers and missed free throws to give themselves a shot. Brooke Suckow hit a 3-pointer with five seconds to go and, after James had two free throws rim out with 2.8 seconds left, she got another chance getting open off a sideline inbound play in the backcourt and dribbling in for a 7-foot attempt at the horn that was smothered by Gilman's defense.
"The girls are coming together and hopefully (Monday) night is just what we needed to give them the boost of confidence they need," Gilman head coach Tammy Weir said. "We still had too many turnovers, but our defense was spot on. We closed out hard, we moved our feet and we were in the right place at the right time. Offensively, we ran our offense and had some great shooting opportunities."
The Pirates improved to 2-4 in conference play and overall with the win.
Gilman outrebounded Colby 37-22 with 15 of those boards coming on the offensive end. Putbacks as well as another James 3, and some well-executed pick and rolls gave Gilman a 31-23 lead. A score by James off a Gilman steal in the last minute of the half made it 33-23.
A Suckow 3-pointer got Colby within 39-35, but Hannah Vick scored and Tatum Weir knocked down a 3-pointer to push the Pirates back up by nine. When the Hornets closed within 48-42 with 5:33 to go, Weir hit a baseline jumper from the left side and Weir assisted James on a score at the rim to push the lead back to 10.
Weir and Emma Grunseth both recorded double-doubles for Gilman. Weir had a game-high 22 points to go with 10 boards. Grunseth had 11 points and a game-high 13 rebounds.
James hit double figures with 12 points and added four steals, four rebounds and two assists. Vick scored seven points, including an early 3-pointer and had two rebounds, two steals and two assists.
Suckow led Colby with 14 points and Lexi Underwood added 12.
The Pirates hit 23 of 51 shots from the field, including four of 13 3-pointers, which was just good enough to overcome two of nine shooting from the free throw line. Colby was 21 of 51 from the field, including three of 14 from long range. The Hornets hit six of 11 free throws. Gilman turned the ball over 21 times and forced 20 Hornet turnovers.
Gilman's upcoming schedule has been altered by Spencer's need to pause its schedule for a couple of weeks. The teams were scheduled to play tonight, Thursday, and Monday. The game in Spencer will now be played on Saturday, Jan. 30.
The Pirates host Greenwood Friday at 5:45 p.m. to start a varsity doubleheader with the Indians. Gilman is at Granton for a 6 p.m. contest with the Bulldogs.
Neillsville 61, Gilman 20
Well on their way to the Eastern Cloverbelt Conference championship, the Neillsville Warriors completed a season sweep of the Pirates on Friday with a 61-20 win on their home floor.
Bella Opelt made nine of 10 shots from the field and scored 19 points to lead the Warriors. Amelia Trunkel scored 14 and Jaden Barth hit three 3-pointers to finish with nine points.
Neillsville jumped out to a 36-10 halftime lead and outscored Gilman 25-10 in the second half. With their 71-27 win over Loyal Monday, the Warriors sit at 9-0 in conference play.
James scored nine points to lead Gilman. She was three of seven from 3-point range and she had two rebounds. Tatum Weir added eight points, six rebounds, a steal and a blocked shot. Grunseth had three points, nine rebounds, three assists and three steals.
Kya Dietzler had four rebounds, while Katelynn Schmitt and Bryn Hendricks had two each. Vick and Addy Hopkins both had an assist.