Posted on
Offense gets closer to clicking in win over Falcons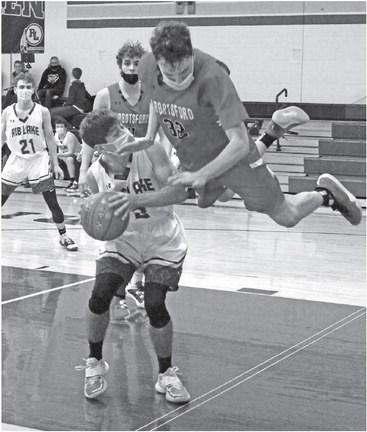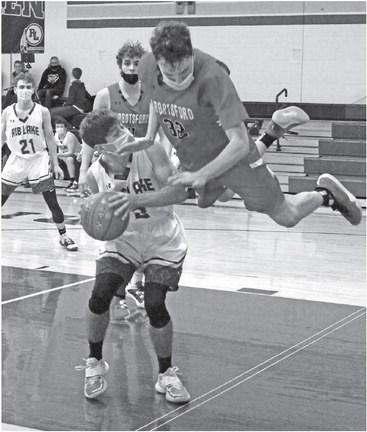 RIB LAKE BOYS BASKETBALL
A 15-4 run midway through the second half Tuesday pushed the Rib Lake Redmen to their third win in four games, a 66-52 Marawood North win over visiting Abbotsford.
The 66 points marked a season-high for the Redmen, who put together some of their strongest stretches of offensive execution of the season. Senior forward Ryan Patrick had a monster game with 28 points and 13 rebounds and junior Logan Blomberg had a late surge that put him at 17 points as Rib Lake improved to 2-6 in Marawood play and 3-7 overall.
The Falcons, who upset Greenwood 47-40 on Monday, fell to 0-6 in the Marawood and 1-9 overall.
Defensively, Rib Lake survived the explosive potential of Abbotsford's standout senior Cade Decker. They limited him to six points in the first half. He broke a bit in the second half with 13 more to finish with 19. The Redmen, however, stopped other Falcons from getting going, particularly after forward Adam Diedrich did some early damage in the paint and on the offensive boards with eight first-half points. He did not score in the second half.
Some of the offensive progress, however, was most encouraging. Much of Patrick's success in the paint was a result of good perimeter passing or dribble penetration from the guards. Patrick also got his usual share of putbacks as well.
The offense took off after Rib Lake actually fell behind 18-8. Patrick converted a three-point play at the 9:20 mark of the first half, Blomberg swished a 3-pointer and then he hit two free throws to slice eight points off Abbotsford's lead in a 62-second span. Andrew Wudi penetrated with a beautiful crossover dribble and fed Patrick to answer a Diedrich score. Wudi then hit a tough shot from just outside the paint and Blomberg scored to put Rib Lake ahead 22-20. The lead see-sawed for a bit, then Rib Lake closed the half with an 8-3 run to go up 33-29.
Abbotsford led 38-37 after a Hunter Soyk steal and score with 13 minutes left when the Redmen took over.
Tanner Vlach hit two free throws. Faber got a tip-in at the other end, Wudi found Vlach in transition, Michael Borchardt made a nice baseline feed to Patrick and Vlach, without hesitation, buried a 3 from up top for a 46-40 lead. Trey Klemann aggressively drove the baseline and scored. After a Faber putback, Wudi's dribble penetration resulted in an assist to Patrick and Patrick scored off a Vlach assist for a 52-42 lead with 8:00 to play.
Patrick's big night continued when he calmly swished a rare 3-point shot with just over four minutes left that gave Rib Lake a 57-48 lead. Blomberg scored seven points in the last minute to close it out.
Vlach finished with seven points, Wudi had five, Klemann and Brock Thiede added four apiece and Borchardt contributed a first-half free throw. Vlach had eight rebounds, four assists and three steals. Wudi had four assists and two rebounds. Borchardt dished out a team-high six assists and added three rebounds and two steals. Blomberg had four rebounds and two assists. Thiede had two rebounds and two assists.
Rib Lake shot a season-best 57.8% from the field (26 of 45) and had 19 assists on those 26 field goals.
Rib Lake hosts Chequamegon Friday at 7:15 p.m. in game two of a girls-boys doubleheader with the Screaming Eagles. A newly-added game at Crandon will take place Tuesday before the Redmen travel to Auburndale Jan. 22.
Assumption 47, Rib Lake 42
On Friday, the Redmen lost a heartbreaker with Wisconsin Rapids Assumption, who finished the Marawood Conference crossover with a 10-4 run to earn a 47-42 road win.
Vlach gave Rib Lake its only secondhalf lead at 38-37 with a 3-pointer from the left corner with 2:56 left, but Nick Leberg scored inside off a Ryan Shaw assist 25 seconds later to give the Royals the lead back. The Royals beat Rib Lake's full-court press and got an Alec Sullivan hoop with 1:11 left to extend their lead to 41-38. Patrick stuck back an offensive rebound for Rib Lake and was fouled with 55.7 seconds left, but his tying free throw rimmed out.
Sullivan sank two free throws with 47.4 seconds to go to make it 43-40. Vlach missed a 3-pointer and a held ball on the rebound went to Assumption. Vlach, however, got a steal to give Rib Lake a chance with 22.3 seconds, but the Redmen turned the ball over on the inbound play following a timeout and Assumption put the game away from the free throw line in the final 19 seconds.
Rib Lake moved the ball well most of the night against Assumption's 1-3-1 zone and generated plenty of open looks. Unfortunately, not enough of them fell. The Redmen were just 17 of 56 overall from the field (30.4%), including seven of 35 from 3-point range (20%). Rib Lake also hurt itself with 20 turnovers.
Assumption had a key advantage from the free throw line. The Royals only made 11 of 21, but that was easily better than Rib Lake's one for four. Patrick, Wudi and Blomberg all found themselves in foul trouble at times during the loss.
Rib Lake held Assumption scoreless for the first 4:30 but only mustered a Patrick putback in that time. The lead then changed hands five times over the remainder of the first half. The Royals had the biggest edge, taking a 14-7 lead on a Jack Klatt 3-pointer, but a Blomberg steal led to a Borchardt basket and Blomberg nailed a 3-pointer to give Rib Lake a brief 15-14 lead. Vlach's late 3 pulled Rib Lake within 21-20 at the half.
Assumption surged out to a 31-23 lead early in the second half, but the Redmen chipped away and eventually pulled even at 35-35 with 3:42 left on a Patrick bucket. Reed Duellman put the Royals up by two by driving through Rib Lake's defense with 3:18 to go.
Vlach hit six of 16 3-point tries and led Rib Lake with 20 points. Patrick added 10, Blomberg scored seven, Borchardt finished with four and Wudi made Rib Lake's only free throw.
Patrick pulled down 17 rebounds to complete a double-double. Blomberg had seven rebounds and three assists. Thiede also had three assists, while Wudi and Borchardt had two apiece. Vlach had six steals and Blomberg had three.
Sullivan had 13 points and Duellman scored 12 for Assumption, who won its first game after seven losses to start the season.