Posted on
INTO FIRST, THEN OUT OF IT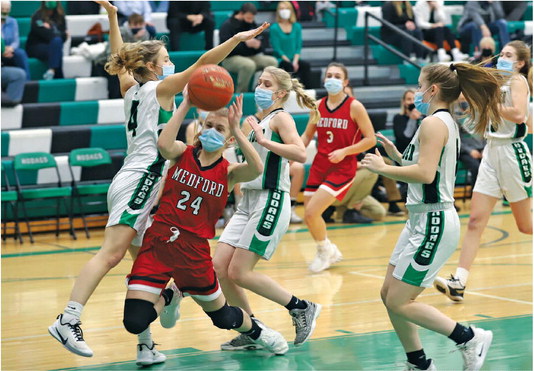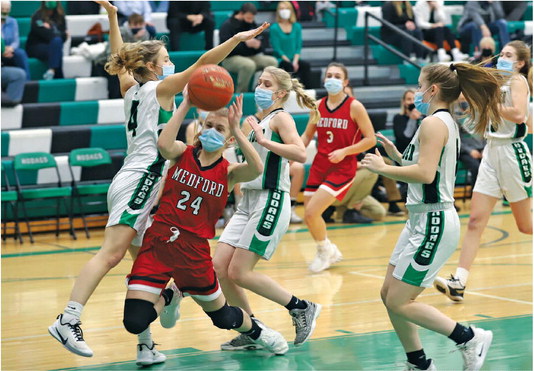 MEDFORD GIRLS BASKETBALL
Hodags' win creates four-team GNC logjam
A big win Friday put the Medford Raiders in first place in the Great Northern Conference, but a 41-38 loss at Rhinelander Tuesday knocked them out of the top spot in what is turning into an intriguing four-team race for the 2020-21 title.
Hodag Rebecca Lawrence had a career night scoring 34 of her team's 41 points in Rhinelander's win that left Medford, Rhinelander and Lakeland in a three-way for second place at 5-2, one-half game behind 5-1 Mosinee. The Indians knocked off Lakeland 54-38 Tuesday to regain the top spot they lost when Medford beat them 47-43 Friday.
The Raiders lost their rhythm after a solid start and never really got it back. But, they still made a game of it down the stretch when Rhinelander missed five straight free throws. Medford cut the deficit to one in the last 10 seconds and had a tying shot bounce off the rim at the buzzer.
"This game worried me," Medford head coach Greg Klapatauskas said. "Lawrence is a great player. I thought our zone could stop her. We didn't quite move our feet as well as we have on defense. They did a good job. They executed well. It was a physical game. We weren't able to execute well enough to get the job done."
Both teams turned the ball over 26 times and were a combined one for 31 on 3-point shots in a game that turned quite physical at times. Medford missed all 15 of its long-range shots and was 16 of 35 on two-point shots, which wasn't bad, but some of the misses came on looks the Raiders know they should've put down.
"I thought we rebounded OK, we hustled, we got after loose balls," Klapatauskas said. "We did all those things. We just couldn't execute when we needed it to make a play. Throughout the game we had opportunities and we just couldn't make it. I think that was the difference."
The one stretch things did click came early when Martha Miller, Laurissa Klapatauskas, Bryn Fronk and Katie Brehm hit shots in an 8-2 spurt that put Medford up 10-6. Lawrence scored twice, Marissa Fronk made a free throw to put the Raiders up 11-10 and that wound up being their last lead.
The Raiders got some tough breaks in the half when a couple of potential three-point plays were ruled to be fouls before the shot. The team's 17 first-half turnovers took a toll and at least three in-close layups in the final minutes were missed, allowing Rhinelander to take a 20-18 lead into the locker room.
Lawrence hit the game's only 3-pointer to start the second half, then she was able to get out in transition a handful of times. She scored all of Rhinelander's points in a 13-2 run to start the half that made it 33-20.
Medford countered with an 8-0 run on two scores from Brehm, one from Miller and a score from Marissa Fronk off an assist from Bryn Fronk. The Raiders got within 35-32 on a Klapatauskas drive. She got another one to cut it to 39-34 with just over two minutes left.
That's when the Hodags went cold from the line and kept the door open. Bryn Fronk made a free throw with 52 seconds left and Marissa Fronk made one with 25.7 seconds. Rynn Ruesch's basket with 6.7 seconds left made it 39-38. Lawrence finally made two free throws with 5.3 seconds left. The Raiders got the ball to half-court and called a timeout with 3.0 seconds to go.
Klapatauskas said he knew the Hodags, as they did successfully most of the night, weren't going to let Marissa Fronk get the ball. The Raiders got a good look for Bryn Fronk from the left wing. There was some contact by the defender on the shot, but no foul was called and it missed at the buzzer.
Miller scored eight points for the Raiders, Brehm scored seven and Marissa Fronk and Laurissa Klapatauskas scored six apiece. Bryn Fronk chipped in with five, Ruesch scored four and Autumn Krause had a hoop.
Bryn Fronk and Krause each had six rebounds as Medford outrebounded the Hodags 38-31. The Fronk sisters each had three assists. Bryn Fronk added three steals and Klapatauskas had four.
"I love the way the kids worked hard," Greg Klapatauskas said. "They never quit battling. They faced a bunch of adversity. We just dug ourselves too big of a hole to get out of. We didn't make plays when we needed to."
The Raiders get another contender Friday when they host Lakeland at 7:15 p.m. in a matchup where the loser will be in a tough spot in the title chase. They will host Tomahawk Monday in a rescheduled GNC game before going to Menomonie Tuesday for a tough nonconference matchup with the Mustangs.
Medford hosts Rhinelander to close the regular season on Feb. 5. Mosinee hosts Lakeland Jan. 26 and visits Rhinelander on Jan. 29.
Medford 47, Mosinee 43
Two and a half weeks after Mosinee humbled Medford on its home floor with a dominant win, the Raiders returned the favor Friday by hanging tough in a physical, tightly-contested game and escaping with a 47-43 victory that vaulted the Raiders, at that time, into a first-place tie with Lakeland in the GNC.
The loss was Mosinee's first in conference play and it was Medford's first in Mosinee's gym since the 2017-18 season. Medford teams were 1-6 there the last seven years.
"That was a big one for a lot of reasons, just because of how we lost to them the first time and then to see that we're improving," Greg Klapatauskas said. "That's what makes me as happy as anything else is we're getting better. It was a physical game. We definitely matched their physicality this time."
The game featured plenty of contact, held balls, bodies on the floor, challenged shots and turnovers. The Raiders didn't handle it well in the first meeting and 39 turnovers wasn't what Klapatauskas wanted to see Friday.
But the Raiders forced 22 turnovers, held Mosinee to 26.6% shooting from the field, including two of 27 from 3-point range and responded when the Indians rallied from a seven-point deficit to take a two-point lead. After the Raiders retook the lead, they held on to it in the last two minutes after senior leader Marissa Fronk fouled out.
Medford only faced two one-point deficits in the first half, 1-0 and 16-15, and took a 28-23 lead into halftime, much different from the first meeting when they trailed by 21 in the first half. The Raiders broke a 20-20 tie Friday and ended the first half with an 8-3 run where Krause's outlet pass gave Marissa Fronk a layup, Krause hit a 3 and Marissa Fronk converted a three-point play with 1:02 left.
Mosinee pulled within 34-32 in the second half when Brehm scored off a Bryn Fronk assist and Krause hit a 3-pointer to make it 39-32 with 9:20 left. The Raiders then went on a scoring drought of more than five minutes and Mosinee surged ahead 41-39 highlighted by a Kate Fitzgerald 3 with 4:07 left.
Laurissa Klapatauskas put back her own miss to tie it at 41-41 and Krause hit the big go-ahead shot, banking in a 3-pointer from the top of the key with 2:05 left. Mosinee pulled within one on bonus free throws by Jenna Placek with 1:29 left. After a turnover, the Raiders got a big defensive stop and Bryn Fronk sank two bonus throws with 25 seconds to go. Fitzgerald missed two 3s and Klapatauskas hit one of two free throws with 10 seconds to go to ice it.
"In the last few minutes, they didn't get any good shots off," Greg Klapatauskas said. "The shots they got weren't close. That was encouraging too. When you play a zone you run the risk of giving up open shots but I think the girls are doing a good job of getting a hand in the face and when it does get kicked out to a shooter, it's a contested shot."
Krause led a balanced offensive attack with 12 points. She hit four of five shots, all from 3-point range and had six rebounds, three assists and two steals. Marissa Fronk scored 11 points and had five steals and three assists. Ruesch had a hot hand early and finished with eight points on four-of-six shooting.
Klapatauskas and Brehm scored five points apiece. Klapatauskas had a teamhigh nine rebounds, while Brehm had five. Bryn Fronk had four points and three assists. Lydia Pernsteiner had a first-half bucket.
Medford shot a season-best 51.4% from the field (19 of 37), which was encouraging. The 39 turnovers prevented them from getting more shots.
"The turnovers are super frustrating, but I like the way we took the ball to the basket and we're attacking," Greg Klapatauskas said. "We did not play tentative. We put a few tweaks to our offense. We did a few more pick and rolls to try to create spots to dribble penetrate. That seemed to work well in the first half. "
Fitzgerald scored 15 points for Mosinee. The Raiders held Mosinee's leading scorer Lexi Freiboth to 10 points.
"We didn't get a ton of steals off the press, but they didn't take a lot of good shots once they broke the press," Klapatauskas said. "They kind of hurried themselves. That was good to see. In the end, I think we got more turnovers off our press than we gave up layups. We gave up a few layups here and there where they broke it but we also got a bunch of hurried shots and a bunch of turnovers eventually off of it.
"(The press) just seems to add to our energy level," he added. "I called it off for a little while and then when we fell back into our zone it didn't seem like we had quite the same pep to our step. We're going to keep pressing and get after you."