Posted on
Gilman hangs on and survives furious comeback by Cornell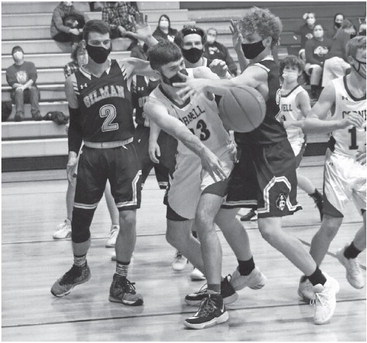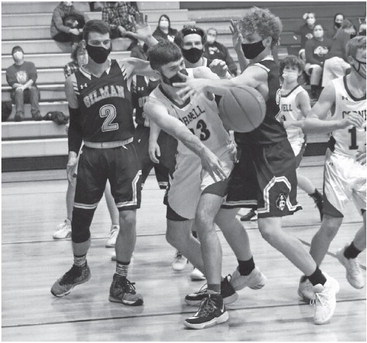 GILMAN BOYS BASKETBALL
On the wrong side of four one-sided scores to start the boys basketball season, the Gilman Pirates were on the right side of one for most of Tuesday's nonconference game at Cornell.
And then things nearly went horribly wrong.
Fortunately, for the Pirates, they maintained enough poise to regain what was lost and escape with a 63-60 victory over the Chiefs. The win was the first of the season for the Pirates and for new head coach Bobbi Marion. The Chiefs, who were down 24-0 and 26-1 to start the game, fell to 1-8.
The game was added to the schedule after Lake Holcombe's boys were forced to pull out of what was planned to be a varsity doubleheader between the neighboring schools. Gilman had lost its regularly- scheduled game for the night with Loyal.
The Pirates came out firing, getting four early points from Branden Ustianowski, a bucket from Zack Marion and 10 quick ones from Andrew Hecker to score the game's first 16 points. When Gabe Brunner and Adam Draeger sandwiched 3-pointers around a Hecker hoop, Gilman appeared to be well on its way to win number one, leading by 24.
But Cornell finally got on the board with a Blake Anders free throw. After Hecker put back his own miss, Dylan Bowe made Cornell's first field goal 11 minutes in and the Chiefs suddenly came to life, hitting shots at a steady pace and gaining confidence in their full-court press.
Gilman kept answering in the first half, getting another 3 from Brunner and back-to-back transition hoops from Ustianowski while taking a 40-19 lead into halftime.
The Pirates still were in command, leading 51-32 with 9:30 to go when Cornell caught another huge wave of momentum after Pirate junior post Zack Marion left the game with his fourth foul.
Anders scored twice, Davis Harshman added a hoop and Bowe hit two 3-pointers to cut the lead to 51-44. In the meantime, Hecker took a temporary seat after getting his fourth foul on a charge call. The Chiefs completed their 19-0 run with an Anders hoop that tied the game at 51-51 with just under six minutes left.
Marion hit a free throw, but Bowe stretched the surge to 22-1 and gave Cornell its first lead at 54-52 with another 3-pointer.
Ustianowski tied it with a transition hoop. Freshman Dalton Wisocky came up with a huge play with just under three minutes left, taking a pass along the right sideline and working his way to the rack, using a screen from Marion to break the tie. Wisocky later hit two big bonus free throws at the 1:08 mark to give Gilman a 59-56 lead.
Cornell twice got within one in the last minute, but Hecker hit two big free throws with 35 seconds left and, after Gil- man's defense forced a big turnover with 12.4 seconds left, the Pirates drew up an inbound play that got Hecker wide open. He took a long pass from Ustianowski and laid it in. Cornell got off one last halfcourt heave from Bowe that was off the mark and Gilman survived.
Hecker poured in 36 points to lead Gilman, and the Pirates got just enough key contributions from other sources as well. Ustianowski finished with eight points, while Wisocky and Brunner scored six each. Zack Marion and Draeger scored three apiece and Caleb Marion added a second-half free throw.
Bowe's 23 points led Cornell, while Anders added 15.
The Pirates are back in action Friday when they host Greenwood in Eastern Cloverbelt Conference play. The game starts at about 7:15 p.m., following completion of the girls game that starts at 5:45 p.m.
Gilman will go to Greenwood Monday for the rematch, which starts at 6:15 p.m. and then go to Colby Jan. 21 for a 6 p.m. start.