Posted on
Rib Lake holds on for season's first victory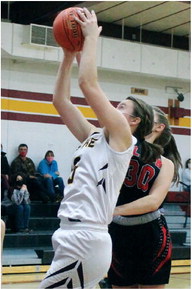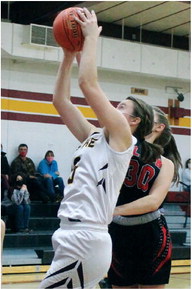 RIB LAKE GIRLS BASKETBALL
A 13-point second-half lead dwindled to two, but the Rib Lake Lady Redmen held on and secured their first victory of the 2020-21 girls basketball season Tuesday, a 38-34 decision over Abbotsford.
Nellie Hopkins scored a team-high 11 points and got the key bucket down the stretch, cutting to the basket off a Rebekah Strobach screen and taking an inbound pass from Lauren Pelnis to score with two minutes left to put Rib Lake up 35-30.
Pelnis had just made one of two free throws, but Abbotsford fumbled the rebound out of bounds on the miss to give Rib Lake another shot to add to its lead, which had gone from 25-12 early in the half to 32-30, following a three-point play by Falcon Briseida Escalera with 2:15 left.
Rib Lake improved to 1-4 in Marawood Conference play and overall, while the Falcons dropped to 1-5, 2-7.
While the game wasn't overly pretty from an offensive standpoint, some of the credit goes to the opposing defenses. Abbotsford got back in the game late by rattling Rib Lake a bit with full-court man-toman pressure. Rib Lake played a variety of zones throughout the game with an aggressive 1-3-1 with some trapping forcing the issue against the Falcons' offense, especially in the first half.
A Sydney Falteisek 3-pointer gave Ab- botsford an early 5-3 lead, but that was the only lead the visitors enjoyed. Hopkins made a free throw and then scored off a steal. She did that twice at the top of the zone, helping Rib Lake take a 10-5 lead.
Reagan Reinhardt scored five firsthalf points and Jolee Gehrke provided a lift with two free throws and a long jumper from the right side with five seconds left that pushed Rib Lake's lead at the break to 23-12. Tia Bube stuck back a Strobach miss for the first bucket of the second half to stretch the lead to 13.
From there, the offense struggled, going almost 10 minutes between field goals. Fortunately, the defense kept the Falcons at bay. They pulled within 26-22 on a Falteisek score, but Pelnis finally got a hoop for the Redmen at the 7:30 mark, scoring on a back door cut and a Hopkins assist.
Brissa Diaz-Miranda pulled the Falcons within 28-25 with a 3-pointer, but Hopkins fed Bube down low. She missed the initial shot but got her own rebound and put it in. Moments later, Hopkins grabbed a long defensive rebound and bolted to the other end for a hoop and harm with 5:17 left. She missed the free throw, but the lead stood at seven at 32-25.
Escalera scored five points over the next three minutes for Abbotsford. But after the key basket by Hopkins, Rib Lake was able to salt it away by hitting just enough free throws and getting defensive stops in the last minute.
Pelnis scored nine points for Rib Lake, Reinhardt and Bube scored six apiece and Gehrke finished with four. Strobach and Josie Scheithauer added a point apiece.
Escalara and Mya Ruesch led Abbotsford with seven points apiece.
Rib Lake beat the Falcons for the third straight time dating back to last year.
The Redmen return to the hardwood tonight, Thursday, when they host Wisconsin Rapids Assumption in a Marawood Conference crossover. Rib Lake will head to Athens Monday for a rematch with the Blue Jays, who beat them on Dec. 18. Rib Lake is scheduled to host Chequamegon on Jan. 14.
Prentice 52, Rib Lake 38
Rib Lake outscored host Prentice in the second half Monday night, but Kiandra Hartman's huge first half was too much for the Lady Redmen to overcome in a 52-38 Marawood North loss to the Buccaneers.
Hartman went off for 29 points, 20 of which came in the first half as Prentice jumped out to a 30-14 lead. Hartman hit four 3-pointers in the first half and added two more in the second half to account for all of Prentice's makes from long range.
Rib Lake got double-digit scoring from Hopkins and Pelnis with 15 and 10 points, respectively. The Redmen limited their turnovers to a season-low 13 and had assists on 11 of their 15 field goals.
"We had a slow start in the first half but definitely played better in the second half," Rib Lake head coach Mike Wudi said. "It was nice to have Nellie back after being gone for two games on a family trip. Hartmann had a big night for Prentice. We did not do a great job at all on closing out on her on the outside shot. She was on all night long. We did do better against her in the second half."
Hopkins did all of her scoring damage in the second half on six field goals and three-of-four shooting from the free throw line. Pelnis led Rib Lake with five first-half points, including the team's lone 3-point basket of the game.
Molly Heiser and Bube scored four points each. Heiser had three rebounds, three assists, a steal and a blocked shot. Bube had three assists, two blocked shots, a steal and a rebound.
Scheithauer and Reinhardt added baskets and Gehrke made one of two free throws. Scheithauer blocked a shot and had a steal. Gehrke blocked a shot. Strobach had three rebounds and an assist and Kamy Annala grabbed a rebound.
Mallory Burcaw hit double figures for Prentice with 11 points. The Buccaneers improved to 2-3 in Marawood play and 5-5 overall at the time.
Rib Lake made 15 of 43 shots overall from the field and seven of 12 free throws.
Phillips 63, Rib Lake 7
Rib Lake was overmatched in a Dec. 22 matchup at undefeated Phillips, who rolled to a 63-7 win.
Bube scored five of Rib Lake's points and added seven rebounds, two blocked shots and a steal in the loss. Gehrke had a basket and a steal. Strobach had three rebounds, Scheithauer had three steals, Pelnis had a rebound and an assist and Danielle Mann and Emily Rodman each added a steal.
The Redmen got off just 24 shots from the field. They made three and were limited to 13 rebounds. Rib Lake made one of eight free throws and turned the ball over 24 times.
Phillips, who currently sits at 10-0 overall and 6-0 in Marawood play, got 17 points, seven steals, five assists and three rebounds from Jada Eggebrecht, 12 points and five boards from Rachel Callow and 10 points, six rebounds and three steals from Kacy Eggebrecht.