Posted on
EARNING IT IN OVERTIME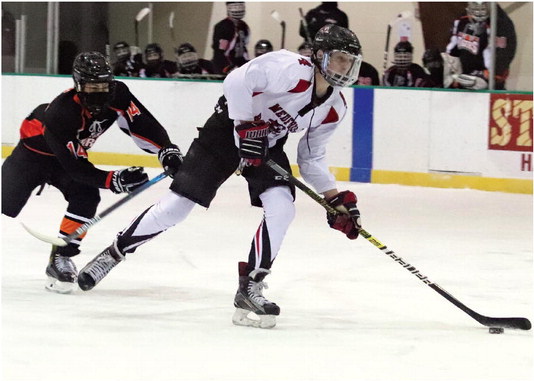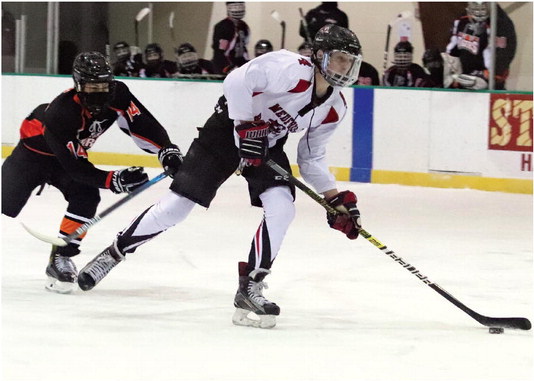 MEDFORD BOYS HOCKEY
Raiders quickly take advantage of OT power play
An overtime slashing penalty brought a face-off into Medford's offensive zone and that was all the Raiders needed to secure a hard-fought 5-4 win over Black River Falls.
Miles Searles won the draw from the face-off circle to the left of Tiger goal tender Caden Skelding and the puck found its way to senior Carter Pernsteiner whose blistering shot trickled through Skelding to suddenly end the back-and-forth non-conference battle 3:10 into overtime and just four seconds into the final power play of the game.
"It was pretty tight the whole game," Pernsteiner said. "It was good to come out on top. We had a few lucky ones, but I think we were skating pretty hard with them the whole game. It was a pretty competitive, good game."
"We just attacked the net," head coach Galen Searles said. "Getting the puck off quickly and not hanging on to it was key because you don't have a lot of time in there. They did a good job of getting a quick release."
For Pernsteiner, it was his second goal of the game and the first time he could ever remember winning a game in sudden death.
"I don't think I ever have in my life," he said. "That was a cool opportunity."
The win boosted Medford's overall record to 3-6 and it was their third victory in their last five outings. Ben Brunner had 22 saves as he continues to get acclimated to the goalie position and Searles said the defense continued to improve in front of him, which bodes well for the season's second half.
"Ben doesn't need to be spectacular," Searles said. "If the guys can trust that he's going to make the basic saves, then we're good enough that we're not going to let the other team get that many shots unless it's a powerhouse team."
The lead changed hands twice in the late stages of the contest. Medford never trailed through the first two-plus periods, drawing first blood 12:33 into the game on Pernsteiner's goal from just outside the crease, which was set up by assists from Brayden Machon and Colbe Bull.
The Tigers tied it with just 13 seconds left in the first period, getting a power-play goal from Ian Zoschke off assists from Clayton Madvig and Karstin Hunter. An unassisted goal from Miles Searles 4:41 into the second put Medford back on top, but that was answered by another power-play goal by the Tigers. Hunter scored it at the 14:27 mark with an assist from Madvig.
A key goal in the contest came a fraction of a second before time expired in the second period. Connor Gowey sent a shot on net from Skelding's left side. Machon kept poking at the puck off the rebound and finally got it into the net. The officials ruled it was in time, giving Medford a 3-2 lead going into the third period.
"Brayden was just on fire tonight," coach Searles said. "That kid had endless energy out there."
The Tigers tied it just 38 seconds into the third on a Jonah Zoschke goal. Cooper Peterson set up Hunter with a shot at an open net to Brunner's right side at 8:03 to give the visitors a 4-3 lead.
But Medford tied it up on a pretty play as Bull's outlet pass from deep in the defensive zone found Austin Stauffer's stick beyond center ice and the freshman took care of the rest for his team-leading 10th goal of the season with 5:22 remaining.
"If we do any shootouts, (Stauffer's) going to be one of the three guys because that kid knows how to score," Ga­len Searles said.
Medford had a couple of early scoring chances in overtime that went wide of the net. The biggest play may have come from senior Logan Searles and it won't show up on the stats sheet as he drew the penalty that set up the face-off and gamewinning goal. "That penalty that Logan drew at the end of the game was big," Galen Searles said. "He battled off two guys. It looked like they were going to have an odd-man advantage. He came back and fought, he upset the guy that he stole the puck from and he slashed him. That kind of effort is great."
"I think we were running out of energy, but we went strong," Pernsteiner said of the game's finish. "The last few shifts there we had some opportunities, had some close ones. We were fighting back and forth. It was short face-offs that we won. We had it set up where we got it off the draw. It was a faster one."
Medford put 22 shots on goal and was outshot by four.
"This was the first contest that we've had where we had a lot of sustained offensive pressure," Galen Searle said. "A lot of our goals come from odd-man breakaways or something like that. We practice controlling the puck in their end but we don't always seem to get a lot of practice at it in the games. That's something that we talked about in between the periods, moving the puck around, when you don't have the puck find open seams to bust for passes."
Medford will look to make it two in a row tonight, Thursday, when it hosts winless Tomahawk at 7 p.m. in Great Northern Conference play. The Raiders will make up an early-season postponement Saturday with an 11:30 a.m. game at Viroqua before returning home to face GNC contender Lakeland on Tuesday and non-conference rival Chequamegon on Jan. 14.
Pines 7, Medford 0
Visions of a major Great Northern Conference upset danced in Medford's heads for a period on Dec. 29, but a shorthanded goal early in the second period got Northland Pines going and the Eagles went on to a 7-0 win in the Raiders' home opener.
Despite being outshot 10-4, Medford played an even first period with the Eagles, getting a couple of good scoring chances and getting some solid play on the defensive end that limited the quality shots Pines got. When the Eagles did get chances, Brunner was up to the challenge, stopping all 10 shots, including a big one on a play right in the crease with just under a minute left.
"He made the saves that he needed to make," Galen Searles said of Brunner. "We skated with them fine. They outshot us, but we got some shots at least and got it out of our end. Partway into that second period, our lack of a third line started to show."
The Raiders went on a power just 34 seconds into the second period hoping to grab a lead. Instead, the Eagles were the ones getting the game's first goal at 1:54 when Josh Chesney deflected a Medford pass near the Pines blue line and tipped it to Michael Mailette, who skated in for the breakaway, short-handed goal.
At 6:17, the Eagles took advantage of a tripping call on the Raiders, scoring a power-play goal from Riley McGee, assisted by Luke Wessel.
Mailette broke free for another unassisted goal at 7:32 and, just after the Raiders' Austin Stauffer just missed on two good looks during a power play that expired with no scoring, Pines added its fourth goal of the period with 1:22 left with a score from Max Brown, assisted by Wessel and Tyler Glauner.
Mailette completed a hat trick 8:01 into the third with assists from McGee and Brown. Wessel scored an unassisted short-handed goal at 10:15 to make it 6-0 and Chesney closed the scoring with a power-play goal at 14:21, assisted by Mailette and Andrew Hartwig.
Mitch McCanles had 19 saves, including 10 in the second period while collecting the shutout win between the pipes for Pines. Brunner had 26 saves for Medford, including nine in the third period.
Pines was two for three on power plays while Medford didn't score on five power plays and gave up the two short-handers.
Still, compared to last year's 15-0 blowout in Eagle River, Searles said this performance felt like a major improvement.
"We did play with them, we didn't get embarrassed," he said. "It was a fun game to watch. One thing about this group this year compared to last year, these guys don't get down. Last year if something bad happened and then something bad happened right after that, it felt like I had to go around being a morale booster for everybody. This year, they play more light-hearted. It's good."