Posted on
Raiders keep meet close, win it with late pins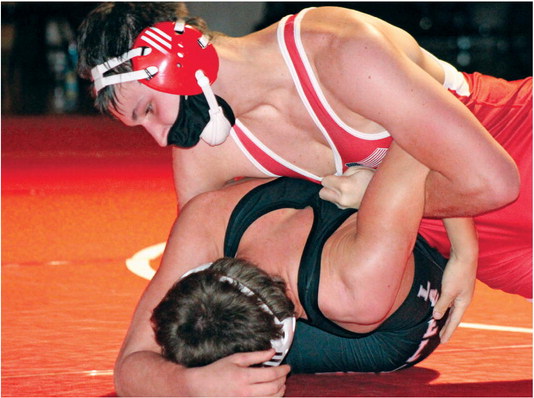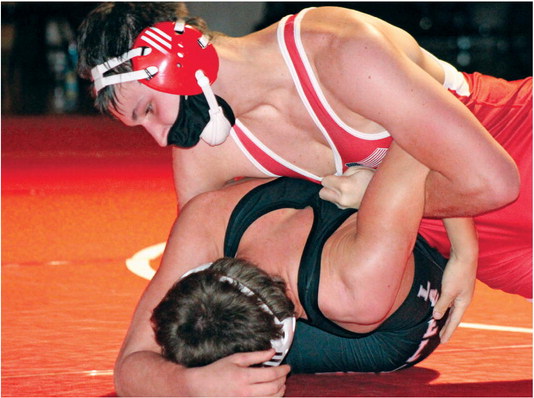 MEDFORD 43, LAKELAND 35
A few matches didn't go the way Medford hoped Thursday, but the Raiders did enough to stay close and used two big pins late and a couple of forfeits to secure a 43-35 win over Lakeland in the Great Northern Conference opener at Raider Hall.
Dalton Krug at 220 pounds and Thaddeus Sigmund at 106 pounds got the pins that secured the victory for the Raiders, who only led once until meetending forfeit wins for Jude Stark and Rachel Sova clinched it.
"Dalton's and Thaddeus's pins at the end of the dual were really key in getting the victory for us," Medford head coach Brandon Marcis said. "Kudos to those guys for getting the job done. It was pretty exciting. It was back and forth the whole way."
For Medford's relatively inexperienced squad, the season's second dual meet of the season was the perfect example of how team success isn't always determined by match wins. Marcis said this was the first chance for some of his wrestlers to see that.
"This was a good lesson in wrestling for the team," he said. "For some of the younger guys that are coming up, it's kind of a new concept of wrestling the full six minutes and keeping the score as tight as it can be or winning by as much as you possibly can. It's shifting our mindset from just wrestling for yourself versus wrestling for the team. We got 'er done."
One of Lakeland's top wrestlers, Ben Nemcek, started the meet at 126 pounds by earning an 18-3 technical fall over Raider sophomore Itsael Medina-Fuentes, who was making his varsity debut. Medina-Fuentes was two seconds away from completing the match and only losing by major decision, which would have saved a team point.
"He still didn't give the pin up, so that was a win for us," Marcis said.
Lakeland's Logan Strasburg took a forfeit at 132 pounds to put the Thunderbirds up 11-0. Medford senior Carson Church put Medford on the board with a quick, 51-second pin of Brady Abb at 138 pounds and Kayden Dassow took a forfeit at 145 pounds to give Medford a 12-11 lead.
Freshman Kenny Pace nearly extended the lead, but bad luck hit him when he was pinned at 5:46 by Jose Retana in the 152-pound match. Senior Emett Grunwald answered in his first match of the season with a 7-2 win over Zane Grams in the 160-pound bout but a forfeit to Lakeland's Tommy Howard at 170 put the visitors up 23-15 at the halfway point of the dual.
"Kenny Pace was winning the whole match, was wrestling phenomenal, doing great and then got pinned with 14 seconds left," Marcis said. "That was another one of those lessons about holding on for a whole six minutes. We just couldn't quite get it on that one. Emett came in and got a big win. We knew that was going to be a decent match. He weighed in at 152 and wrestled 160. We flip-flopped around and did what matchups were best for us."
Senior Hayden Johnson made his season debut and was dominant in a 12-3 major decision over T-Bird Jerry Goselin at 182 pounds. At 195, Lakeland's Leonard Chosa gave Lakeland its biggest lead by pinning Wyatt Johnson, who came up 33 seconds short of going the distance.
Down 29-19, Medford needed Krug, a senior, to step up at 220 pounds and he did just that, sticking Landon Saglin at the 3:23 mark.
"He got the pin with the famous crossface cradle that Dalton is known for," Marcis said. "That was exciting for him."
Esaube Brown pinned Raider freshman Braxton Weissmiller in 2:18 in the heavyweight match, putting Lakeland back up by 10, but the Raiders knew they had 12 points coming in forfeits.
That put the meet's result on the shoulders of Sigmund, a sophomore. He took care of business in just 16 seconds, pinning Justin Funmaker.
"All I saw from that dual meet was just a ton of potential," Marcis said. "We have a lot of inexperience on the team when it comes to wrestling at a varsity level. If a few things just flip around and go our way, if we wrestle just a little bit smarter for the whole six minutes, the score would've had a little wider of a margin. If we had our full team –– there was nothing we could control with that –– and we wrestle great, that gap widens by quite a bit. So I was pretty happy with the results. I just see a ton of potential for the rest of the season. I'm pretty excited moving forward."
Moving forward takes Medford to Tomahawk tonight, Thursday, for a key Great Northern Conference dual against the rival Hatchets. Medford won a tightly-contested meet there last year 33-25, though many of the faces on both sides from that dual have moved on. The Hatchets won their GNC opener 52-15 at Mosinee.
"We're fired up," Marcis said. "We go to Tomahawk on Thursday. I get a couple more kids back. We should be pretty full, barring any mishaps this week. I'm pretty excited. I think it's going to be a competitive dual."