Posted on
Pirates anxious to finally see what they've got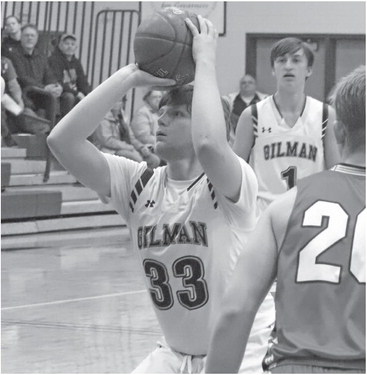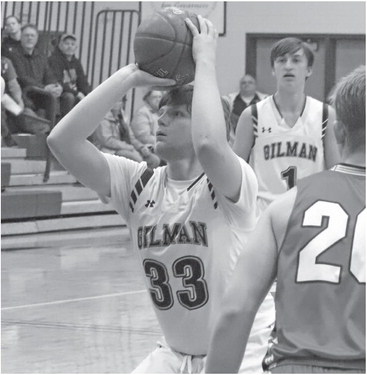 It's been a long wait, but the Gilman Pirates have been trying to use their time wisely before they finally open their 2020-21 boys basketball season Friday in Marshfield at Columbus Catholic.
Under new leadership with a coaching change and three freshmen being brought into the small nine-man roster, the Pirates have needed the time they've had since Nov. 23 to build some chemistry. School administration, in November, eased Gilman's basketball teams into the new season amid the COVID-19 pandemic, pushing back the boys' opening date to this week.
"We are very ready to start playing," new head coach Bobbi Marion said after the team completed practice last Friday. "We're through week number three of practice now. We don't play until next Friday, so the boys are getting a little antsy. But they're working hard in practice. We're looking good. We're getting some fundamentals down. We have three freshmen this year on our team, so it's kinda nice to get them into the groove with things and have a little extra practice with them."
Marion, who was hired just last month, joins a list of women head coaches of boys teams in the area that includes Carrie Ewan of Rib Lake, Joy Webster of Lake Holcombe and Lisa Karau of Ashland. In fact, had the original schedule stayed in place, the Pirates would have faced all three of those teams this season. Marion spent one year as Gilman's boys JV coach under Brian Pernsteiner a handful of years ago and spent time as Cadott's varsity girls coach about a decade ago.
She played high school basketball at Thorp, where she graduated as part of the class of 1999. Marion takes over for Wade Hendricks, who stepped down this past summer after leading the Pirates to a 19-27 overall record in two seasons.
"Both of my kids are playing, they were looking for a coach this year so I decided I'd step up and help them out this year," Marion said.
Gilman is coming off a 6-17 season a year ago. The Pirates were 5-11 in Eastern Cloverbelt Conference play. They return three starters from that team and three JV players who saw occasional varsity minutes.
No question the leader of that list is senior Andrew Hecker, who was a first-team All-Eastern Cloverbelt Conference performer. Hecker became a prolific scorer and rebounder, averaging 24.3 points and 10.8 boards per game. The 6-footer did most of his scoring damage last year by finding his way to the basket inside, but he also hit 35 3-pointers. As his rebound totals suggest, he does damage with putbacks as well. Guard Isaac Wininger is the other returning senior. He averaged just un- der four points, three rebounds and an assist per game. Junior forward Zack Marion also returns after filling a role as a rebounder and post defender last year. He'll be asked to do more in 2020-21.
"We have Andrew, Isaac and Zack are all returning starters from last year so they're really stepping into those leadership roles and leading the team and keeping them going," Marion said. "We're looking to those three to really start putting up some good leadership and put up some good numbers.
"Andrew has been looking really good this year," she added. "We're really excited. We've put him as our leader out on the floor. We're really looking to him to step up and take on that role and really go with it. We have some nice set ups with him and Zack down low. They're looking really good playing together." Gabe Brunner is a returning junior. Abram Wininger and Branden Ustianowski are the returning sophomores, while Caleb Marion, Adam Draeger and Dalton Wisocky are this year's freshmen. With just nine players, the Pirates will play a varsity- only schedule. Currently, the schedule features just conference games, including a 6 p.m. tip off in Loyal Monday. The Pirates will go to Spencer Dec. 29 to make up an early-season postponement. "We're really looking at Isaac and Andrew to step in as our ball handlers," Marion said. "We actually are looking at Abram, who's a sophomore this year, to step in too and help out with that. We have Zack down low. We're really looking for him to be big down there. "Defensive wise, we're putting a lot of pressure on Andrew to really step up and kind of lead our defense as well as our offense," Marion added. "One of our defensive players we're really looking to is Branden Ustianowski. He's really aggressive on the defensive side of the ball and a really good passer, so we're looking for good stuff from him too."
Handling the ball will be one of Gilman's big tests. Teams are sure to come after Gilman's young ball handlers with pressure and Marion, who is being assisted by Mark Brunner this season, said that's been one of the primary things the Pirates have been working on in practice.
"We've really just been working on getting into a groove as a team and really forming that team aspect with our leaders out there," she said. "We're getting everybody to kind of jell together. We're definitely focusing on shooting, getting those good shots off and getting the ball down the floor under control. We're really focusing on breaking the press. We've really struggled with that the past couple of years, so we really want to get that down this year. We need to get the ball down the floor and score some points."
In the Eastern Cloverbelt, Neillsville and Spencer are the defending co-champions. Both teams went 15-1 in league play, while Greenwood settled into third place at 11-5 and Columbus Catholic, who had won the previous four conference titles with a 63-1 combined league record, slid to fourth at 8-8. Gilman's two biggest wins of last season came against Columbus (68-64) and Greenwood (58-49) in February.
Besides Hecker, the only other firstteam All-ECC performer who returns this year is Neillsville's Braden Trunkel. Greenwood returns two second-teamers from a year ago, Westen Schmitz and Cooper Bredlau.
The conference loses Granton this year, which did not have enough numbers to field a boys team.
The WIAA has shortened this basketball season by three weeks, one at the beginning and two at the end, meaning the post-season tournament is tentatively set to start on Tuesday, Feb. 16. As of now, Gilman remains in its usual westernbased Division 5 sectional bracket. Due to the condensed schedule, the Cloverbelt Conference eliminated its end-of-season crossovers for this year.