Posted on
Early offense doesn't hold up against Bucs, Marathon pulls away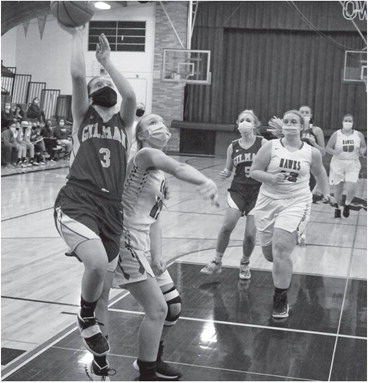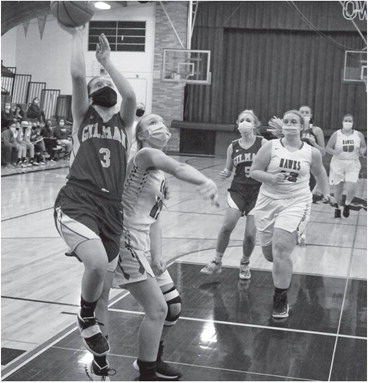 RIB LAKE BOYS BASKETBALL
Highlighted by the 3-point shooting of sophomore Tanner Vlach, the Rib Lake boys basketball team built an early 13-point lead over Prentice and had victory number one in sight Tuesday night.
But points became hard to come by in what was on offensive grinder for both teams against the opposing man-to-man defenses. The visiting Buccaneers turned to their ace to get them just enough scoring in their 47-41 Marawood North win.
Trent Heikkinen didn't have a great night shooting the ball from the outside, but the All-North second-team choice of a year ago made enough of them and added a few bonus points from the foul line to finish with 19 points and lead the Buccaneers to the come-from-behind victory. They improved to 2-1 in Marawood play and 3-1 overall.
Rib Lake fell to 0-3 in the Marawood and 0-4 overall. This was the second loss where a lead got away from the Redmen down the stretch.
Rib Lake never trailed in the first half, getting key buckets both inside and outside to build a 20-7 lead. Ryan Patrick opened the scoring on a backdoor cut and an assist from Vlach. Logan Blomberg's nifty reverse layup made it 4-1. Brock Thiede drilled a 3-pointer from the top of the key and hit a shorter pull-up jumper for a 9-5 advantage.
Then Vlach got hot, sinking a 3-pointer out of a timeout and then another off a Thiede kickout pass to answer a Riley Blomberg bucket. Blomberg blocked a Heikkinen shot and paid it off on the other end by putting back his own miss. Vlach sank his third trey of the half to cap Rib Lake's big early run.
But after scoring 20 points in the first 10 minutes, the Buccaneers held Rib Lake to 21 in the remaining 26 minutes and chipped away at the 13-point deficit. Heikkinen scored seven points in a 13-2 run that got it down to 22-20, before Rib Lake's Andrew Wudi sprinted to a score after a defensive rebound. Wudi's turnaround jumper with a minute to go gave the Redmen a 26-23 halftime lead.
Vlach assisted Blomberg and Vlach hit a floater in the lane to put Rib Lake up 30-23 at the start of the second half. But the iron was unkind from that point on and untimely turnovers prevented Rib Lake from getting into an offensive groove.
Heikkinen's 3-pointer with 12:05 left gave Prentice its first lead 31-30, though Thiede answered by banking in a midrange jumper from the wing. Reese Isaacson put the Bucs back on top with his only bucket of the night and Brady Sidenbender added a hoop to put Prentice up by three.
Wudi's turnaround jumper made it 35-34, but Prentice went on an 11-3 surge over the next five minutes, keyed by a nice drop step and score inside by Ashton Makovsky, a Heikkinen drive off a nice screen and a steal and three-point play by Alex Schantner. An inside hoop from Patrick and a Blomberg bucket off a Prentice turnover and Wudi assist cut the lead to 46-41 with 2:03 left. But a couple of turn- overs and a 3-point try by Blomberg that rattled in and out prevented Rib Lake from getting any closer.
Vlach's 11 points led Rib Lake, while Blomberg had 10, Thiede scored seven and Wudi added six. Patrick chipped in with five points and Michael Borchardt added a hoop. Jordan Yanko didn't score but gave the Redmen some solid first-half minutes in the post. Riley Blomberg added eight points for Prentice, who won games on back-toback nights after beating Lake Holcombe Monday.
Rib Lake will meet two more Marawood North rivals this week, traveling to Phillips Friday and hosting Athens Tuesday for 7:15 p.m. tip times.
Marathon 63, Rib Lake 38
Jaden Koeller was the only Red Raider that gave Rib Lake problems in Thursday's first half, but the entire Marathon squad picked things up offensively in the second half, allowing the home team to pull away for a 63-38 Marawood crossover win.
Koeller scored 11 of his game-high 19 points in the first half, accounting for just over half of Marathon's output. The Red Raiders led 20-14 at halftime as Rib Lake got seven early points from Thiede and an early 3-pointer from Wudi to stay close.
But the Redmen, who made just seven two-point shots in the entire game, weren't able to keep pace in the second half. Matt VandeBoom, who was scoreless in the first half, broke loose for 11 second-half points, including a pair of 3s; Koeller added eight more points, including one shot from long range, and Brock Warren scored all 11 of his points.
Marathon outscored Rib Lake 43-24 in the half to improve to 3-1.
For the first time in the early season, Rib Lake did find some outside shooting success, knocking down seven 3-pointers. Five of those long-range bombs came in the second half from five different players –– Wudi, Vlach, Borchardt, Matthew Siroin and Logan Blomberg.
Blomberg and Thiede wound up leading Rib Lake with seven points apiece. That was a varsity career high for Thiede, who added four assists and three steals. Wudi scored six points and Vlach had five points and two assists. Siroin's five points all came in the second half.
Borchardt had three points, four assists and two steals. Patrick was held to two points, but he had a team-high seven rebounds and two steals. Trey Klemann had a first-half hoop and two rebounds. Yanko added a late free throw.