Posted on
Defense sets early tone, Pirates sail to a season-opening win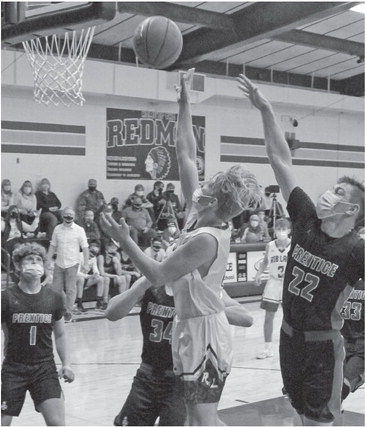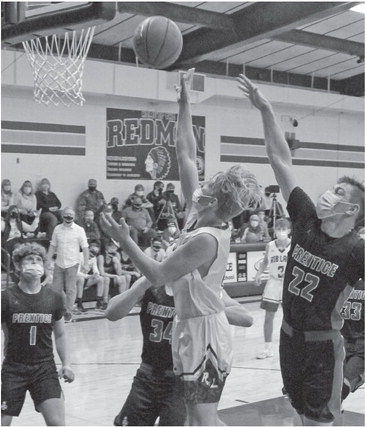 The Gilman Pirates jumped ahead by double digits midway through the first half and kept that lead the rest of the way Friday in a 44-28 season-opening win at Owen-Withee.
The Pirates stymied the Blackhawks early with their 1-2-2 zone and solid defensive rebounding, which allowed the offense to gradually build a lead that Owen-Withee (0-4) was not going to be able to erase.
Madisyn James led the Pirates with 13 points, Emma Grunseth added eight and Katelynn Schmitt scored six and her pressure at the top of the zone led to a handful of Blackhawk turnovers, particularly in the first half. Schmitt finished with six steals. James hit three of five 3-point shots in the win.
Gilman grabbed a quick 6-0 lead on a Grunseth free throw, a James 3-pointer from the right wing and James assist on an inside bucket by Tatum Weir. An 8-0 spurt later put the Pirates up 18-4. Weir started it with a score from the post, Schmitt got a steal and score, Hannah Vick scored in the paint and Addysson Hopkins got a steal and score.
Owen-Withee cut the lead to 22-13 on a Lexi Nernberger 3-pointer, but James dropped in a big 3-pointer in the final seconds of the first half to put Gilman up 25- 13 at the break.
Gilman put the win in the bank by starting the second half with an 11-0 run. Schmitt scored twice off steals, sandwiching an inside basket from Kya Dietzler, James drilled her third triple of the game and Vick scored by rebounding a Schmitt miss for a 36-13 lead with 11:30 to go.
From there, the Pirates were challenged only by Owen-Withee's Alyssa Graski, who hit three 3-pointers in the last 11 minutes, the last of which made it 42-28, which was the closest the Blackhawks would get.
"In the first half I feel we were rushing our shots," Gilman head coach Tammy Weir said. "In the second half we were a little more controlled. Overall, not too bad. We have to work on a little more patience, but the girls played hard and did a great job."
Tatum Weir scored seven points for Gilman, Vick scored six and Dietzler and Hopkins finished with two apiece. Weir grabbed eight of Gilman's 32 rebounds. James and Vick had seven rebounds each, Grunseth had five and Schmitt had three. The Pirates had a 32-30 advantage on the boards. Hopkins had four steals and James had three. Vick led the Pirates with three assists.
Graski's nine points paced the Blackhawks, while Reina Arndt and Nernberger scored seven points apiece.
Things get much tougher this week for Gilman, who hosts the Eastern Cloverbelt Conference's co-leaders in backto- back games. Loyal (4-0, 5-0) is in town tonight, Thursday, for Gilman's home opener and then the Pirates get annual conference title favorite Neillsville (3-0, 4-0) at home Monday. Both games tip at 6 p.m.