Posted on
Colby boys battle Dons in OT thriller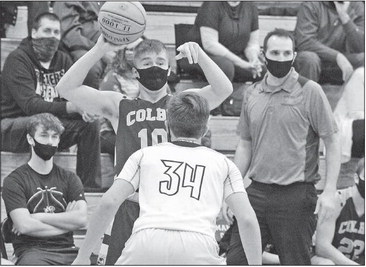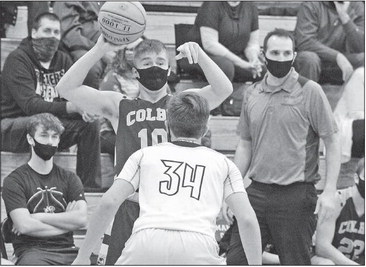 Hello Colby boys basketball!
It's been a long time coming, but the Hornets finally kicked off their season on Saturday, travelling to Marshfield to take on the Columbus Catholic Dons in a classic thriller that went to overtime.
Colby did not pick up the victory, but that's only because it took a historic shooting performance from Emmitt Konieczny to top Colby 78-74. Konieczny made ten triples on Saturday, setting a new record in the Cloverbelt.
It was anyone's guess how Colby would play in their opener. Only juniors Brent Jeske and Richard Streveler saw significant varsity action last year, so expectations were tempered heading into Saturday's conference clash.
What the Hornets did show was that this year's squad has multiple weapons on offense, with four players in double digits. They also showed a great deal of composure, refusing to wilt as they kept the game close all night long.
"I feel like with this team we have a lot of play-makers that can really help us make a difference," Jeske said. "We saw that on the floor tonight. It was our first game, gotta clean some things up, but I think we showed what we can do."
Colby opened up the game with some excellent shooting from deep as Jaden Underwood's three gave the Hornets an 8-0 lead in the opening minutes. It didn't stay that way for long, as Konieczny heated up from three, connecting five times from the perimeter in the first half as he scored the Dons first nine points.
The Dons took a 20-18 lead with 3:47 to play, but the Hornets quickly tied it up. Jeske and Caden Healy went to work inside, while Richard Streveler and Brandon Voelker connected outside to keep Colby neck and neck with their hosts.
The Dons tried to feed Eden Jacobson down low, but Colby did an excellent job of sealing off Jacobson, who was held to a season low of nine points. At the end of the first half the Dons held a 31-28 advantage. Colby head coach Jimmy Flink was happy with his team's defense, but was hoping to see better shot selection.
"I think what hurt us the first half, and this might sound strange, but we did hit some threes," Flink said. "So then we kept on shooting threes instead of trying to work it in and attacking."
Colby took 42 three point attempts, but only converted 12 of them. However, the threes came at key moments as the Dons came out firing in the second half.
Columbus built a 45-36 lead, but Colby's Tucker Meyer came up clutch, knocking down four triples in the second frame. Jeske, Underwood and Streveler all got in on the action to help the Hornets stay within striking distance.
"I knew there was going to be some nerves," Flink said about his team's quiet first half. "Columbus is always one of the highest teams in our conference, so there's a lot of pressure when you step in. That second half, they just played, and we shot the ball well."
The Hornets found their offense in the second half, passing the ball, finding open shooters and cutters in the paint. Colby used a 7-2 run to make it 52-51 with 6:16 to play, and the Hornets out-scored their hosts 44-41 in the second half.
A Konieczny three made it 69-68, but Meyer hit a step-back 15-footer to give Colby a 70-69 lead with a minute to play. Once again, Konieczny came to the Dons rescue, hitting a three after Columbus Catholic corralled a loose ball off a miss that give the Dons a 72-70 lead.
Colby didn't panic, and worked the ball in the half-court for the best possible shot. That came when Streveler took a pass from Voelker inside and his shot made it 72-72. Colby forced a turnover, and with seven seconds remaining, attempted to inbounds the ball for one final shot, but the Dons stole the ball, sending the game to overtime.
The Hornets took the first lead of the extra frame, but the Dons scored the last six points, using free throws to win 78-74, and hand Colby its first loss of the year.
Colby had some missed opportunities, especially at the charity stripe, but the Hornets showed everyone they're going to be a very tough team this season.
Meyer led Colby with 15 points, and Streveler added another 13, Jeske had 12, and Voelker recorded 10 points. Healy and Underwood scored nine and eight points. Mason Schmutzler chipped in with four and Brody Decker rounded things out with three points.
Colby now has a taste of what they're capable of, and players and coaches are both eager to get back on the floor.
"The loss hurts, but that was a good game, and that's what we want to do," Flink said. "We want to go out there and compete and play with the best."