Posted on
Athens hoops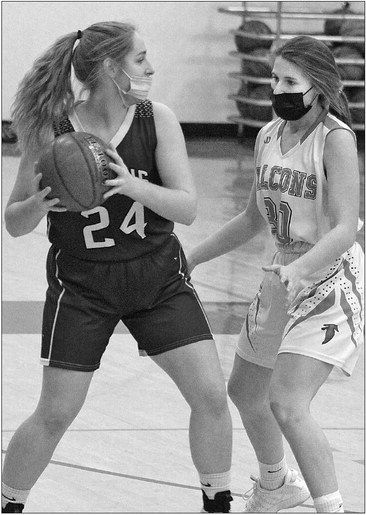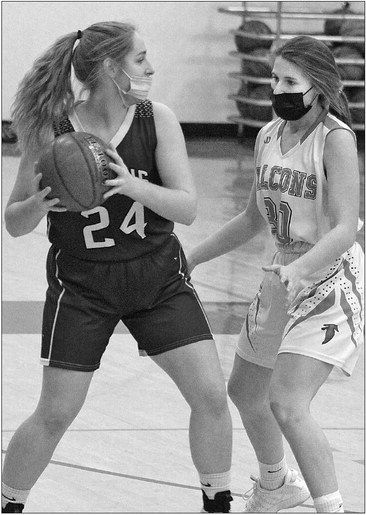 paint for lay-ups and put-backs.
Schug got some help from teammate Kaitlyn Riehle, who took her offense to another level. After being held scoreless in the first half, Riehle came alive in the second, nailing shot after shot. Her ten points kept things close, and Athens chipped away at the Falcons' lead.
Abbotsford had one final run in them, and held a 49-44 lead late in the game. Athens showed its composure down the stretch, with Schug continuing to score, and the 'Jays executed down the stretch for a 62-57 victory.
Keefe hopes her team can build on the victory, and praised her young team's composure and fight.
"A game like this says a lot about their resilience and their belief. A lot of varsity players panic in that situation. To see a lot of younger girls be strong when we needed them, and finish the job, is huge."
For Schug, the game was a sign of the Bluejays growth in a small amount of time. After dropping a lop-sided loss to Phillips two days before, the victory over Abbotsford is a momentum builder.
"It means quite to let to get the win tonight. My team has worked very hard and we have come a long way," Schug said when it was all over. "I think this game boosted my confidence, and the team's confidence. I think we have a good chance to have a good season if we keep doing what we're doing."
Athens took those lessons from Thursday and applied them to their road match with Newman Catholic on Monday, Dec. 14. It was a hard-fought game that went down to the wire, but Athens slipped past the 'Cards for a 35-31 victory.
Schug led the charge, as she scored 11 points and Eizabeth Van Rixel had another solid showing, scoring nine points. Adison Lavicka had three points, but led her team with eight rebounds.
'Jays lose a trio of games
In between wins over the Falcons and Cardinals were losses to the Phillips Loggers on Dec. 8, Stratford Tigers on Dec. 11 and the Spencer Rockets on Dec. 16.
The 'Jays had no answers to the Loggers triple threat of Rachel Callow and Jada and Kacy Eggebrecht. Callow scored 20 points while Jada had a game high 23 and sister Kacy scored 18.
Elizabeth Van Rixel was Athens' leading scorer with eight points. McKennzie Schug and Kaitlyn Riehle both finished with seven points.
The Loggers were all over Athens in the first half, and by the break, were up 44-24. That pattern continued in the second half. The Loggers held Athens to just 11 points to drop the 'Jays 82-35.
That loss to Phillips was joined by a loss to Stratford. Emily Hughes led all players with 17 points and Tanaya Schillinger scored 16 and Breanna Ackley added another 11 points.
Athens was down 34-21 heading into the second half, and was out-scored 31-23 in the second half as the 'Jays fell 65-44.
The real story of the game was the 'Jays inability to hit free throws. Athens got the line 37 times, but they converted just 17 of those attempts.
Sophia Coker led Athens with nine points and nabbed nine rebounds. Jazelle Hartwig tallied eight points, and Elizabeth Van Rixel scored seven points.
The 'Jays were hoping to earn back to back wins for the first time this season, but the Spencer Rockets did just enough to stay out in front on Tuesday, stopping the 'Jays at home 48-42. Athens was behind 25-21 at the break, and the Rockets out-scored the 'Jays 23-21 in the second half to drop Athens to 3-3 on the year.
McKennzie Schug led the 'Jays with 10 points, Jazelle Hartwig had nine and Kaitlyn Riehle and Addison Lavicka scored six points apiece.
A road game with Rib Lake on Friday now awaits the Bluejays. A win there will push Athens to 4-3, and back over .500.