Posted on
Abby clips 'Cards for second win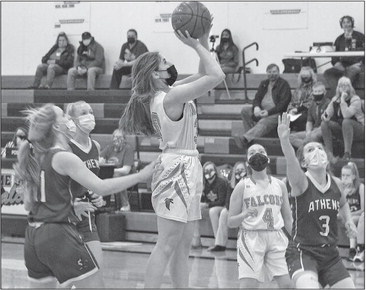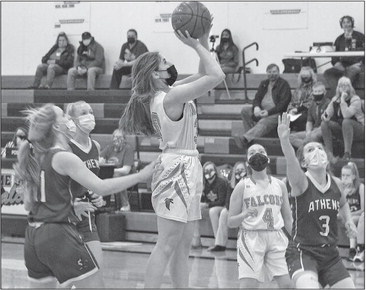 The Abbotsford Falcons claimed their second victory of the year, and first road win, by defeating the Newman Catholic Cardinals in Wausau. The win improves the Falcons to 2-3 after losses to Prentice on Dec. 8 and Athens on Dec. 10.
58-47
The Falcons began with a bang on Tuesday, Dec. 8, surging to an early lead on the road against Prentice, but the Buccaneers mounted a comeback behind Kiandra Hartmann's game high 26 points.
"We struggled with defensive rotations, especially with the high post," Abbotsford coach Ally Meserole said.
The Falcons found a spark on offense that came courtesy of freshman Sydney Falteisek, who had her best game of the young season, as she led Abby with a new career best of 19 points. Catie Clement recorded double figures with 11 points, and Ruesch added seven points.
"Sydney did really well against Prentice when it came to crunch time," Meserole said. "Sydney was able to penetrate the lane and draw the foul multiple times.
Adriana Fuentes, Ruesch and Alea Graff had strong defensive efforts, and it was a single digit game late in the second half, but the Buccaneers sunk their free throws, and with them, Abby's hopes for an upset as they fell 58-47.
62-57
If there's one thing the Abbotsford girls have proved this year it's that it has no problem putting points on the board, or getting a lead. It's keeping the lead that remains their biggest obstacle.
Just as with Prentice, the Falcons built a lead, only to watch it slip away. Head coach Ally Meserole chalks this pattern up to inexperience, and expects that to change once the girls enter the heart of the season.
"That's exactly how we see it," Meserole said after Abby's loss. "We talked in the locker room about how the girls didn't know what to do in different situations, like when you're up by six and there's five minutes left."
The Falcons fell behind early, but rallied for a 12-1 run midway through the first half to take a 16-7 lead thanks to back-door cuts from Alea Graff and Sydney Falteisek, and a triple from Mya Ruesch. The 'Jays came in with a height advantage, and McKennzie Schug, who scored 14 of her game 25 points in the first half, went to work in the post.
But if you can't be tall, be fast and play good defense. For long stretches of each half, the Falcons did just that, using their quickness and speed to run the floor and speed up the Jays' guards to force turnovers that led to run-outs and points in transition.
The 'Jays and Falcons traded buckets in the final five minutes, but it was Abby who stayed in front, walking into the locker room with a 30-27 lead.
Abby opened the second half on a 8-2 run to go up 40-31. Brissa Diaz and Catie Clement splashed threes, and Graff and Bridgett Pogodzinski added points in the paint off cuts down low.
Athens came right back, using their size to bully Abby off the glass for second chance points. When the ball didn't go in, the Falcons were called for fouls, and it was 42-42 with seven minutes to play.
Abby snapped off another run to take a 49-44 lead with five minutes remaining. That's when Abby's inexperience began to show. The Falcons offense went cold, Clip
and Schug led Athens to a 54-52 lead with 2:42 left in the game.
"We talked that we needed to attack the basket," Meserole said. "But we're an outside team for the most part, so that's new to us, the idea of being aggressive and attacking the basket."
The 'Jays continued to hammer Abby in the paint, and pulled away for good in the final minutes of the game, handing Abby its third straight loss.
Abby exhibited a balanced approach on offense. Falteisek scored a team high 12 points. Graff joined her in double digits with 10 points. Ruesch scored nine. Clement and Pogodzinski each had eight points.
Brissa Diaz finished with six points and Vanessa Maganda added four points. Meserole was understandably disappointed with the loss, but not the effort, and heaped praise on her team.
"Honestly, I have more positives to say about this game than negatives. They had a phenomenal game tonight, a game that we needed to see from them, a game to help them get back into the swing of things."
The Falcons snapped a three game losing streak after they took care of business against the Newman Catholic Cardinals over the weekend.
It wasn't a shoot-out by any means, with both teams struggling to score, but the Falcons' defense was the star on Saturday as Abby held the 'Cards to a season low of 22 points.
The Falcons were patient with the ball, and patient on defense, two signs of the team's growth, says Abbotsford head coach Ally Meserole.
"The girls played a strategic game. They controlled the pace of the game and as soon as they gained a lead, they used it to their advantage, slowing down on offense, but continuing to play strong defense. This shows growth in their basketball IQ, and was our focus going into the game."
It was a tight match through the first half, with both teams scoring 15 points, but the 'Cards offense sputtered to a complete stop as Abby held Newman to just 9 of 47 field goals on the night.
The Falcons spread the floor with shooters, and senior guard Mya Ruesch turned in her first double-double of the season as she poured in ten points and grabbed 11 rebounds, both team highs.
"We have 11 girls that work well together," Meserole said. "Our girls can attack the basket and find their open teammates."
Abby scored 17 points to Newman's seven in the second half. Alea Graff continues to grow into her role as a scorer, as she added eight points while pulling down seven rebounds.
Seniors Catie Clement and Bridgett Pogodzinski added five and four points. Brissa Diaz recorded three points and Sydney Falteisek finished with two.