Posted on
Sova's pin is the bright spot in rough opener for Raiders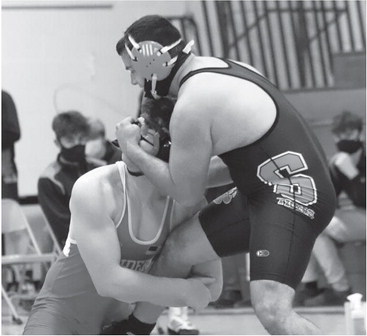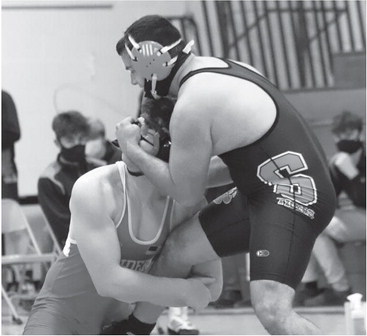 MEDFORD WRESTLING
The Medford wrestlers got a memorable win from one of their prized freshmen, but it was a struggle outside of that Friday in a 61-18 season-opening loss to Division 3 power Stratford at Medford Area Middle School.
Rachel Sova debuted at 106 pounds by pinning Stratford freshman Roman Schmidt and that turned out to be Medford's only contested win. The Raiders were severely short-handed for the dual and forfeited five matches and were at an experience disadvantage in some others.
Ty Sova and Jude Stark earned forfeit victories at 113 and 120 pounds to secure 12 of Medford's points.
"We saw a lot of opportunities for growth, which is good for us because it gives us a lot of purpose in our practices," Medford head coach Brandon Marcis said. "I think that the future is bright in the next few weeks. I think hopefully we're getting educated on the COVID guidelines and rules and hopefully we can keep ourselves healthy, so that's one less thing we have to overcome. I look forward to the next set of dual meets, which will obviously be conference dual meets. We're going to control what we can and hopefully have a full lineup or close to it."
Medford did hold an 18-9 lead after five matches. Stratford junior Cole Marten began the meet by pulling away for a 9-4 win over Raider senior Dalton Krug at 220 pounds. Marten took a 3-0 lead late in the second and barely avoided a reversal in the final seconds. Krug got within 3-2 in the third, but had to take chances in the last minute, which Marten successfully countered.
"Dalton was close," Marcis said. "He had a good match. That's one where I think we were just a little rusty due to a lack of practice. I think it's just a matter of forgetting some of our bad habits and getting into our good, new habits."
Stratford's Patrick Greenberg pinned Medford freshman Braxton Weissmiller in 26 seconds in the 285-pound bout. Then came the 106-pound match between Sova and Schmidt.
Sova got the first takedown and added a two-point near fall, which was countered by a reversal and three-point near fall by Schmidt. Sova reversed him to take a 6-5 lead in the second period. Sova started the period on top and was able to get Schmidt's shoulders to the mat for her first high-school win and pin.
"Obviously that's cool for her to get that pin," Marcis said. "She put her halfnelson in right and got on top and pinned. half-nelson in right and got on top and pinned. That's good for her, that's really promising. I know she's got a lot of accolades to her name already. But to come to high school and get your first big pin, I think that's the next feather in her hat."
The forfeits for Ty Sova and Stark followed. From there, though, it was all Stratford.
Medford forfeited to Benno Wenzel and Logan Gaulke at 126 and 132 pounds. Logan Gliniecki pinned Raider senior Eli Mahner in 47 seconds at 138. Medford senior Carson Church got a tough draw at 145 pounds, losing 11-2 to Gavin Drexler, who went 50-0 last year while winning the Division 3 126-pound state title.
Later in an exhibition match, Church lost to Elijah Lucio, another 2020 state qualifier.
"Carson got thrown into the meat grinder a little bit," Marcis said. "He had Gavin Drexler and Lucio who are both state wrestlers. So that was a good opportunity for him to see where he was because obviously his goals are to be the ultimate best and be a state champion."
Lucio got out to a 13-1 first-period lead before pinning Medford's Oscar Hinderliter in 2:18 at 152 pounds, and Jake Heiden pinned Raider Kenny Pace in 1:36 at 160 pounds before the Raiders forfeited to Damon Rueth, Hunter Ford and Logan Rueth at 170, 182 and 195 pounds.
Medford looks to rebound from Friday's loss when it hosts Lakeland tonight, Thursday, at 7 p.m. in the Great Northern Conference opener for both teams. The Raiders are at Tomahawk for a big league match on Dec. 17.
"Obviously the score didn't go the way it was supposed to," Marcis said. "Stratford has really good experienced kids and we're kind of a young team. I ap- preciate the experience that we did gain from it. Obviously, we're only going to get better from here."