Posted on
Raiders see the potential for more extraordinary things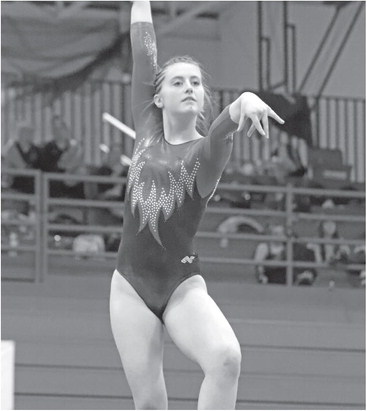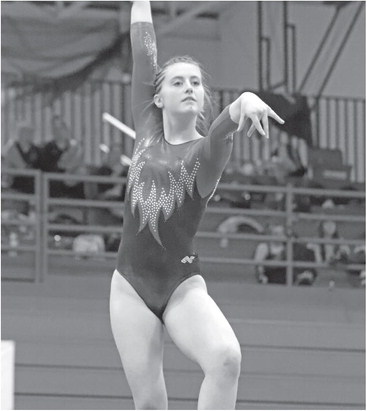 MEDFORD CO-OP GYMNASTICS PREVIEW
Where does the Medford gymnastics program go after the best season in its history?
The Raiders aim to go even higher.
If the Raiders remain in good health –– which is never a guarantee in this sport –– and the season reaches its completion amid the ongoing COVID-19 pandemic, the team appears to be loaded with potential. With virtually everyone back from a squad that finished fifth at March's WIAA Division 2 state meet and some talented freshmen adding to that depth, the Raiders are setting no limits on what they can achieve.
"When we placed fifth at state that was quite the eye opener," Medford's fifth-year head coach Steve Cain said Monday. "This year as far as where we place, I guess we have the opportunity to move up from that even more." The Raiders will get their first chance to show what they've got tonight, Thursday, when they visit Wisconsin Rapids for a Great Northern Conference crossover dual at 5:45 p.m. Their home opener is set for Dec. 22 with a GNC Small Division matchup with Rhinelander. Attendance at all meets is expected to be limited this season. Home meets, for instance, will include only two fans per gymnast at Medford Area Elementary School.
A longtime assistant before taking over the head coaching job prior to the 2016-17 season, Cain said it's become obvious to him since practice started on Nov. 16 that the Raiders are starting this season from a point that no team he's seen has started from before.
"We have girls that were in the lineup at state last year that practiced quite a bit this summer and going into the fall," Cain said. "They're working on a lot of big stuff. They're working on some neat, big stuff. But they're ready to compete. If you ask them right now if they're ready to compete, they'd say no. But they have to be ready because it's coming up before they know it."
Medford starts the season with 13 gymnasts on the roster, though Megan Wanke, the lone senior on what remains a very young team, enters the year on the injured reserve list, so to speak. The Raiders are hopeful Wanke, a state par- ticipant the last two seasons, will be able to compete by season's end. She started last year in a similar position and wound up being a big addition during the team's conference and sectional championship run and its high finish at state.
"There's a possibility that she might not be able to, but she has the status as one of the gymnasts this season and she has earned the right to be a captain," Cain said.
There are just two juniors on the team as well, but they are exceptional gymnasts in Brooklyn Bilz and Makala Ulrich. Cain said both enter the season as healthy as they've been in a while. Bilz is the GNC's two-time Small Division Gymnast of the Year and holds the school record score of 9.2 on the balance beam. Ulrich is the school's record holder with a 9.2 on vault and both are accomplished all-arounds.
The sophomore class features Kate Malchow and Anna Wanke, who emerged as capable allarounds themselves last season, Avery Purdy, another capable gymnast who performed well when called upon last year, Kennedy Bilz, who was part of the state vault lineup, Kiarah Behling and Brooke Wegerer.
Bilz, Ulrich, Anna Wanke and Malchow posted allaround scores in the high 33s to low 34s last year.
Cain is also excited about the freshman class, which includes Kyla Krause, Ellison Carbaugh, Kaileigh Mientke and Lindsey Klapatauskas. All but Klapatauskas have come up through the Rainbow Gymnastics club ranks since they were quite young and enter the high school ranks with strong foundations to work with.
Cain and assistant Marisa DuBois have the challenge that every coach wishes they had, which is sorting through their wealth of talent to fill out the right lineup each night. Of course, in a year like this, that depth may be needed because there is no telling who will be available on a given day.
"Just about every one of them is an allaround," Cain said. "Because of the competitiveness and the level of these gymnasts, it's going to be a little bit of a mix. It always is and it makes my life kind of interesting. I'm always going to have four spots in each event that will have top gymnasts that are right up there. They come in from last year, they've earned it. They've started this year showing they haven't lost it.
"It's the fifth spot that starts to become the interesting spot," he added. "All of these girls, when you look at their skill and ability compared to years ago and all of the stuff that they've learned from being in club, all of these girls are in some way or another varsity gymnasts. It's just a matter of which of the varsity gymnasts are going to score higher and be more consistent. That's how we're looking at it this year. I told them I'm not going to call it the JV anymore, I'm going to call it the second string varsity. That's kind of what they are."
As for the four events, Medford doesn't feel like it has a weakness. The Raiders finished last year averaging about 33.3 points per meet in the floor exercise, 32.6 points per meet on vault, just under 32 points per meet on the balance beam and even 30.6 points per meet on the uneven bars, an event that's been a trouble spot for past Medford teams. But at the state meet, Bilz and Ulrich were well into the 8s on both days, Malchow and Anna Wanke were in the 7.8s and 7.9s both days and Purdy posted a 7.65 in the team event.
"We've got several gymnasts who could be looking at breaking that school record for bars (8.75)," Cain said. "We're pretty excited about that."
Cain noted an interesting aspect of this season will be seeing how gymnasts react to smaller audiences since many experienced gymnasts feed off that adrenaline while others, especially newcomers, might be more relaxed.
"That's what makes the sport really thrive is the fans and all the people that support it and the families," he said. "Not to have that, some kids really work off that, they work off the motivation from all the spectators. They really compete with all of those people cheering them on. Some kids they do well when there's hardly anybody there."
So far the 2020-21 schedule features the usual GNC matchups. Medford will be the overwhelming favorite to win the Small Division title for the third straight year and fourth time in five years over the likes of Rhinelander, Lakeland, Mosinee and Chequamegon. Today's Rapids meet is the one crossover meet the Raiders will have against a Large Division team. A couple of weekend invites still show up on the schedule at River Falls Jan. 9 and Valders-Roncalli on Jan. 23. The River Falls meet could be a highly-competitive meet that would serve Medford well, though it's expected that meet would be held in shifts if it happens.
Another note of interest on the schedule is that Medford is scheduled to host the Great Northern Conference championships. As it currently sits, the meet will be a two-day event with the Large schools competing on Friday, Feb. 12 and the Small Division competing the following day.
The WIAA currently has sectional assignments posted with Medford being in the same grouping as Antigo and dates are penciled in for state. Everything is certainly subject to change. Obviously this is a year where the Raiders would be devastated to not get a fair shot to see where they stand among the state's best.
"When I look back at last year, I look at all the leaps and bounds that we took," Cain said. "Then I look at what we have this year, it's like, if that's what we had last year for scores with those leaps and bounds, my gosh, this year could be off the charts."