Posted on
Memorable night for Kuhn, who hits the 1,000 mark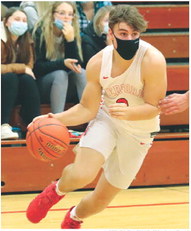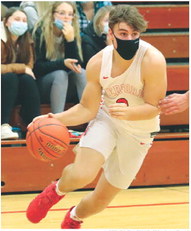 SCORING MILESTONE
BY MATT FREY
SPORTS EDITOR
Peyton Kuhn needed 15 points to add his name to Medford's list of 1,000-point scorers and he wasted no time in getting there Friday night.
The senior guard was in the so-called zone early in the Great Northern Conference opener with Antigo, hitting 10 of his first 12 shots from the field and scoring 29 first-half points as the Raiders tore out to a 56-21 halftime lead in what would be an 89-51 win for the 2-0 Raiders. Kuhn hit eight of his first nine 3-point attempts in the incredible shooting display and, fittingly, the 1,000th point came on a 3-point shot from the top of the key on a called play out of a timeout.
"It means a lot," Kuhn said after the win. "I've worked hard for it. I'm ready to keep going and add to it. I was ready for it, but I was just letting the game come to me. I wasn't going to force it."
"It is a huge milestone," Medford head coach Ryan Brown said. "For many reasons we wanted this season to go, but we knew how close he was after last season. Being 15 points away and just wanting him to be able to have that opportunity. The fact that he got it and got it quickly and playing the way he did was just awesome. I was really happy for him. Now we can move forward and just play basketball, play as a team and get those team recognitions."
Screens from Brady Hupfand Aiden Gardner got Kuhn open for the shot that got Kuhn the 1,000th point. He becomes the eighth Raider to join the 1,000-point club. Cameron Wenzel was the last one in 2017. Steve Russ (1,314) and Paul Henrichs (1,307) are the top two scorers in program history. With a full season, Kuhn could challenge those totals.
See KUHN on page 27
Medford's Peyton Kuhn aggressively drives the right baseline during the second half of Friday's win over Antigo. Earlier in the game, the senior hit the 1,000-point milestone for his career.
MATT FREY/THE STAR NEWS Kuhn scored 33 points in Friday's win, beating his previous career high of 31, set last year in a loss to D.C. Everest. He said, as a shooter, it was one of those nights you live for.
"We were setting good screens and getting wide open looks," Kuhn said. Everyone was hitting their shots. I was feeling it in the first half. It's like shooting it into the ocean."
"The cool thing is his team was very happy for him," Brown said. "They wanted him to get it. He came out hot. There was one point I was going to sub for him after he made the first couple and Ty (Baker)said, 'you're not subbing him.' OK we'll just keep going with it."
Kuhn has been a member of Medford's varsity roster from day one as a freshman. His first points also came on a 3-point shot in a win at Wausau East.
"I do remember, it," he said. "First play of the game against Wausau East when I was a freshman, I hit a 3. When I came in as a young freshman, I had a lot of guys to look up to like Cam Wenzel, Ben Lindgren and Dain Strick. They helped me in a lot of ways. I was the point guard and I shifted into a shooting guard. I've just had a lot of good players and good coaching to help me get to where I am."
Kuhn was named the Great Northern Conference's Player of the Year as a junior after helping the Raiders go 12-0 in league play and 19-5 overall last year. While he is looking into some options to continue his playing career after this year, he said the goals for this season remain team-oriented.
"We're looking to win the conference again and hopefully go on and win regionals and go as far as we can," he said.