Posted on
Last-minute surge propels Raiders to season's first win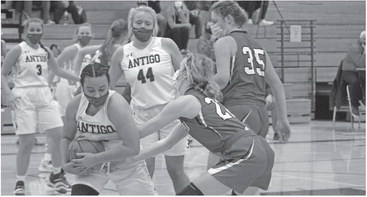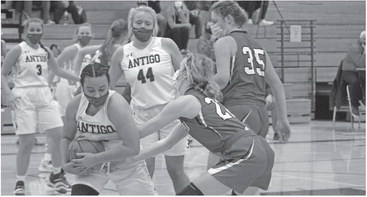 MEDFORD GIRLS BASKETBALL
Limited to just 30 points through almost 35 minutes, the Medford Raiders finally broke through with 10 in the last 70 seconds and found a way to beat Antigo 40-32 Friday in their Great Northern Conference opener.
Down 32-30 in a game where both teams had trouble finding the mark from the outside, the Raiders finally got the shot they needed when Marissa Fronk nailed a right-wing 3-pointer with 1:10 left off an offensive rebound and assist from her sister Bryn Fronk, giving Medford its first lead of the second half. Marissa Fronk had also knocked down a 3-ball with 2:41 left that had tied the game at 30-30.
Also sparked in the last moments by some full-court pressure, the Raiders got a steal from Martha Miller that led to a short score from Marissa Fronk to push the lead to 35-32 with 56 seconds left. Marissa Fronk got another steal and score 11 seconds later and added two bonus free throws with 14 seconds left to seal the win. Bryn Fronk added the final free throw with 4.5 seconds left after another Antigo turnover.
Until that last minute, it was a struggle for Medford to crack Antigo's zone defenses. Fortunately, the Raiders were able to contain the Red Robins with their man-to-man defense well enough to give themselves a chance down the stretch.
The win bumped Medford's record to 1-1 overall and 1-0 in the GNC. Antigo's overall and GNC record fell to 0-2.
The Raiders were coached for the night by assistant coach Chad Fronk.
Medford led 16-15 at halftime, following a Rynn Ruesch putback of a Bryn Fronk miss with 54.8 seconds left. But Antigo got on a mini hot streak to start the second half. Natalie Dewey scored twice in a row and Greta Parsons added a bucket to put the Robins up 21-16. Medford didn't make a field goal in the half until a Bryn Fronk steal and score over seven minutes in that made it 23-20. A Miller 3-pointer and two bonus free throws by Katie Brehm tied it at 25-25 with 6:23 left, but Antigo nudged back ahead on a Parsons free throw and a putback by Heather Arlen with five minutes left.
Another steal and score by Bryn Fronk cut Antigo's lead to 28-27, but Red Robin Noelle Tischendorf sank two bonus free throws with 3:42 left, ahead of Marissa Fronk's tying 3-pointer. Parsons gave Antigo its last lead with a short shot in the lane with 2:07 left.
Marissa Fronk led all scorers with 18 points, including four 3-pointers, two of which came in the first half and helped spur the Raiders to a 14-11 lead. Brehm scored nine points, five of which came on free throws and Bryn Fronk added eight points, including an early 3. Miller chipped in with three points and Ruesch finished with two.
Dewey scored 14 points to lead Antigo, while Parsons added nine.
The Raiders, unfortunately, were hit hard by COVID quarantines this week and will be out of action until at least next week. According to activities director Andy Guden, the varsity is hoping to return to competition Dec. 17 at Lakeland. The JV has added a game tonight, Thursday, with Antigo