Posted on
Lady Pirates pulling together to create a successful season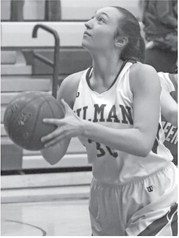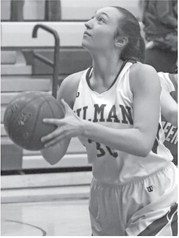 GILMAN GIRLS BASKETBALL PREVIEW
With the loss of four seniors, two of whom were All-Eastern Cloverbelt Conference caliber players, the Gilman Pirates have to do some stepping up to produce results similar to the 18-7 overall record and 11-5 mark the girls posed a year ago.
But one thing third-year head coach Tammy Weir is sure of is the effort to keep things going in a positive direction will be a group effort.
"They're really coming together," Weir said Wednesday. "They're working so well together. Their one team goal this year is awesome. Usually it's I want to be conference champs and I want to be this or that. This year it's just so questionable how many teams are going to get 15 games in this season, we just have no idea. Their goal is to just have team unity and communication and work together."
With school administration taking a cautious approach to starting the winter sports season, Gilman is finally getting its first shot to compete Friday when it visits conference rival Owen-Withee. The Pirates are planning to get four games in before the end of the month and are crossing their fingers they'll be able to complete their normal schedule in January and February.
The Pirates won't field a deep squad in 2020-21. Currently the roster stands at 10 with seven being returning veterans.
Junior Emma Grunseth is the lone returning starter from a year ago and Katelynn Schmitt is the lone senior. Junior Madisyn James and sophomore Tatum Weir are back after logging some significant minutes last season. Juniors Hannah Vick, Kya Dietzler and Addysson Hopkins saw some spot minutes.
Weir and assistant coach Candice Grunseth are counting on those seven to be the leaders and log major minutes, especially in the early going. An eighth player, junior Ava Gunderson, is out with a hip injury at this point and more will be known in the near future.
So far in practice, Weir said those players have stepped up, starting with Schmitt.
"I think she's just been hiding behind everybody and now that she's the one I'm putting the pressure on, she's stepping up to the plate," Weir said. "She's shooting more in practice, she's driving. She's just really become this great player. She's always been a good defensive player. Now offensively we're seeing a lot from her. So I'm really excited to see how she's going to do this year. I think she'll do well."
Grunseth averaged 9.5 points, 8.6 rebounds and just over an assist per game during her sophomore season and is likely to assume even more of a scoring and rebounding role with the departures of Grace Grunseth and Emma Warner. Weir averaged 6.6 points, 7.1 rebounds and 2.2 blocked shots per game. Grunseth, Weir and Vick figure to be Gilman's main inside presences. Vick is another player coach Weir said is seizing her opportunity.
"That kid is such a hus- tler," Weir said. "She's been in the gym working on her shot."
James, Schmitt and Hopkins would figure to be Gilman's primary ball handlers and Weir said Grunseth could certainly help out in press-break situations.
In reality, in a year like this, Weir said all 10 players have been working in all positions during practice because one never knows right now who is going to be available on game day.
"Due to COVID and kids being on quarantine or kids being out sick, we're basically making every kid play every position, in case we're down two posts or down two guards," Weir said. "We've put Grunseth on the outside, Tatum on the outside and Hannah on the outside and they're usually inside players."
Weir said so far rebounding and shooting would stand out as potential strengths of this group. Gilman had an outstanding rebounding team last year with Weir and Grunseth playing key roles in that and Vick and Dietzler should contribute heavily in that aspect this year. Coach Weir called this team the best group of shooters she's worked with in Gilman and she said they seem to be incredibly unselfish when it comes to moving and sharing the basketball. "Everybody has been working on ball handling," Weir said. "We have Madisyn and Katelynn and Addy Hopkins are all pretty good ball handlers. Emma Grunseth, she doesn't get too nervous when it comes to the press. She's so laid back. We're planning to use her in some of the press break scenarios. She's pretty calm and collected." The freshmen in the group are Ava Warner, Bailey Angell and Bryn Hendricks. With only 10 players, the Pirates may be forced to be a varsity-only program, which could limit the freshmen's minutes, especially early on. But Weir said they're catching on quickly. "They're really smart players," she said. "They probably just really have to work on getting to know our plays and the defense, the help and recover. That just all comes with experience in high school ball." Defensively, the Pirates may not be able to do as much pressuring full court as they have in the past due to their lack of depth. But with solid rebounding and hopefully strong on-ball pressure from the guards, they hope to keep things locked down in whatever half-court defense they throw at teams, whether it's zone or man.
As the schedule currently stands, Gilman has only conference opponents listed. One of the early games lost, a trip to Columbus Catholic, has been rescheduled for Dec. 29. Games against Spencer and Granton have not been rescheduled yet.
Weir said the Pirates will make the best of the games they do get. Neillsville, who visits Gilman on Dec. 21, is looking like the early favorite, as usual, in the Eastern Cloverbelt Conference and Loyal is off to a 3-0 start.
From there, not many conclusions can be drawn yet from the few games that have been played.
By WIAA mandate, the season started one week later than normal and is slated to end two weeks earlier than normal in February. No concrete post-season plans have been announced but the WIAA has sectional assignments posted, with Gilman being in a familiar western-based Division 5 bracket.
"I think actually we have just a strong team, not just one or two top players," Weir said. "We've got a strong team. We're super excited about it. Hopefully everything comes together and we get to keep our games on the schedule for January and February and get some games in this year."