Posted on
Desire for success leads to setting lofty goals at Cadott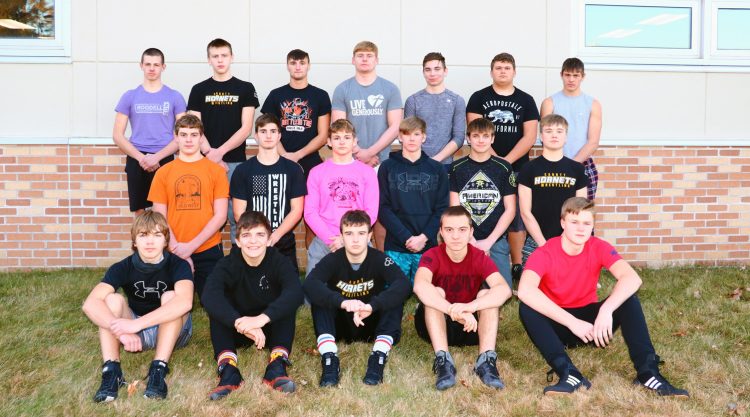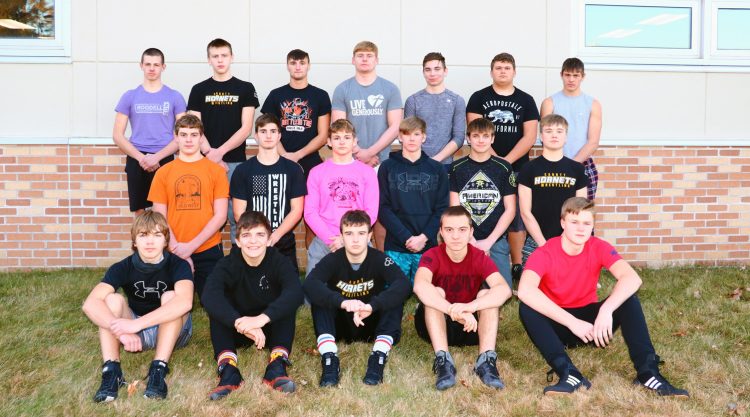 By Ginna Young
The Cadott wrestling team is off to a great start so far this year, as the squad is excited to see what the season has in store for them. Although the Hornets lost four grapplers to graduation – including State champion Brady Spaeth – determination to attain high goals has not waned.
"We have a very special group of kids, who are very fun to be around," said coach Josh Spaeth. "Our athletes will achieve their goals, they have worked too hard not to. Win or lose, I know these kids will give their best effort."
Last year, Cadott narrowly missed Team State, but sent seven wrestlers on to individual State competition, including returning sophomore Brayden Sonnentag, who was crowned as State champion in his weight class. Going 16-2 in dual meet action, Cadott reined as Cloverbelt Conference Dual Meet champions (7-0) and celebrated as the Cloverbelt Conference Tournament champions.
J. Spaeth says the coaching staff will continue to work with each wrestler to improve skills. However, the Hornets need to fill all their weight classes to be competitive.
"We have many wrestlers who have the desire to be great and we have many experienced wrestlers to lead the way," said J. Spaeth.
Returning to start for the Hornets, are Nelson Wahl (second place at State), Gavin Tegels, Logan Harel, Tristan Drier (sixth place at State), Dawson Webster, Nick Fasbender, Kaleb Sonnentag, Cole Pfeiffer (State qualifier) and Peter Weir, as well as group of younger wrestlers.
This year, Cadott's goals are to help team members reach success on, and off, the mat; to win the Regional tournament and have a chance to qualify for Team State; and get as many individual wrestlers to the State tournament as possible.
J. Spaeth expects much from his wrestlers, as the team is truly about the team and working hard in practice.
"The coaching staff has high hopes for this team, but their success is up to them as a team," said J. Spaeth. "We need every wrestler to stay committed throughout the season, stay healthy and maintain good grades. If we do this, I feel the sky's the limit for this team."
The Cadott Hornets Wrestling team athletes, left to right, in front, are freshman Ashton Bremness; sophomore Brayden Sonnentag; junior Logan Harel; and freshmen Nick Goettl and Caden Kingston. In the middle, are freshman Axel Tegels; junior Kaleb Sonnentag; and sophomores Tristan Drier, Nick Fasbender, Austin Walters and Levi Lindsay. In back, are sophomore Peter Weir; freshman Wyatt Engel; senior Nelson Wahl; juniors Gavin Tegels and David Lallamont; and sophomores Kane Mengel and Cole Pfeiffer. Missing, are junior Brett Schofield; sophomore Dawson Webster; and freshman Eric Berg; head coach Josh Spaeth; and assistant coaches Jon Erickson, Pat Rothbauer, Brandon Phelps and Rod Tegels. Photo by Ginna Young