Posted on
Wildcats quick out of the gate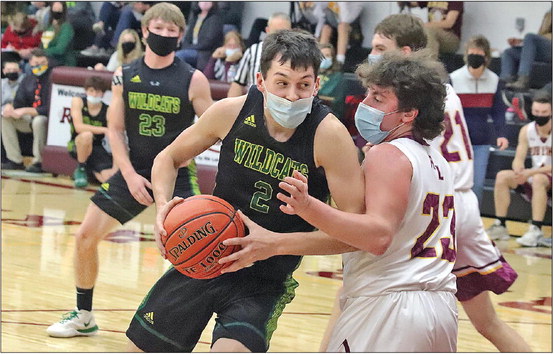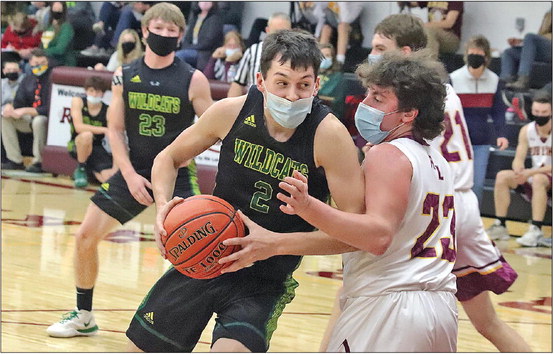 Team victorious in first games of the 2020 season
Fresh off a 9-0 season in football, the Edgar Wildcats boys basketball team made the transition between the fall and winter sports seems as easy as Aaron Rodgers torching the Chicago Bears on Monday night football.
The 'Cats wasted no time in picking up their first victories of the season as they won a pair of road of games to begin their season 2-0 after topping Rib Lake and Mosinee.
If that transition does seem easy, it's not. It helps that the Edgar Wildcats coaching staff is experienced as any school in the state, with Jim Heidmann now in his 33rd year with the program, while Tom Bauman boasts 20 years and Mike Mroczenski is "only" closing in on his first decade at nine years in.
David Huss is still calling the shots at the helm, but with the return of Edgar's Fab Five - seniors Drew Guden, Kyle Brewster, Konnor Wolf, Austin Dahlke and Brayden Baumgartner - coaching is made a heck of a lot easier.
Fellow seniors Max Larsen, Cole Schilling and Nate Drabek are also expected to contribute to a team that has designs to add some more hardware to an already stuffed trophy case.
"I think we certainly possess the ability and work ethic to compete for the Marawood - South Conference championship," Huss said. "We know that the competition will be very difficult, and that night in and night out, you have to be ready to play your best."
If Thursday's season opener is any indicator, the Wildcats are up to the challenge, after defeating an out-matched and beleagured Rib Lake Redmen squad 66-31 in their own gymnasium.
Guden played like a man possessed on Thursday, striking from inside and out, finishing an impressive 11 of 15 from the floor, including going four of six from three as he led all players with 26 points.
Edgar had an extremely efficient shooting performance on Thursday, con- verting over 60 percent from the floor as a team. Konnor Wolf and Kyle Brewster joined Guden in double digits finishing with 12 and 13 points respectively.
Austin Daklke added six points, and juniors Ayden Weisenberger and Ashton Schuett chipped in with five and four points.
That offensive intensity was matched on the other side of the ball as Edgar held Rib Lake to under 20 points at the end of the first half as they entered the break up 40-12. The 'Cats were able to force 12 steals that led to scoring opportunities.
The Wildcats only attempted two free throws to Rib Lake's 14, but with 42 points in the paint and 14 assists, scoring was clearly not a problem for Edgar in their season opener.
With so much doubt surrounding high school athletics at the start of the academic year, the game itself was the real gift, said Huss.
"It was great to be back on the court with the players in a competitive situation," Huss said. "I thought we played with great energy and togetherness."
With the Wildcats holding a nearly 30 point lead, Huss subbed in several of his bench players, with Weissenberger seeing 20 minutes and Max Larson and Everett Brehm each getting 17 minutes.
Edgar played a very clean game in their season opener, giving up just 12 turnovers, and pulling down 20 defensive rebounds. The 19 personal fouls to Rib Lake's six was the only blemish on an otherwise perfectly executed game, but Huss said he can live with that.
"We did a nice job of making Rib Lake uncomfortable in their half-court offense, and used some turnovers to get out in transition," Huss said about Edgar's efforts on both sides of the ball. "A lot of good things to see for our first game of the season."
Edgar tops Mosinee
The Wildcats season debut was a nice tune-up, but their second game of the year, a non-conference clash with D-2 Mosinee, was Edgar's first big test of the 2020-21 season.
Mosinee had already played two games in the young season, which resulted in two lopsided victories for the Indians - a 70-35 win over Wausau East and a 78-30 win against Tomahawk, both at home in Mosinee.
The Indians are also a tall team, with multiple players standing over 6'3", but as any coach will tell you, size is nice, but speed kills, and the Wildcats aren't easily intimidated, especially when playing at home, as they did on Monday.
"We certainly want to be a fundamentally sound, high character, tenacious, tight-knit team," Huss said in comments made via e-mail.
Even with their experience, athleticism and speed, the Wildcats began their home opener as cold as the temps outside, struggling to generate any sense of flow on offense like what was seen just a few days earlier in Rib Lake.
With the Indians holding a height advantage, the Wildcats turned to perimeter shooting to get Mosinee out of the paint, with varying degrees of success.
Guden splashed one three, and Dahlke hit another, but Edgar was limited to just 15 points in the first half. Thankfully, Edgar's defense kept the score close.
"I thought our kids showed a good amount of resiliency during the course of the game," Huss said. "Offensively, we struggled at times, but I thought our defense was very good, and late in the game we were able to turn good defense into some easy scoring opportunities."
Perhaps realizing their speed was their best weapon, Edgar had a better game plan in the second half - attack rather than try to shoot their way to victory. After attempting just three free throws in the first half, Edgar found ways to get to the line, finishing with 34 trips to the charity stripe.
None was more clutch from the line than Kyle Brewster. Brewster had just three points in the first half, but the ice flowed through his veins as he went a perfect ten for ten on his free throws to lead Edgar with 17 points.
Brewster wasn't the only Wildcat to get to the line as Drew Guden and Konnor Wolf all made a living from the charity stripe. Guden picked up a pair of baskets while Wolf hit a triple and did almost all of his damage in the second half, scoring 11 of his 13 points in the last stanza.
"It was great to see us execute in a late-game setting in which we made free throws and rebounded the ball on the defensive end in key situations," Huss said after the game.
Guden finished with 13 points, but with the game remaining close until the final minutes, the Wildcats leaned heavily on others, with Austin Dahlke hitting several timely buckets for eight points.
Ayden Weisenberger and Everett Brehm also got on board, scoring three points. The production might not seem like much, but every basket mattered as Mosinee refused to wilt.
But those free throws and defense gave the Wildcats the advantage, and after an extremely subdued first half, Edgar rallied for 44 points in the second half.
Those 44 points gave Edgar a 59-49 victory, and preserved Edgar's perfect season at the expense of the Indians, who now drop to 2-1 while Edgar moves to 2-0.
"Mosinee is a very good team, very well coached," Huss said. "So, we are pleased with this win, but know we still have much to improve upon."
The up and down game is just a sign of 2020 in general says Huss, as his Wildcats will have to navigate a tough Marawood conference and COVID-19.
But even with the masks, the weather and opponents posing their challenges, Huss says he and the team are looking forward to what the season has to offer.
"This will certainly be an unusual season, but we are focused on controlling the things we can control, enjoying every opportunity we get to compete, and taking it one day at a time."
Edgar girls fall to Eagles
The Edgar girls basketball team continues to take some lumps in the early half of the 2020-21 season. The Wildcats split their first two games of the year, falling to Assumption to open the year before knocking off Stratford for its first victory.
But a chance to earn a winning record and improve to 2-1 on the season dissolved after a 71-39 loss to the Auburndale Eagles on the road on Tuesday night.
The Wildcats stayed with the Eagles through the first half, and despite giving up height to Auburndale, were only down single digits at halftime with the score sitting at 33-25.
It was a different story in the second half, as the wheels came completely off for Edgar, with the Eagles pulling away thanks to a strong scoring performance from Auburndale's Annamarie Aue and Hailey Grimm, who paced the Eagles with 17 and 16 points.
In total, nine Eagles scored, and used a second half surge to outscore Edgar 38-14 in the final frame. Stats for Edgar were not available upon publication.