Posted on
Tiger girls down the Red Raiders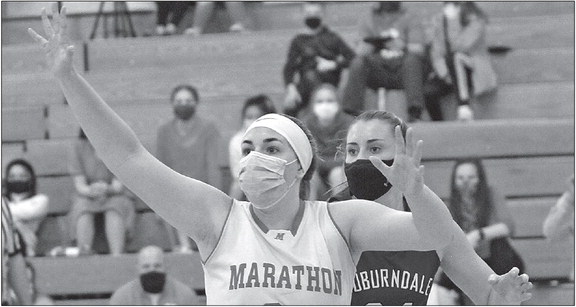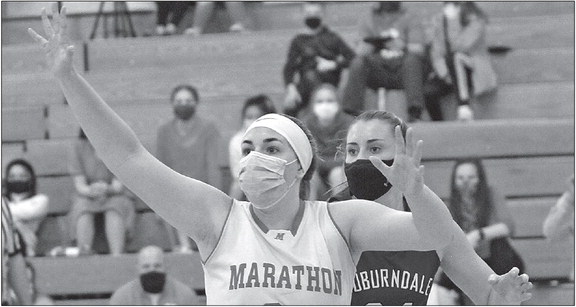 Ackley leads her team in several stats
Welcome back Breanna Ackley.
Ackley was dominating in her second game she played this season by leading the Stratford varsity girl's basketball team with 25 points, six steals and three blocks in her team's 54-31 win at Marathon on Tuesday. She was also second on Stratford's team in rebounds with nine. Ackley missed Stratford's first two games this season in a home win against Wausau Newman and a loss at Edgar. She returned to the basketball court during the team's 44-20 victory at Prentice on Friday. Ackely was second in scoring on the Tigers with 11 points against the Buccaneers, while senior Emily Hughes paced the team with 13 points. Senior Tanaya Schillinger led the Tigers with four steals and three assists.
The post player duo of Ackley and Hughes is the key to Stratford's girls basketball team's hopes of winning its first Marawood Conference championship this season in nearly 20 years.
Hughes scored 12 of her 17 points in the first half against Marathon on Tuesday, while Ackley poured in 16 of her game-high 25 points in the second half. Stratford led Marathon, 27-16, at halftime.
Ackley made four of the six three pointers she attempted for 67 percent shooting from behind the arc against the Red Raiders. Ackley also connected on six of her seven free throws and sophomore Ella Heidmann made all four of the free throws she attempted.
Stratford improves its record to 3-1 this season while Marathon falls to 1-2.
Marathon's girls basketball team was held to only 34 percent overall shooting during its two straight losses to Stratford and to Auburndale, 65-40, on Thursday at home. No Red Raiders player achieved doubledigit scoring against the Tigers. Senior Anna Cleven led Marathon with nine points and two assists, while senior Hope Krautkramer added eight points. Cleven and Krautkramer paced the Red Raiders with five rebounds apiece.
Allison Wokatsch led Marathon with 15 points in the team's defeat to Auburndale. Krautkramer contributed 13 points and Cleven eight against the Eagles. Cleven paced Marathon with seven rebounds and two steals. Krautkramer added six rebounds and Wokatsch had five. Jenna Aschbrenner led the Red Raiders with two assists.
Marathon girls basketball head coach Jeff Schneider remained upbeat after his team's home loss to Auburndale on Thursday.
"Even though the score was not in our favor, I was super proud of our team's effort throughout the game," Schneider said. "The girls that played improved in their communication and fundamentals as the game progressed. We will build on the positives and continue to get better."