Posted on
If COVID stays away, Loyal girls poised for another strong season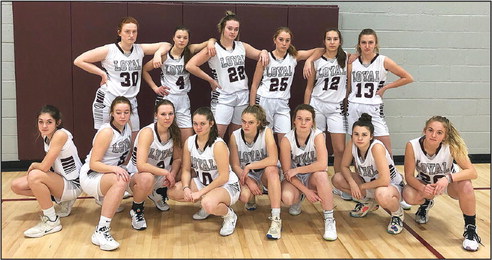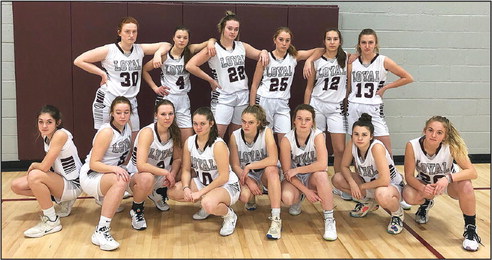 Loyal head girls basketball coach Mike Rueth likes to set goals. That's been a difficult task this season, however, as his Greyhound team and every opponent it will play doesn't know for sure if there will be more games next week or if COVID-19 could suddenly shut everything down again.
If the season does develop in some normal fashion, Loyal should be successful in its attempt to repeat last year's run that took it to the WIAA Division 5 sectional level. It did lose senior starters Remi Geiger and Bailey Bravener to graduation, but a deep cast of players who either started last season or saw varsity playing time is back for 2020-21. The Greyhounds are off to a 2-0 start after Eastern Cloverbelt Conference wins over Spencer and Marshfield Columbus, and Rueth likes the potential he sees.
Geiger was an all-everything player for the Greyhounds for the past few seasons, winning ECC firstteam- all conference honors again as a senior while also qualifying for the WIAA Division 5 state 3-point challenge shooting competition (which was called off due to COVID-19) for the second time. Bravener was a player with length who could step outside to hit 3-pointers, so between the two of them, there is significant offense to replace this season.
Back, though, are seniors Katlyn Lindner, Savannah Schley and Kayla Bremmer, all starters from last year who bring individual skills and growth this season as well as experience.
"All three of them are great leaders," the coach said. "They've become very vocal and their leadership skills are really, really good."
Lindner has been starting since her freshman year and her presence is felt all over the court. She can compete inside for rebounds, step back for perimeter shooting, and can handle the ball when needed.
"She's very athletic," Rueth said. "Her shot has improved. She has been a really good player for us."
Bremmer is also improving, giving Loyal a "great inside post presence,' the coach said. Bremmer has been developing her post game over the past three seasons, and looks as though she's made great strides in the past year.
"Her confidence is getting better every week," Rueth said.
The coach said Schley is a sparkplug who brings great energy to the floor. She's played off guard over the past few seasons while Geiger took care of the point guard duties, but Schley was a point guard in junior high and knows the position.
"She's got a motor that doesn't stop," Rueth said. "She really looks really smooth on the floor. She got to learn more of the wing guard spot in the past few years but now she gets to go back to the point. She's an outstanding team player."
Despite Geiger's high level of play, Rueth said he expects point guard to be a strong spot for Loyal again this season. Schley and others are capable ball handlers, but they'll also have to find ways to replace Geiger's scoring punch.
"Where we lose from Remi is she could create her own shots and score," Rueth said.
The other two starting spots this year go to juniors Paige Smith and Mckenna Schley. Smith missed most of last season with a knee injury, and would have been the first person off the bench. Schley saw some varsity minutes last year and Rueth said he has noticed her steady improvement each season.
Bench players expected to contribute are junior Abrial Kubista, an athletic and very coachable player, and junior Natasha Tellock, who also saw playing time in 2019-20 and is "another tough kid that we can rely on," Rueth said.
Juniors Haven Peroshek, Zaida Brock and Tylee Brecht round out the varsity roster. They will also see signifi cant junior varsity time as Loyal has only 14 girls out for the sport this year. Others in the program are Anna Lindner, Sheila Tellock and Alyssia Zvolena.
The 2019-20 Loyal girls team finished its season with a 20-6 overall mark. Its season ended with a 46-29 loss to Clear Lake, which advanced to the state title game. The season also included a second-place finish behind Neillsville in the ECC.
Rueth said Neillsville is as good as usual and the team to beat in the ECC again, with Marshfield Columbus, Colby and Gilman expected to be strong. Loyal looks to have the talent, depth and experience to have a strong showing in the league, but this year is filled with uncertainty. Already in the first two weeks, Loyal has had games against Greenwood, Colby and Gilman impacted by COVID-19 concerns.
"We truly are taking this season one day at a time," Rueth said. "You never know when your season may be over. I think you have to be really lucky to get through
CONTRIBUTED PHOTO the season without getting affected by this COVID stuff."
Rueth is looking this year for what he does every season — steady improvement with a peak at tournament time. This squad has potential, and keys will be finding a way to replace Geiger's offensive production and limiting opponent if that doesn't go well.
"I don't know how sound we are defensively," The coach said. "I feel we can be quite successful this year if we can get through a full year."
The team may also have to see how well it handles adversity, if a player or two has to miss time for quarantine. Practices may be disrupted, too, and at any time, a season could be suspended for a few weeks.
"That's something we've got to deal with, but so does the team that we play against," Rueth said.