Posted on
Coach wins first dual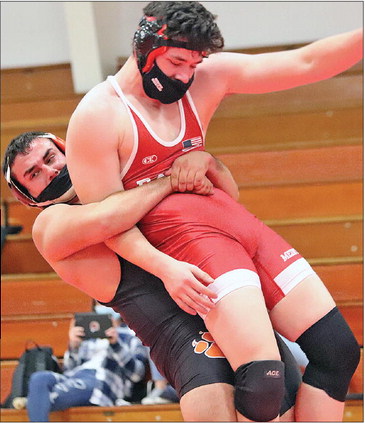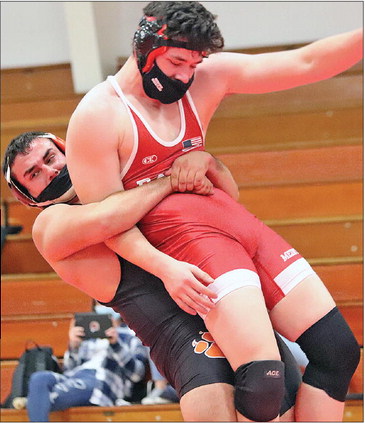 Davison takes over successful Tigers program
By Casey Krautkramer
Adam Davison feels fortunate to take over the Stratford High School wrestling program this season, following the retirement of longtime head coach Joe Schwabe.
Davison's already off to a great start coaching the Tigers, who downed the Medford Red Raiders in Friday's first dual meet this season. Stratford dominated Medford, 61-18, on the road. Although the Red Raiders weren't at full strength, it was nonetheless a nice first win for coach Davison and the Tiger wrestlers.
"It was a solid night for our guys and a lot of younger wrestlers got some experience," Davison said. The draw weight was 220 pounds for the dual meet. Stratford junior Cole Marten got the Tigers on the scoreboard right away with a 9-4 decision win against Medford senior Dalton Krug. Tigers sophomore Patrick Greenberg carried over the momentum by pinning freshman Braxton Weissmiller in only 26 seconds at 285 pounds.
Medford won the next three matches to gain an 18-9 advantage in the dual meet. Rachel Sova won the battle of freshmen with Roman Schmidt of Stratford by pinning him in two minutes, 59 seconds at 106 pounds. The Red Raiders then won forfeits at 113 and 120 pounds. These were the last points Medford earned, because Stratford dominated the rest of the dual meet by winning the last nine matches.
Stratford senior Benno Wenzel and junior Logan Gaulke won forfeits at 126 and 132 pounds, respectively. Tigers junior Logan Gliniecki pinned Red Raiders senior Eli Mahner in 47 seconds at 138 pounds, junior Gavin Drexler won an 11-2 major decision against senior Carson Church at 145, junior Elijah Lucio pinned senior Oscar Hinderliter in 2:18 at 152 and senior Jake Heiden pinned freshman Kenny Pace in 1:36 at 160. Tiger wrestlers gaining forfeit wins were sophomore Dawson Rueth at 170 pounds and seniors Hunter Ford at 182 and Logan Rueth at 195.
Dream coaching job
Davison takes over as head coach for Schwabe, who obtained an impressive varsity record of 403 wrestling match wins compared to only 82 losses and one tie in 23 years. Schwabe coached in Stratford high school's wrestling program for 28 years.
Schwabe guided Stratford's wrestling squad to the last five consecutive WIAA Division 3 state team wrestling tournaments. The Tigers won back-toback WIAA Division 3 state championships in 2017 and 2018, after finishing as state runners-up in 2016. Stratford also was state runners-up in 2019 and a state team participant last season.
He also was Stratford's head coach during state runners-up finishes in 2001 and 2002, while current Tigers varsity assistant coach Kane Krummel was the school's head wrestling coach during the team's state runnersup finish in 2003.
Davison was a wrestling coach for the past five years before coming to Stratford this school year to teach American Government and World History and be the head wrestling coach. He was the head wrestling coach at Mayville High School one year, before serving as coach in the Bloomer/Colfax co-op for the past four years.
"When I saw the job opening for a coaching/teaching position here at Stratford, I was thrilled," Davison said. "Stratford's records and success in recent years speak for themselves, and the chance to come in and try to work with some fantastic young men and help them add their own chapters to that history was a bit of a dream chance."
He'll always remember this one particular memorable weekend in his life.
"It was a really big weekend when I got hired here," he said. "My second interview was on Thursday, I was offered the job on Friday and my wedding was that Saturday so it was a whirlwind of a weekend to say the least."
Davison has inherited many talented wrestlers on Stratford's team this season, including junior Gavin Drexler who won the individual WIAA Division 3 state championship at 126 pounds last season at the Kohl Center in Madison. Drexler finished last season with a undefeated 50-0 match record. Davison's been impressed with what he's seen from Drexler thus far this season.
"Gavin has a great work ethic," Davison said. "Gavin is usually the last wrestler out of the room at the end of the night for practice and he's a guy I ran into in the fitness center on a lot of nights after school before the season started. He wrestles year round in club wrestling and tournaments around the country, and as a returning state champ some kids may relax and take it for granted but not Gavin. He works hard and I think that dedication plays a big role in his success and bodes well for his future."
Stratford has two other state individual qualifiers back this season in Jacob Heiden, who placed sixth at 152 pounds, and Elijah Lucio who failed to place at 138.
"Another guy to watch this season is Hunter Ford, who didn't make it to individual state last season but he still won 40 matches and he definitely has his goals set high," Davison said."
The new head coach is looking forward to facing off against Fennimore in a non-conference dual meet on Friday, Dec. 18. Stratford has wrestled against Fennimore the past five seasons at team state.
"It's hard not to be excited to face a team on that level," Davison said. "With the limited number of events this year due to COVID-19, we wanted a chance for our kids to face a program that has been elite and luckily we were able to make it work with Fennimore. It really is a great opportunity for us to see how we stick up against a really high quality program, and with the uncertainty about what if any end of the season tournaments we will have, it gives us a match that we can train for and be excited about early this season."
Stratford's Marawood Conference dual meet schedule consists of wrestling at home on Thursday, Jan. 7 against the Auburndale/Marathon co-op, at Phillips on Thursday, Jan. 14 and at Athens against the Athens/Edgar co-op on Thursday, Jan. 21.