Posted on
Athens at .500 to begin season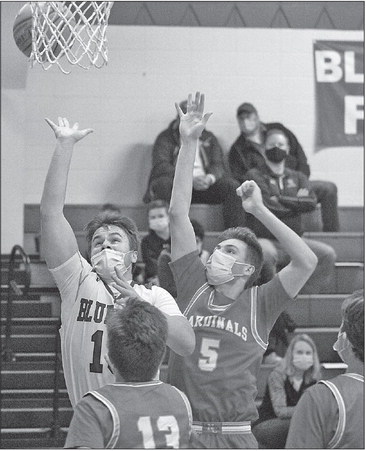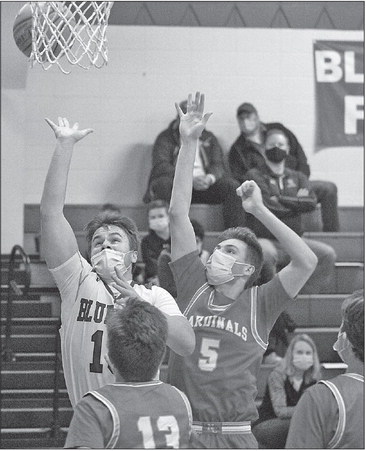 Bluejays take care of Abby, fall to Newman
As the Athens Bluejays boys basketball team enters this new season, there's plenty of questions to answer. Perhaps the biggest is this - who takes over now that Cameron Ford is gone?
Ford, a four year letter-winner and twotime unanimous First Team all-league performer in the Marawood - North, has graduated, and taken his talents to Ripon College. With him departs a nightly double- double as the 6'6" center averaged 20 points and 10 rebounds last year and led the Bluejays to a 17-7 finish in 2019-20.
Thankfully, Athens got a big answer to that question in its first two games of the new season after the 'Jays split their first two games to begin the year 1-1.
Athens opened up their 2020-21 campaign at home, but the comfortable confi nes of their home court did little to help them overcome the Newman Catholic Cardinals on Thursday, Dec. 3.
It was a Jekyl and Hyde game for Athens as the Bleujays struggled out of the gate, failing to generate a rhtyhm on offense as they were held to a meager 12 points in the first half, with Athens sorely missing Ford's interior presence.
The Cardinals on the other hand, wasted no time in lighting up the scoreboard as they raced out to an early 33-12 lead as both teams headed to the locker room.
But after one half of play, the 'Jays were able to bang some rust off their game, and played a better brand of basketball on both sides in the second half.
"The second half was much better," returning head coach Aaron Ellenbecker said. "We out-scored them 30-25 in the second half. Our shooting and free throws improved."
Athens got to the charity stripe 28 times against Newman, but only converted 13 attempts, with junior Cooper Diedrich going six for 15 from the line.
Diedrich, a first team All-Marawood north recipient last year, shows all the signs of repeating that honor after he finished with 12 points and six boards.
"We are looking for Cooper Diedrich, Dayne Diethelm and Cobie Ellenbecker to bring leadership to the team," acoach Ellenbecker said. "We are looking for Aiden Janke to step into our "big man" role."
The 'Jays saw some of that leadership on Thursday night, with Diethelm leading Athens with 14 points against the Cardinals. Janke had a quiet night on offense in the first game of the year, and was held to just four points, but the sophomore center pulled down a team high 10 rebounds as Athens fell 58-42.
Athens edges past Abby
The Bluejays didn't spend too much time dwelling on Thursday's loss, not with a chance to earn their first road win of the season on Monday. Athens was taking on their familiar conference rival Abbotsford.
Each team was looking to pick up some early season momentum, and get that first victory, and both played at a high level in the first half.
Cooper Diedrich, Dayne Diethelm and Aiden Janke were a formidable trio on Monday, with all three finishing in double figures. Diedrich hit several buckets and Diethelm carved up the Falcons like a Thanksgiving turkey as he slashed inside for quick points.
Diethelm drew contact multiple times, shooting six free throws as he led Athens with 13 points in the first frame. Janke also had a big showing in the first half as he showed his more than a post player by hitting a three and then working inside for a pair of baskets as he scored nine points.
Abby had its own answers on offense as hot shooting from beyond the arc prevented the Bluejays from pulling away. Hunter Soyk splashed three triples in the first half and Mason Carpenter got Athens in foul trouble and scored seven points to lead the Falcons to 31 points in the first half.
But it was Athens who held the early advantage as Diedrich, Diethelm and Janke gave the 'Jays a 39-31 lead at halftime. Once the clock started in the second half, it was all Athens, and the 'Jays' defense stymied Abby, holding their hosts to just 18 points as they held Soyk scoreless in the second half.
Abby's Cade Faber hit a three, and led the Falcons with 12 points, and Brandon Hawkey had a nice second half with seven points, but outside of Faber, the 'Jays did not allow another Falcon to notch double digits.
Athens on the other hand went with a more balanced approach as six different players found their names in the scorers column in the last stanza.
Diedrich hit a pair of treys as he scored in double digits for the second consecutive game, finishing with 17 points. Janke and Diethhelm each hit a pair baskets, with Diethelm once again leading Athens, this time with a game high 18 points and a team high nine boards.
Janke finished with 13 points and eight rebounds, but the real story was the help Athens received from its role players.
Cobie Ellenbecker scored six points and Michael Komareck and Kody Lepack each added four points. Connor Sheahan rounded things out with three points.
It's very early into the season, and one doesn't want to read too much into just two games, but based on a small sample size, the 'Jays are showing that they can be a very versatile and well-balanced team.
Just how good Athens can be no one will know until further into the season - but the convincing win over Abby suggests that a Marawood - North title at the end of the year is not out of the question.
Athens girls open year 1-0
The Athens Bluejays girls basketball team had their own questions to answer after they've lost several varsity players to graduation.
Much like the boys team, the 'Jays did some answering of their own in their season opener, travelling to Nekoosa in a non-conference meeting on Monday.
The Papermakers have dropped their first three games of the year, and Athens made it four straight thanks to a big first half effort on offense.
The 'Jays had trouble stopping Nekoosa's Kiya Kolo, who led all players with a game high 21 points, but outside of Kolo only two other Papermakers scored more than eight points.
Athens responded by having five different players notch seven or more points, including two in double digits, and after one half of play, the Bluejays had built up a double digit lead of 35-22 at the break.
Athens also controlled the glass, nabbing 46 rebounds on the night, but the momentum shifted in the second half as Nekooksa mounted a comeback, with Kolo and Macey Shutter, who added 10 points on the night, helped the Papermakers close the gap. Nekoosa rallied for 26 points in the second half, and this offense was matched on defense, with the Bluejays failing to maintain their torrid shooting from the first half. The Papermakers would outscore the Bluejays 26-16 in the final half, but Athens' first half lead of 13 points was too much to overcome, and Athens held on for a 51-48 lead to start the 2020-21 season with a perfect mark of 1-0.
Athens was led by the one-two punch of juniors Elizabeth Van Rixel and McKennzie Schug, who scored 11 and 10 points against Nekoosa. Two more players finished just outside double figures, with sophomore Celina Ellenbecker collecting nine points. Senior Kaitlyn Riehle also tallied nine points and dished out a team high seven assists.
A pair of Athens freshmen made impressive debuts in their first games at the varsity level on Monday. Addison Lavicka scored seven points and pulled down eight rebounds, while Jazelle Hartwig notched four points and finished with a team high nine rebounds.
The 'Jays will need to improve upon their free throw and field goal percentage, as they went just four of 14 from the line and 18 of 54 from the floor, but at the end of the day, Athens starts the new year with a perfect record.