Posted on
READY FOR ANOTHER RUN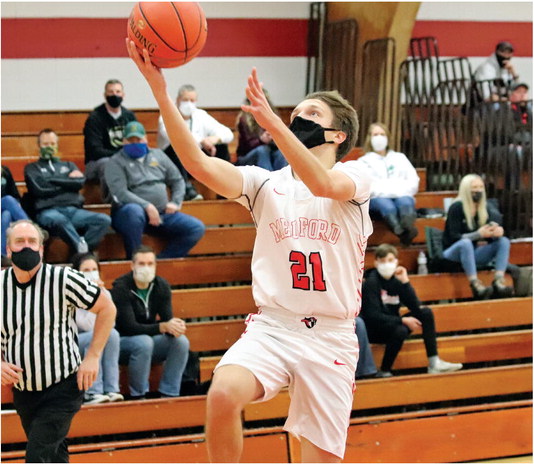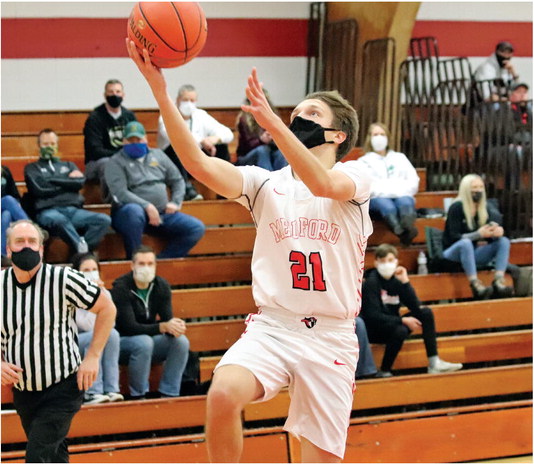 MEDFORD BOYS BASKETBALL PREVIEW
Defending champs return experience, depth
Fresh off the program's second Great Northern Conference boys basketball championship, the Medford Raiders open the 2020-21 season eyeing a new piece of history –– the program's first GNC repeat.
Unlike the 2017-18 season, where the Raiders brought back only two major players from the previous year's title team, this year's squad brings back eight letter winners and plenty of ammunition to fend off any challengers to the crown.
This season will be unique in that the toughest foe may not be an opposing basketball team but the COVID-19 pandemic and the uncertainties that will surround scheduling and who's available to play on a nightly basis.
But, at least to start, Medford seems prepared to handle whatever is thrown at the team this winter.
"I feel like if we can play defensively the way we want to play, we should be in every game and have an opportunity," head coach Ryan Brown said Monday. "We'll see. It'd be nice to be in that race and have an opportunity to win it back to back, which we haven't done in the GNC. That's not easy to do. I'm sure Mosinee thought they were going to be in that driver's seat last year."
Instead it was Medford that made a perfect 12-0 run through the conference and finished 19-5 overall, falling in a tough WIAA Division 2 regional semifi nal matchup at New Richmond. This year's group opened the new season Tuesday with a 73-63 home win over D.C. Everest. The GNC title defense starts Friday with a 7:15 p.m. home game against Antigo.
Experience, it could be argued, is Medford's number-one strength coming into the new season. It certainly helped during the first practices of the season, which started a week later than normal, went through Thanksgiving week and quickly brought the Raiders to their first game just seven days after they started.
"Luckily we have a veteran group," Brown said. "Every kid that we have has been working their way up where they've seen a lot of these concepts. So it's not like it's brand new. So I think that was a huge advantage this year."
Leading the way for Medford is a five-member senior class, all of whom earned letters last winter. That group includes reigning GNC Player of the Year Peyton Kuhn, Ty Baker, Brady Hupf, Nate Retterath and Owen Wipf.
Junior letter winners Joey Sullivan and Caleb "Chubs" Guden also return along with sophomore Logan Baumgartner, who earned All-GNC honorable mention as a freshman.
What has Brown really excited about where his program stands is the depth and talent that is present at all three levels. It's going to allow the Raiders to have up to 14 players practice with the varsity. Many of those players will get solid varsity minutes allowing the Raiders to roll over experience into next year and hopefully beyond, much like they've done this year.
Juniors joining that core varsity group this season include Aiden Gardner, Brigham Kelley and Sam Blair, while sophomores Zach Rudolph and Charlie Kleist and freshman Tanner Hraby are part of that mix too.
"Hopefully we're putting ourselves in that situation each year where we have seven or eight kids that really understand what we expect," Brown said.
Kuhn, a 6-foot guard, starts his fourth varsity season just 15 points shy of 1,000 for his career, a milestone he hopes to reach in Friday's game with Antigo. He was the GNC's second-leading scorer a year ago at 19.3 points per game and averaged 18.4 points, 2.4 steals, 2.8 rebounds and 1.5 assists per game overall in 24 games played. Baker, who also stands at 6 feet, is an ascending player who averaged 6.0 points, 3.8 rebounds and 1.3 steals per game last year. He figures to be one of Medford's top defenders and rebounders. He also shot 52.1% from the field. Hupf is the top returning post player. He averaged 3.6 points and 3.0 rebounds per game.
Wipf, a 5-9 guard, saw spot minutes last year and Retterath, a 5-11 guard, is Medford's biggest addition this season after he missed all of last year while recovering from a knee injury suffered in football. "I just watch him on film and a number of times defensively, he's just making a good stunt and then recovering to his man and pushing him right where we want him," Brown said of Retterath. "He's a leader, not necessarily a vocal leader, but guys look up to him. He's just a calming presence on the floor. He sees the floor really well. He attacks and reads the defense really well."
As for Kuhn and the target he'll be carrying on his back this year in the eyes of opposing defenses, Brown said the fourth-year starter is ready to handle it.
"I can see he's matured more," Brown said. "He knows and I know he still has things to work on. He's getting better at taking feedback and trying to be a leader. That will be the biggest thing for him is understanding when teams focus on him, we have so many other weapons. He can kind of look to facilitate in those situations. What he does so well, and what I think our offense does so well and it's an area we're still working on, is if we screen bodies well he's going to get open anyway. They can chase and do whatever, but he does a good job of setting up his screens and mixing up his speeds where he can get open quick and get his shot."
Baumgartner, the tallest Raider at 6-3, averaged 9.6 points, 3.9 rebounds, 1.8 assists and 1.6 steals per game last year and only figures to improve. Sullivan is a player expected to take on a much bigger role, creating a solid top six players. Brown said the fascinating aspect to the season will be seeing who steps up and grabs those seventh through 10th spots in the varsity rotation.
"Joey could start with the top five," Brown said. "That's how good he's been shooting the ball, attacking, putting his head on the ball and defending it. For who our 7-10 are going to be, it's all going to be about who can play with those other six the best. Who can play their role? Chubs and Owen really stand out with how every time they snap to their stance and jump to the ball and talk and play in position. The biggest thing for them is realizing when am I looking for a shot." Brown sees this team being offensively gifted, but, as always, how successful it can ultimately be will come down to its commitment to defense and rebounding. "I'm not worried about scoring with this group," he said. "As we push and as we run our offense, maybe the only thing is just becoming too content with an OK shot, or just not changing channels good enough to go from fast break to now let's get a great shot. We can get a good shot so easily with this group. So that would be my biggest concern. "Defensively, that's where we're going to win or lose," he added. "That's where we're going to go from good to great. Right now we're OK. I'm worried a little bit about rebounding."
Sticking with the fundamentals of defensive positioning and boxing out will come into play, especially against some of the tough non-conference competition Medford hopes to face. The Raiders, as of now, have lost some challenging games from their schedule, but they still have opponents like River Falls, Menomonie, Rice Lake, Appleton Xavier and Merrill that will go a long way in determining where Medford is seeded in its tough Division 2 sectional half-bracket that features some of the best basketball teams northern and western Wisconsin has to offer.
In filling out the schedule, Brown said the goals were to keep it challenging and give the boys as many chances to play games as possible.
"Maybe this year more than ever, if we get three games in a week, we'll do three games in a week," Brown said. "You don't know how long you're going to get them and then all of a sudden you're shut down for two weeks or whatever. I love having practice. It's where we get ahead with our preparation and hitting the details. But this year, we really want to see our kids get games in and get the opportunity to play."