Posted on
Raiders focus on making the most of every opportunity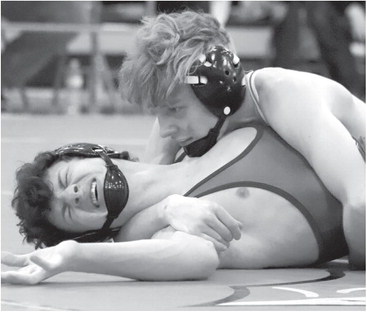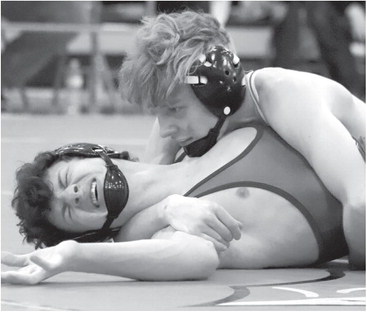 MEDFORD WRESTLING PREVIEW
A strong argument can be made that no winter sport is going to be hit harder by COVID-related modifications than wrestling, especially with the regularseason loss of multi-team invitationals which will significantly reduce studentathletes' opportunities to compete.
The Medford Raiders are determined to make the best of it in 2020-21.
The two-time defending Great Northern Conference and WIAA Division 2 regional champions will look much different than they did while winning three league titles in four years. Fifth-year head coach Brandon Marcis and his staff said goodbye last March to a highly- successful senior class that included a two-time state champion in Jake Rau, multi-year state qualifiers in Zeke Sigmund and Dane Higgins and conference contenders like Clay Bowe, Jake Brunner and Eric Rehbein.
The 21-man roster still features some formidable seniors, but, without question, it leans to the young side of the pendulum with several sophomores and freshmen looking to make their mark now that those veteran personalities of the last few years are gone.
"For a lot of these kids, this is their opportunity year for sure, especially some of those seniors and then we've got these younger kids coming up," Marcis said Tuesday. "It's definitely an opportunity year for those guys. You can see it in practice. You see Dalton Krug, Carson Church and Emett Grunwald just taking over leadership roles, Eli Mahner too. All the seniors. I compliment them on their efforts and their ability to stay positive and get everybody together. That's been really good. I definitely think they're going to seize their opportunity this year."
Medford will get its first chance to show what it's made of Friday when the Raiders host Stratford in a non-conference dual at Medford Area Middle School. Competition at the JV level is scheduled to start at 6 p.m., followed by the varsity dual meet at 7 p.m.
Medford's GNC title defense starts Dec. 10 at Raider Hall when the Lakeland Thunderbirds come to town.
The regular season is limited to dual meets at this time. For the Raiders, that means five GNC duals as well as nonconference duals with Stratford and the Neillsville Co-op, both of whom could provide excellent competition. The GNC tournament is still on at this point, set for Jan. 23 at Mosinee. WIAA guidelines also call for six to seven days between meets.
"You want to see matches," Marcis said. "At the end of the day with this whole deal, my biggest goal is to just get kids as many matches as we can get because as we've learned, from the fall and just how things are going, that no dual meet is going to look the same. There's a constant rotating door of kids who are sick or on quarantine, so that's another thing you have to deal with. To think it's going to look the same is foolish."
The irony is if the Raiders are healthy and at full strength, they may have their best opportunity in years to, at times, fill out a full 14-wrestler lineup card this winter.
Leading the way are six seniors who have all been through the battles at the varsity level to varying degrees.
Emett Grunwald (35-12 last year) and Carson Church (25-5) head that list. Both are returning GNC champions. Church won the 132-pound regional title last year, while Grunwald was the runnerup and qualified for the sectional meet at 152 pounds. Grunwald again looks to fill a spot in the 145- to 152-pound range, while Church should settle in this year at 138. Dalton Krug heads a trio of wrestlers that weighs about 200 pounds. It includes sophomore Wyatt Johnson and freshman Braxton Weissmiller. Those three could fill the 195-pound, 220-pound and heavyweight positions, though Marcis expects Krug to claim the 195-pound spot for another year. Krug was a sectional qualifier last winter and finished 26 20. Hayden Johnson earned honorable mention in the GNC as a junior last year at 170 pounds and was a sectional qualifier as a sophomore. He's back in the 170- to 182-pound range.
Eli Mahner and Trevon Drallmeier are seniors looking to play bigger roles. Mahner lettered as a sophomore and was part of the team sectional lineup that year, but last year was just one of those seasons where finding a spot in the lineup was tough. He hopes to fill a full-time role at 132 pounds. Drallmeier, who has seen some spot duty, hopes to gain a more prominent role in the 145- to 152-pound slots. Junior Oscar Hinderliter also figures to get some 152-pound matches.
Two sophomore letter winners return in Ty Sova and Thaddeus Sigmund. Sova (23-13) was the GNC runner-up and a sectional qualifier at 106 pounds. He'll move up to 113 pounds or maybe even 120 based on the dual. Sigmund, who got some early work last year at 106, will look to fend off a challenge from freshman Rachel Sova at that spot this year. Sova has a strong résumé as one of the state's top female wrestlers for her age, including a stint with Wisconsin's national team in the summer of 2019.
Junior Kayden Dassow could see action at 132 pounds or thereabout. Unfortunately, sophomores Matthew Gebert and Blake Schilling, who both saw varsity time last year in the lower weights are out this year with injuries.
From there, it's all about youth for the Raiders.
Freshman Jude Stark could challenge for time at 113 to 120 pounds. Meadow Beyer is in that mix too. Sophomore Itsael Medina, who joined the program last year is a candidate to fill the 126-pound position. Corey Lindahl is an experienced freshman looking to learn behind Church at 138. Kenny Pace joins the logjam at 145 to 152. Logan Kawa could contend for matches at 152 to 160 pounds and sophomore Dalton Waide is back in the 170-pound range.
Marcis said the big freshman class couldn't have arrived at a better time.
"We lost a big class of numbers and they were talented wrestlers," Marcis said. "We have another big class that came in and they're also talented. Their success will be determined in the next four years. It's definitely an exciting class coming in. I'd say, in general, our freshmen and sophomores are pretty decent classes."
The closest competition in the GNC last year came from Tomahawk, who Medford beat in the dual 33-25 and outscored in the tournament by 27 points. Making predictions for this year, though, is tough because of the meet-to-meet uncertainties every team will face.
"I think it's foolish for any coach to think he'll have a full lineup every single time," Marcis said. "I don't think it's going to happen based on how things are going. Obviously I want to win. I do think we have a good team. If it was a regular year I would say we're very competitive and could be at the top of the conference just like we have been in the past even though we have a lot of new faces."
For now, the WIAA has post-season assignments posted. Medford is slated to return to the Regis-Altoona regional on Jan. 30, which it won handily last year. The Neillsville Co-op is scheduled to host the sectional meet on Feb. 6. Ellsworth is pegged to host the team sectional on Feb. 2.
"I'm just excited that we get the opportunity at all because everything changes so quick," Marcis said. "Our practices are like any other sport's right now, you just have to deal with all the variables that are going on. We're just keeping the ship pointed in the right direction, coming to practice, working hard. We're controlling what we can. That's getting a good workout, staying on top of our grades and being ready for our opportunities.
"It's definitely very hard on wrestling this year just because we only get the dual meets," he added. "We are supposed to get a state meet. There's dates for it. They say it's going to happen, but they haven't released any information on it or where it's going to be. We know it's going to look different if we can do it. Only time will tell on that one. We have to wrestle with masks, which we've been doing in practice. It's definitely a challenge. But we're the right team for the job, I know that."