Posted on
Tigers take opener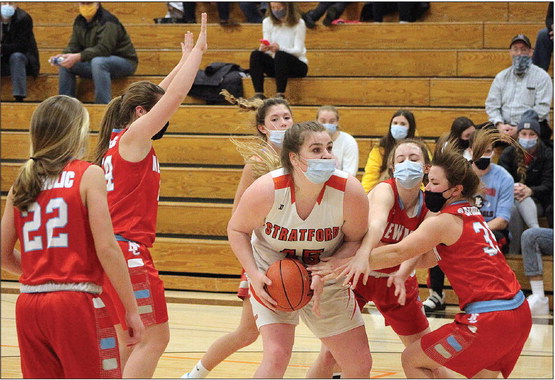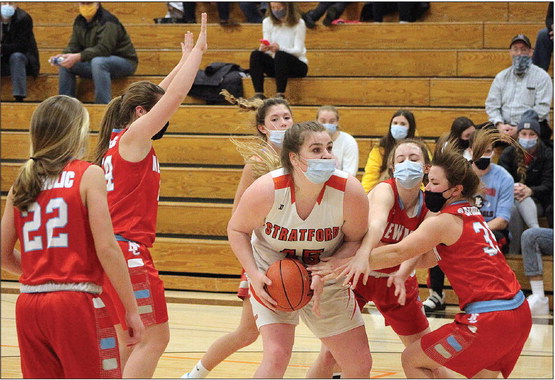 Stratford then falls to Edgar without Ackley
The Stratford varsity girl's basketball team easily beat Wausau Newman, even without senior leading scorer Breanna Ackley, in its season-opening game on Nov. 24, but her presence on the court might've made a difference in the outcome of Tuesday's loss to the Edgar Wildcats.
Ackley, a lanky post player who is also good at dribbling the ball, averaged a team-high 16.1 points per game for Stratford last season. Stratford head coach Tammie Christopherson said Ackley will make her season debut in the team's game this Friday, Dec. 4, in Prentice. Christopherson described the skills Ackley possesses that makes her such a dominating force on the basketball court.
"Brianna is a very talented player who has the opportunity to be a 1,000-point scorer this season," Christopherson said. "She has the ability to play at both guard and in the post, which creates problems for many teams. I'm looking for her to be a leader on both offense and defense this season."
Senior post player Emily Hughes, who was the team's second-leading scorer last season by averaging 9.7 points per game, did an admirable job filling Ackley's void as Stratford's top scorer in the first two games this season.
Emily, who is the daughter of Patrick and Shelly Hughes, tallied a game-high 17 points in the team's 61-27 home win against Wausau Newman on Nov. 24. She also scored a game-high 22 points in Stratford's 52-41 road loss to Edgar on Tuesday. Emily and her teammates are striving toward winning their school's first girls basketball conference championship in nearly 20 years. Stratford's girls basketball team last won back-to-back conference titles in 2000 and 2001 when current Tigers varsity boys basketball coach Curt Schmidt was Stratford's girls varsity head basketball coach.
"Winning the conference championship would be huge for our team, especially for all of us senior players and our head coach," Emily said after her team's win against Wausau Newman.
Stratford will rely on its strong post combo of Ackley and Emily Hughes to help it win the conference championship this season. The Tigers, however, have other big contributors like senior guards Tanaya Schillinger, MaKenna Leonhardt and Gracie Hauke. Tall sophomore forward Lauren Kraus also returns this season.
Other players who'll contribute to the team's success this season are senior Maria Schoenfuss and sophomores Ella Heidmann, Bailey Linzmaier, Allison Lindner and the head coach's daughter, Lexi Christopherson.
Tammie Christopherson was pleased with her squad's big season-opening victory against Wausau Newman.
"We had a really solid first game; we got contributions from absolutely everyone on our team," she said. "Newman is in a rebuilding process but I felt like we did a lot of good things right out of the gate and we controlled the game from start to finish. We had good consistent scoring and that's a goal of ours this year."
Hauke and Kraus joined Emily Hughes in double-digit scoring in the team's victory against Wausau Newman, with 13 and 12 points, respectively. Emily Hughes shot 57 percent from the floor on eight of 14 shooting, Kraus was 67 percent on six of nine shooting and Hauke was 50 percent on five of 10 shots.
Emily Hughes led the Tigers with seven total rebounds against the Cardinals, while Schillinger added four. Hauke paced Stratford with six assists and Leonhardt with four steals. Schillinger contributed three steals and assists each.
Schillinger and Emily Hughes accounted for 34 of the team's 41 total points during its loss to Edgar on Tuesday. Schillinger had 12 of those points.
Emily Hughes also led the Tigers with nine rebounds against the Wildcats, while Kraus added six and Schillinger four. Hauke paced the team with six steals.
Head coach Tammie Christopherson's former Stratford player and alum, Tianna (Hughes) Voda, is the school's new junior varsity girl's basketball head coach this season. Stratford alum Greg Belter returns as a Tigers varsity girl's basketball assistant coach.