Posted on
Raiders tip off winter with high hopes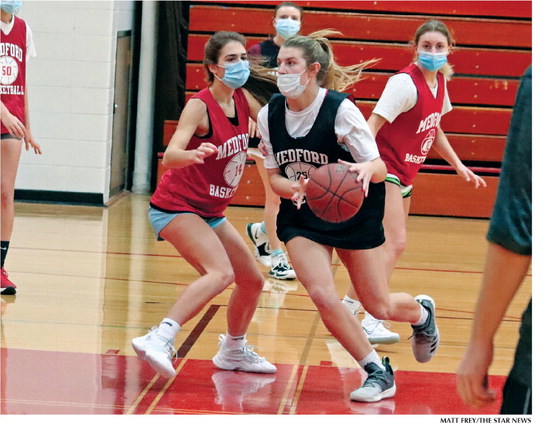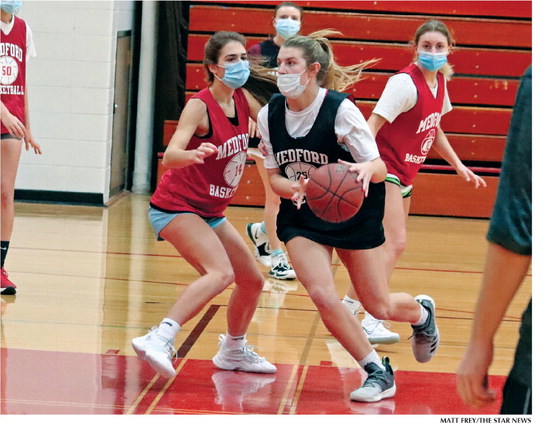 MEDFORD GIRLS BASKETBALL PREVIEW
BY MATT FREY SPORTS EDITOR
Every high school team and athletic program in Wisconsin is entering the 2020-21 winter season with trepidation as the COVID pandemic, which we were first introduced to as last winter wound down, is still making life difficult.
But, as of now, games will go on and the Medford girls basketball team is one of the first local squads to test itself in the new season, as the Raiders were scheduled to tip off their new season Tuesday by hosting Merrill in a game that was played after The Star News' early holiday deadline this week.
The Raiders have the potential to be a team to watch this winter as they bring back eight letter winners from a 2019-20 team that started last year with only three experienced players but forged a solid 17-7 record and nearly pulled off a big WIAA Division 2 regional semifinal upset at second-seeded Onalaska.
They also will be spending the early portion of the season adjusting under new head coach Greg Klapatauskas, who filled the vacancy left by Jessica Faude this past summer. Faude led the team for three years, during which the Raiders were 41-27 overall and 23-13 in the Great Northern Conference.
Quickly transitioning from his assistant coaching duties with the football team to two-a-day practices last week with the girls, Klapatauskas and varsity assistant Chad Fronk, who enters his fifth year on the staff, have been making offensive and defensive tweaks they hope will keep the team on its upward trajectory.
"We looked good," Klapatauskas said Friday after completing week one. "We're not a well-oiled machine yet. The week went well. They're picking up a new system with some things they've never experienced and they're doing a good job with it."
Medford only lost two seniors — Brynn Rau and Sierra Hanson — and has just one senior on this year's roster, which is a testament to how young the Raiders were last year. Marissa Fronk is that returning senior and, coming off an All-Great Northern Conference season where she averaged 15.3 points and over 3.5 rebounds and steals in 24 games overall, she figures to be the focal point of every opposing defense Medford will face this season.
While the coaches expect a lot from their leader, the continued improvement of the juniors and sophomores is also something the coaches are excited about.
"We've brought in that football mantra of doing what we can to get better every day," Klapatauskas said. "Do things like limiting turnovers, no fouls, finish our shots. Just keep getting better everyday."
With participation numbers in the low 20s to start the year, roster juggling between the varsity, JV and JV2 numbers is expected this year. That's especially true with quarantines in a year like this where players can be sidelined unexpectedly.
To start the season, the Raiders are suiting up 11 girls at the varsity level, with five of them expecting to split time at the varsity and JV levels.
"We've told the freshmen we'll likely be rotating a lot of them up to JV at times just to give them the opportunity," Klapatauskas said. "Right now, we're only going with six full-time varsity players and five will be bouncing back and forth. We're going to need some minutes from them at the varsity level, but they're going to need the min See RAIDERS on page 23
Medford's Rynn Ruesch drives past Bryn Fronk and scores as the Raiders do some five-on-five halfcourt work during practice Monday morning at Raider Hall. Lydia Pernsteiner and Hope Faude watch from behind the play. The Raiders were scheduled to host Merrill Tuesday in their 2020-21 season opener under new head coach Greg Klapatauskas.
MATT FREY/THE STAR NEWS utes at JV so they can keep getting better."
Joining Marissa Fronk as full-time varsity players are juniors Rynn Ruesch and Katie Brehm, who are both already two-time letter winners; junior Laurissa Klapatauskas, who earned more and more minutes as last year progressed, junior Autumn Krause, whose improved 3-point shooting helped spark the team's strong second half last year, and sophomore Bryn Fronk, who got a few varsity minutes here and there. Krause is working her way back from a severe knee injury suffered in last year's WIAA tournament win over Rice Lake last February.
Ruesch averaged more than six points, five rebounds and two assists per game last year. Krause averaged over six points per game, Brehm averaged more than five points and five boards an outing and Klapatauskas pulled down over four rebounds per game.
The five players riding the varsity/JV bubble will be juniors Lydia Pernsteiner, Sophie Brost and Lindsey Wildberg and sophomores Martha Miller and Hope Faude. Pernsteiner and Miller got some varsity minutes last winter.
The Raiders had the top-ranked defense in the Great Northern Conference last year, allowing just 38.3 points per game in 12 league contests. Klapatauskas said keeping that up is a priority.
"Defensively I would like to see us be much more aggressive," he said. "No easy passes is what we've been stressing. Right now, I'd say we'll probably play more man-to-man, but it will likely depend on who we are playing. I think we can match up defensively with any team. When we've played zone in practice while working our zone offense, we've looked pretty good."
Offensively, Medford's new system will involve more structured sets than the team ran in recent years, which will take time to perfect. But the end goal is to allow players to work quicker because they know where they are supposed to be and where passes are intended to go and to create mismatches for the team's top offensive threats.
I'm hoping for more movement to the offense, moving with a purpose," Klapatauskas said.
Klapatauskas admitted the changes are an adjustment for a veteran player like Marissa Fronk. But he's hoping they excite her as well. "It's tough for her because, being her senior year, she was supposed to be the one who knew the system and was going to help teach the younger girls and be that leader. But we've told her we're putting this offense in for you, to give you these mismatches to get you even more easy shots. We're still going to go as far as you take us." Overall, the new head coach is looking for two areas of emphasis from all of his players, commitment on defense and a commitment to taking care of the basketball. The Raiders averaged just under 17 turnovers a game last year, which was better than previous years, but miscues still got them into trouble in some of the team's most bitter losses. Medford went 7-5 in conference play last winter to finish in fourth place behind Rhinelander (12-0), Lakeland (9-3) and Mosinee (8-4). Klapatauskas expects those teams to be the contenders again. Rhinelander lost its all-time leading scorer Kenedy Van Zile and the reigning co-GNC Players of the Year, Van Zile and forward Cynthia Beavers. Lakeland brings back highly-touted, high-scoring sophomore Julianna Ouimette and loses All GNC first-teamer Abby Parris. Medford opens conference play Dec. 4 at Antigo. Fan attendance is likely to be limited at games for the time being, so fans are advised to watch for live streams of games.
"With the experience we have coming back, I have high expectations and I expect that the players have high expectations. I hope we can live up to them."