Posted on
Raiders sweep major awards in All-GNC vote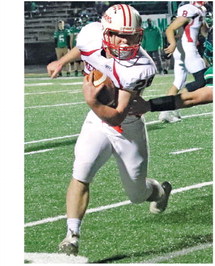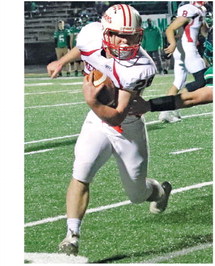 ALL-GNC FOOTBALL
BY MATT FREY SPORTS EDITOR
A second straight year of dominance by Medford is reflected in the 2020 All-Great Northern Conference football teams, where Raiders filled seven first-team spots on defense, four first-team spots on offense and swept all three of the league's major awards.
The Raiders officially went 7-0 in conference play, though one win was a COVID-related forfeit by Lakeland on October 30. All of their wins came by double-digit margins. The last two road games at Ashland (26-11) and Rhinelander (24-7) were four-quarter grinders after the first four games were decided early.
Medford entered the 2020 season, which was shortened to a seven-week regular season by the WIAA, as the overwhelming favorites to repeat as conference champions as they returned 17 seniors from last year's 6-0, 11-1 squad. Injuries and quarantines made for a challenging fall, but in eight games played on the field, Medford went 6-2 with its only losses coming to Rice Lake in two of the Raiders' last three games, including a 20-14 in Level 1 of the WIAA Division 2 playoffs Nov. 13.
Headlining this year's awards for Medford are two-way first-team selections for seniors Brody Doberstein, Joe Gierl and Emett Grunwald, the GNC Defensive Player of the Year award for Grunwald, the GNC Offensive Player of the Year award for junior running back Aiden Gardner and the See ALL-GNC on page 22
Medford's Aiden Gardner gets to the edge and scores a 9-yard touchdown in the Raiders' 24-7 win at Rhinelander Nov. 6 that clinched the Great Northern Conference championship. Gardner is the league's 2020 Offensive Player of the Year.
MATT FREY/THE STAR NEWS fourth GNC Coach of the Year award for 15th-year head coach Ted Wilson, who led Medford to its sixth GNC title in nine years.
After allowing 165.2 yards per league game and 194.6 yards per game overall, the Raiders came up one player short of equaling last year's impressive total of eight first-team defensive selections Grunwald, Gierl, Blaine Seidl and Colton Surek are repeat first-teamers, while Doberstein, Peyton Kuhn and Nate Retterath bump up to join them.
Gierl and Doberstein filled inside positions on the defensive line, Grunwald and Retterath were the defensive ends, Seidl and Kuhn were the team's top two linebackers and Surek was the team's top safety. Medford allowed just 5.6 points per game in league play, never allowing more than one touchdown.
With defensive stats recorded through seven games, Doberstein was Medford's leading tackler with 55 total stops, including 24 solo tackles, six tackles for loss and four sacks. Kuhn recorded 49 total tackles with 20 solos, including eight tackles for loss, four sacks, a fumble forced and a fumble recovered. Surek had 44 total tackles with 24 of them being solo stops. He added two tackles for loss.
Grunwald's Player of the Year honor came after he had 30 total tackles with 20 solos and was constantly applying pressure to opposing quarterbacks. He had four sacks and eight tackles for losses, all in conference play.
Gierl was involved in 37 total tackles, including five tackles for loss, two sacks and eight solo stops. Retterath had seven tackles for loss, three sacks and 13 solo tackles as part of his 27 total tackles.
Seidl, last year's GNC Player of the Year, was well on his way to winning that honor again before a knee injury during the second half of Medford's week-three 48-8 win at Mosinee ended his year. His impact in those three games was enough to still put him on the first team as he returned three interceptions for touchdowns, including two in the season-opening 52-7 win over Hayward-LCO, and had 31 total tackles with 17 solo stops and four tackles for loss.
That wasn't the end of the defensive awards. Senior defensive back Carson Church and sophomore punter Logan Baumgartner made the defensive second team, while senior defensive backs Nate Doriot and Tyler Kapitz got honorable mention.
Through the team's first seven games, Church was credited with 26 total tackles, including 10 solo stops and four passes defensed, including a couple of key ones in Medford's title-clinching win at Rhinelander on Nov. 6. Doriot registered 38 total tackles with 23 of them being solo stops. He had a pass defensed and a pick-six to close the scoring in the win at Mosinee Oct. 9. Kapitz was sidelined by, not one, but two quarantines during the season but he wound up taking the role as Medford's top cover corner by the end of the year. He had two interceptions in Medford's Oct. 23 win at Ashland and held Rhinelander's big-play receiver Jackson Labs to two catches for 13 yards. He was credited with 15 total tackles, six of which were solo, with one tackle for loss.
The left-footed Baumgartner ranked third among GNC punters with a 36.4yard per punt average in league play. He punted 18 times in GNC games. Overall, he averaged 36.7 yards on 22 punts.
On offense
Again relying heavily on the running game, Medford easily had the best offense in the conference, statistically speaking. The Raiders averaged 390.8 yards per game in league play, including 308 yards rushing per game. Overall, in eight games, they finished at 267.9 rushing yards and 84 passing yards per game for a total average of 351.9 yards per contest. Medford put up 31.9 points per game overall and 39.2 points per game in conference outings.
Driving those efforts were a seniordominated offensive line that included Gierl, now a two-time first-teamer at guard and Doberstein at center, who were both unanimous picks by the league's coaches. Seniors Dalton Krug and Abe Miller were second-team choices as well on the offensive line. Behind the holes opened up by their linemen, Gardner and Grunwald were the conference's top two rushers. Gardner piled up 833 yards on 79 carries for a hefty 10.5-yard per carry average in league play and scored 10 touchdowns in six GNC outings. Overall, he just missed a 1,000-yard season, picking up 995 yards on 114 attempts. He scored 11 touchdowns. His season was highlighted by a four-game stretch against Antigo, Mosinee, Merrill and Ashland where he ran for 691 yards and eight touchdowns on 51 carries. That included a monstrous first half in the 43-0 win over Antigo on Oct. 2 where he carried just six times for 222 yards and three long scores.
Grunwald was credited with 598 rushing yards and seven scores on 77 carries in GNC games. Overall, he finished at 667 yards on 97 carries with eight touchdowns. His biggest moments were a 167-yard, three-touchdown performance in the championship-clinching win at Rhinelander that included a big 57-yard touchdown that broke the game open and a 10-carry, 156-yard, two-touchdown effort in a 42-6 win over Merrill on Oct. 16.
Medford's offensive award winners included Surek, a second-team tight end, and Baumgartner at quarterback. Surek moved to tight end after injuries took out fellow seniors Blake Studinger and Riley Herman early in the year. He was a willing blocker and one of the team's leading receivers, hauling in seven passes for 151 yards and two touchdowns.
Baumgartner split quarterbacking duties with Retterath, but he emerged as more of the passing quarterback in the tandem. In league play, he was the GNC's highest-ranked quarterback with a 123.4 rating, just ahead of unanimous first-team pick Michal Dul of Mosinee (122.8). Baumgartner was 21 of 40 in GNC play for 365 yards and five touchdowns. Overall, he was 40 of 74 for 531 yards and six touchdowns. Both of his interceptions came in games against Rice Lake. He was nine of 12 for 74 yards in the finale against the Warriors. he was four of eight for 123 yards in the Merrill win and three of four for 53 yards and two touchdowns in the Antigo win.
Under Wilson and his staff of Greg Klapatauskas, Ross Hackbarth, Kyle Ranum, Alaric Huls and Sam Sawdey, the Raiders extended their GNC winning streak to 13. The Raiders' second straight undefeated run through conference was accomplished despite the aforementioned injuries to players like Seidl, Studinger and Herman as well as senior offensive tackle Jarod Jochimsen, a second-team All-GNC pick last year, who was lost for the year in the seasonopening scrimmage with Stratford.