Posted on
Brost mentioned for GNC's no-tourney 2020 tennis team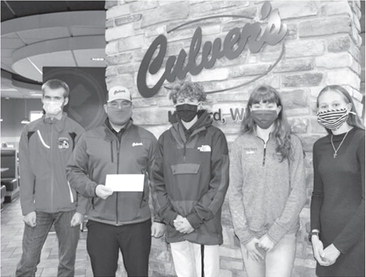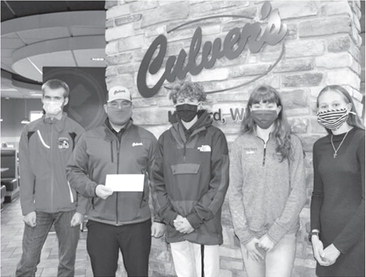 ALL-GNC GIRLS TENNIS
With no conference tournament this fall, the 2020 All-Great Northern girls tennis teams had to be created differently than a normal season.
The end result, recently released by conference officials, left Medford with one representative on the teams, junior Sophie Brost at number-two singles.
Brost received honorable mention in the flight after going 4-3 in GNC matches. She finished behind the flight's first team choice, junior Kaylee Pontell of Rhinelander, and second-team pick, junior Margo Kelly of Antigo. Both of those players defeated Brost in conference play. Pontell was a 6-1, 6-2 winner on Aug. 27 and Kelly was a 6-3, 6-1 winner on Sept. 28.
Brost got the honorable mention nod over Columbus Catholic's Maria Laura Garcia-Moya, who also went 4-3 in the conference and beat Brost 6-1, 6-2 on Sept. 22. Brost got a big conference win over Newman Catholic's Natalie Townsend 7-6 (4), 6-3 on Sept. 3. Also in conference play, she defeated Lakeland's McKenzie Walters 7-5, 6-4, Stevens Point Pacelli's Amelia Jacoby 3-6, 7-5, 6-0 and Sophia De-Byl of Phillips 6-3, 6-4.
Overall, Brost was 8-7 in singles play with all but one of her matches taking place in the number-two flight. In addition to her four conference wins, she notched four straight wins late in the season, beating Aryn Lipke of Barron 6-1, 6-3, Walters 6-4, 6-2 and Kate Eithun of Wisconsin Rapids Assumption 6-4, 6-2 in regular-season play as well as DeByl 6-1, 6-1 in her first WIAA Division 2 subsectional match at Lakeland on Oct. 5. Garcia-Moya got Brost again in the second subsectional round, 2-6, 6-3, 6-3 to advance to sectional play. The Great Northern Conference was again dominated by Antigo and Rhinelander. This year, however, the Red Robins were the ones taking home the conference title by going 7-0 in their dual meets. Rhinelander finished 6-1, followed by Pacelli (5-2), Newman Catholic (4-3), Medford (2-5), Lakeland (3-4), Columbus Catholic (1-6) and Phillips (0-7). Medford jumped ahead of Lakeland in the final standings by winning more matches than the T-Birds (20-19).
Antigo's Avery Nicholson was named the GNC Singles Player of the Year, after going 7-0 in league play, including a big win over Newman Catholic junior Becky Larrain, who was the 2019 Player of the Year. Pacelli juniors Ella Schroeder and Marissa Stolt repeated as the GNC Doubles Players of the Year and will have a shot at a three-peat next fall.
The rest of the first team includes Antigo junior Brechlyn Flannery at number- three singles, Rhinelander freshman Tori Riopel at number-four singles, Antigo's Ellie Preboski and Elli Stank at number-two doubles and Pacelli's Briar Armatowski and Emily Rosenthal at number-three doubles.
Antigo's Aimee Hein was named the GNC Coach of the Year for her efforts in leading the Red Robins past the two-time defending champions from Rhinelander.
Medford finished the 2020 campaign 4-10 overall after a tough 0-8 start. The Raiders placed 11th in the WIAA Division 2 Baldwin-Woodville sectional tournament with 13 points and sent senior Brooke Sommer to the state tournament. Sommer went 3-4 in flight-one singles play within the conference and 6-12 overall. The conference sent several players to state. In Division 2, Larrain and Sommer represented the league in singles play. Both lost their opening matches. Schroeder and Stolt won a doubles match in Kohler, as did Newman's team of Grace and Ava Sukanen. In Division 1 doubles, Antigo's Ellie Preboski and Elli Stank got a first-round bye before losing to Deirdre Martin and Jenna Hausman of Tomah.