Posted on
Tridents send relay team and two individuals to State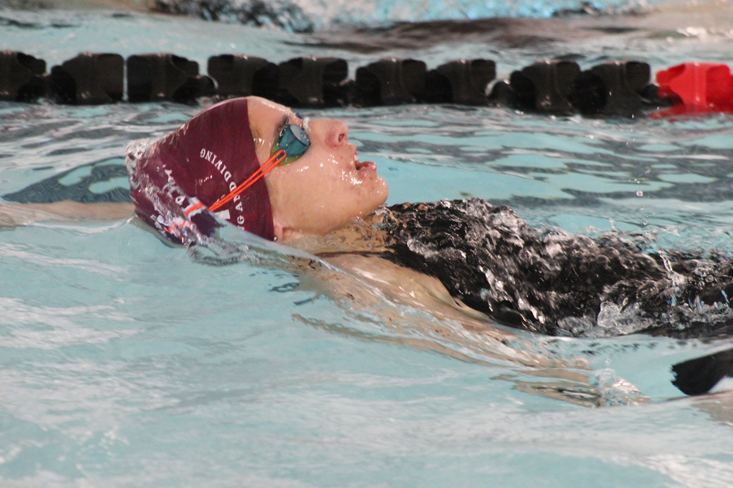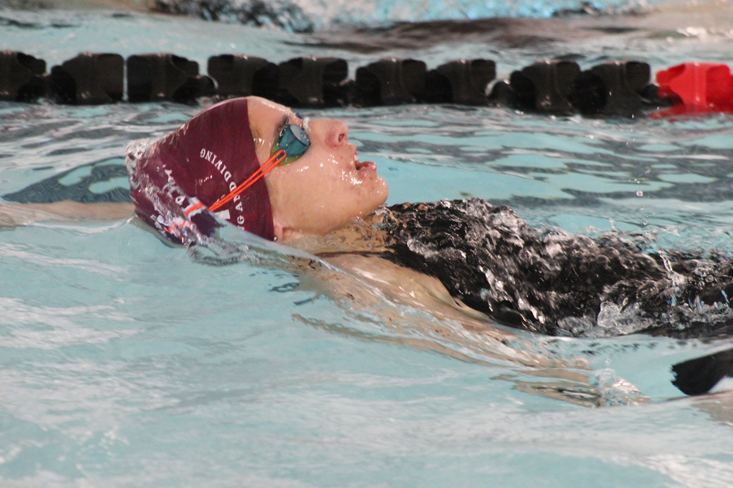 The Lake Holcombe-Ladysmith-Flambeau-Bruce Trident Swim and Dive team competed at the WIAA Sectional meet, with diving Nov. 6, in Ladysmith, and swimming Nov. 7, in Medford.
For the dive competition, the Ladysmith High School pool hosted divers from the Tomahawk, Menomonie, Rice Lake, Colby-Abbotsford and Trident teams. Senior Kitara Fye dove well for the Tridents, finishing the night with a score of 254.65 in her 11 dives.
"Kitara did great tonight and gave it her all," said coach Matt Bunton. "Having started this sport just three years ago, and with no gymnastics background, she has come such a long way and improved dramatically."
Bunton says Fye has even mentored several of the team's younger swimmers in diving and has been an excellent cocaptain this year.
"Kitara has a very bright future, and her presence and leadership around the pool will be sorely missed next year," said Bunton.
Then the swimmers took to the pool the next day, with the Sectional divided into two groups, with half the teams swimming in Rhinelander, and the other half in Medford.
The meet opened with the 200-yard medley relay, with sophomore Madeline Bunton leading off with a 50-yard backstroke, clocking in at 28.84 seconds (a new team record.) Senior Mya Baselt was next in the pool, in the breaststroke, coming in at 34.69 seconds (a personal best time.) Senior Olivia Bunton completed the butterfly leg in 28.96 seconds (also a personal best time.) Finally, junior Brooke Lechleitner swam her 50-yard freestyle leg and posted a time of just 24.41 seconds (also a new team record.) Madeline Bunton and Baselt were up next in the 200-yard freestyle, where Madeline Bunton set another team record in this race, with a time of 1:59.88. Baselt also improved, setting a new personal best of 2:11.23.
In the 200-yard indvidual medley, Federica Santori, O.
Bunton and freshman Madilyn Kempen finished in season best times of 2:28.19, 2:28.30 and 2:36.75, respectively. The 50 freestyle featured Lechleitner setting a new team record, with her time of 24.87 seconds.
Sophomore Sadie Heath also posted a personal best time of 29.09 seconds in this event. The 100-yard butterfly saw Santori and O. Bunton back in the pool, posting personal best times of 1:06.01 and 1:07.79.
Then, Lechleitner and Heath were up on the starting blocks next, swimming the 100-yard freestyle. Each posted personal best times of 55.05 and 1:03.72. In the 500-yard freestyle, Madeline Bunton and sophomore Sanaa Trott competed, finishing in 5:25.03 and 6:29.07.
Madeline Bunton bested her team record and earned Sectional champion honors in the event.
In the 4x50-yard relay, the team of Heath, Trott, Kempen and Santori finished with a time of 1:56.02, all swimming personal bests in this race. The 100-yard backstroke featured Trott and Fye, coming in with time of 1:15.55 and 1:16.70; a personal best for Fye.
Baselt and Kempen were back in the pool for the 100-yard breaststroke, coming in at 1:18.36 and 1:18.00, a new personal best for Kempen.
Finally, the relay team of Lechleitner, O. Bunton, Baselt and Madeline Bunton, competed in the 4x100-yard freestyle. Lechleitner led out with a time of 54.91 seconds. O. Bunton was next, with a time of 1:00.05, followed by Baselt's 1:01.42, and finished up with Madeline Bunton's time of 55:31. All four girls swam personal best times in the race and dropped nearly 9 seconds in this event.
At the end of the night, four of the Tridents earned a trip to the WIAA Division 2 State meet, set for Friday, Nov. 13.
Lechleitner will compete in the 50 and 100 freestyle events, where she is seeded third and seventh, respectively. Madeline Bunton will compete in the 200 and 500 freestyles, where she is seeded fifth in both events.
O. Bunton and Baselt will compete with Lechleitner and Madeline Bunton, in the 200 medley relay and 4x100 freestyle relay, where the girls are seeded 14th and seventh.
"Overall, I am very happy with how our entire team performed…" said Matt Bunton. "We had nearly 100 percent personal bests in all of the races and set several new team records. The girls all raced with confidence and a lot of heart, and I'm very proud of their effort and perseverance this season."
Matt Bunton says the team is very excited for the Tridents' four State qualifiers.
"The girls poured everything they had into those relays today and were met with success," said Matt Bunton. "Olivia, Mya, Brooke and Maddy have been swimming together since they were just grade-schoolers on our FAST swim team, and to know that Olivia and Mya get to finish their high school swim careers at the State meet, is very rewarding. We are all just very happy for these two seniors."