Posted on
put in last week and ….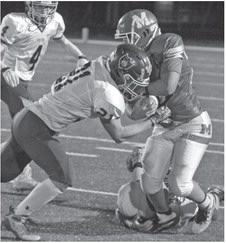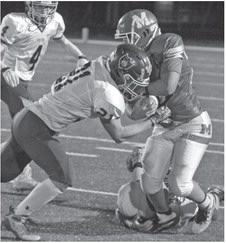 put in last week and it worked twice."
Kroeplin finished with 103 rushing yards on 16 carries and 92 receiving yards on two catches. Boie ran for 74 yards on nine attempts as the Pirates were able to pound the ball through the inside of McDonell's defense for a second time this year. Krizan was four of six in passing for 173 yards and two touchdowns.
Defensively, Rosemeyer said the Pirates changed things up from the first meeting, going away from the two-man front they used in October to more of a three-man front. Both times, Opsal was held in check as a runner. The Pirates limited him to 45 yards on 20 carries Thursday. He did complete 18 of 38 passes for 215 yards, but his damage was certainly limited after the first quarter. The state's leading eight-man receiver, Tetrault, caught 10 passes for 93 yards.
"We did a good job controlling (Opsal)," Rosemeyer said. "We were in good position to tackle him at times, but he's so big that he ran through some of our tackles. The kids executed for the most part very well. It's just that he was able to break our tackles a little bit just because of how big he is. With the pass defense, I thought we got better as the game went on. The kids got a little more confident. I thought Kade Kroeplin made three plays in the middle of the field on some post patterns that were big plays, just knocking the ball away at the last moment from the receiver."
Gilman will suit up one more time, facing Belmont Friday at 6 p.m. in a battle between two of the state's best eightplayer programs. The Braves come in at 6-0 and were a state semifinalist last year. The game will be played at the Woodside Sports Complex in Mauston.
"It's a good way to end the year," Rosemeyer said. "It will be fun to go against what might be the best team in the state eight-man football-wise. We'll get to judge ourselves off of that."