Posted on
Pirates keep rolling after some early adversity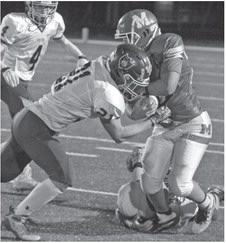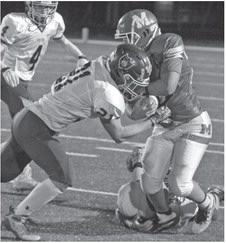 GILMAN 53, McDONELL CENTRAL 14
The rematch looked like it was going to be a closer game when McDonell Catholic Central scored touchdowns in its first two possessions Thursday, but Gilman's defense got back to form after that and the offense kept right on rolling in a 53-14 win at Dorais Field in Chippewa Falls.
The Macks took first-quarter leads of 8-0 and 14-8, but their defense was no match for the Pirates, who scored touchdowns on seven of their first eight possessions and improved to 7-0. One of those seven wins was a 44-8 home win over McDonell on Oct. 16.
Kade Kroeplin was the headliner Thursday, scoring four touchdowns. Brayden Boie added two rushing touchdowns as the Pirates piled up 380 total yards. Those yards were balanced between 207 rushing yards and 173 passing yards.
"It was good for our kids to respond the way they did to get down twice like that and stay with it," Gilman head coach Robin Rosemeyer said. "You have to keep battling through it."
McDonell quarterback Tanner Opsal used a 42-yard pass to Clemett Matthews to set up his 2-yard touchdown run on the game's first drive, which covered 69 yards on eight plays. Xayvion Matthews ran in the two-point try.
Gilman quickly responded with a big pass play of its own. On third and five from the Pirates' 40, quarterback Julian Krizan took a deep drop and unleashed a perfect deep post to Kade Kroeplin, who outran two defenders to the ball and caught it in stride for a 60-yard touchdown. Kroeplin also ran in the two-point conversion on a sweep to the left pylon to tie it at 8-8 with 7:14 left in the first quarter.
Rosemeyer said that play has been in the playbook all season, but it was the first time he's called it.
"To get that pass to Kade for a 60-yard touchdown pass and answer them that put us back in a good frame of mind I think," he said. "They answered right away then too but we answered in a couple of plays. At least it got us in a good mind frame there."
Pass interference and unsportsmanlike conduct penalties piled up 30 yards on the same play on McDonell's next drive. On the next play, Opsal hit his top target, Dale Tetrault for 30 yards to again put the ball at the 2-yard line. Opsal plowed him from there, but this time, Brayden Boie stoned Opsal on the twopoint run, keeping it a 14-8 game.
The Pirates then turned to their ground game to take the lead for good. Boie's 24-yard run was the big play in a seven-play, 65-yard drive that ended with Kroeplin's 2-yard touchdown and Krizan's two-point conversion that gave Gilman a 16-14 edge with 2:59 still left in the quarter.
McDonell threatened to re-take the lead, but Gilman stopped the Macks on downs at the 24-yard line. On first down, Krizan hit Bryson Keepers for a big 50yard pass. Four plays later, Kroeplin scored from the nine. Krizan's twopoint pass in the back of the end zone to Branden Ustianowski gave Gilman a twopossession lead at 24-14.
Another key sequence occurred late in the half. A Gilman punt pinned McDonell on its 13 with 1:49 left and two incomplete passes on a three-and-out series gave the Pirates enough time to strike. Kroeplin's 26-yard return of a 27-yard punt put the Pirates on the 13 with 49 seconds left. Kroeplin ran for six, and Boie pounded his way into the end zone from the eight with 24 seconds left. Gilman led 30-14 at halftime.
It didn't take long for Gilman to put the game away in the third quarter. After Ustianowski barely recovered an onside kick, Kroeplin busted off a 31-yard run on the first offensive play of the half and Boie covered the last 22 yards to paydirt. Krizan's two-point run made it 38-14.
"That was a big deal," Rosemeyer said. "We went from 24-14 to 30-14. Then to start with the ball again in the second half and score, that was a big swing. It put them in a bad spot. We scored on two two-play drives in a row."
The Pirates stopped the Macks on downs and went on another 53-yard scoring drive. An intentional grounding penalty stuck Gilman in a fourth-and-26 situation, but Krizan lofted a perfect touch pass down the left side to Kroeplin, who took the 32-yard reception inside the five after a facemask penalty was tacked on to the end of the play. Kroeplin's 3-yard score on the next play and the two-point pass to Boie stretched the lead to 46-14.
A quick four-and-out gave Gilman the ball at McDonell's 35 and, on third down, Krizan hit tight end Isaac Wininger down the left seam for a 31-yard touchdown that closed the scoring with 5:01 left in the quarter.
This touchdown, as well as the 50-yard pass to Keepers in the first half, were on new additions to the playbook.
"Julian made a nice throw on (the pass to Wininger)," Rosemeyer said. "He just put it right over the top of the linebacker's head. That was a little dive pass we put in last week and it worked twice."
Kroeplin finished with 103 rushing yards on 16 carries and 92 receiving yards on two catches. Boie ran for 74 yards on nine attempts as the Pirates were able to pound the ball through the inside of McDonell's defense for a second time this year. Krizan was four of six in passing for 173 yards and two touchdowns.
Defensively, Rosemeyer said the Pirates changed things up from the first meeting, going away from the two-man front they used in October to more of a three-man front. Both times, Opsal was held in check as a runner. The Pirates limited him to 45 yards on 20 carries Thursday. He did complete 18 of 38 passes for 215 yards, but his damage was certainly limited after the first quarter. The state's leading eight-man receiver, Tetrault, caught 10 passes for 93 yards.
"We did a good job controlling (Opsal)," Rosemeyer said. "We were in good position to tackle him at times, but he's so big that he ran through some of our tackles. The kids executed for the most part very well. It's just that he was able to break our tackles a little bit just because of how big he is. With the pass defense, I thought we got better as the game went on. The kids got a little more confident. I thought Kade Kroeplin made three plays in the middle of the field on some post patterns that were big plays, just knocking the ball away at the last moment from the receiver."
Gilman will suit up one more time, facing Belmont Friday at 6 p.m. in a battle between two of the state's best eightplayer programs. The Braves come in at 6-0 and were a state semifinalist last year. The game will be played at the Woodside Sports Complex in Mauston.
"It's a good way to end the year," Rosemeyer said. "It will be fun to go against what might be the best team in the state eight-man football-wise. We'll get to judge ourselves off of that."