Posted on
Missed opportunities costly as Hawks drop close one to Knights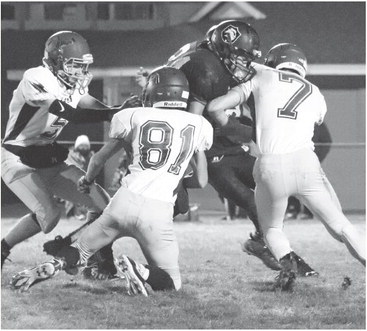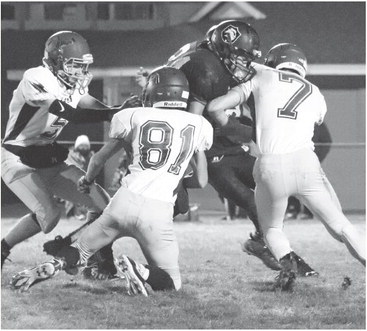 LAKE HOLCOMBE-CORNELL 14, RIB LAKE-PRENTICE 6
Lake Holcombe-Cornell running back Tate Sauerwein was as good as advertised Friday, rushing for 184 yards on 30 carries and two touchdowns while leading the Knights to a 14-6 Lakeland Conference win over Rib Lake-Prentice.
The Hawks did well to keep the Knights out of the end zone on all but two possessions, but two first-half turnovers and their inability to convert on several short third- and fourth-down situations led to them dropping their second straight close decision.
"It takes all three phases to win a game like that," Rib Lake-Prentice cohead coach Jonah Campbell said. "We knew we were going to be in another dogfight, similar to how Webster was (an overtime loss the previous week). It was influenced by a few plays. It comes down to a few plays. If things go this way, we win. If things go the other way, they win.
"In all three games that we've played this year, we felt like we could win and that's a big thing. That's something our players haven't been able to feel."
Sauerwein came into the contest with 910 rushing yards and 10 touchdowns in the Knights' first five games. It didn't take long to see how much they rely on him when he carried the ball on eight of Lake Holcombe-Cornell's 10 plays and threw an incomplete pass on a halfback option on the 11th snap. That came on fourth down from the Hawks' 10 after he was dropped for losses of 3 and 5 yards, the second of which came on a big play by Hawks' lineman Carter Scheithauer.
Sauerwein broke off a 40-yard run on the Knights' second possession, which ended at the 25-yard line one play later when the Hawks' Brock Thiede recovered a fumble by Kaden Crank.
Sauerwein returned that favor by intercepting a pass when Michael Borchardt was hit as he threw the ball, ending a promising Rib Lake-Prentice drive that carried into the second quarter. His 30-yard return set the Knights up on their own 49 and they needed just five plays to cover those 51 yards and score the game's first points. The touchdown play didn't start well with a high shotgun snap, but Sauerwein picked up the ball and bounced outside for the 24-yard score with 4:41 left in the half. The two-point pass failed keeping it a 6-0 game.
The Hawks put themselves in position to answer, driving from their 45 to inside the Knights' nine. The Hawks recovered their own fumble on first and goal. On second down, Lake Holcombe-Cornell defensive back Dylan Bowe made a huge play, punching the ball away from Hawks' ball carrier Sam Gumz as he crossed the 5-yard line and Sauerwein recovered at the two with 45 seconds left in the half, keeping it a 6-0 game.
Rib Lake-Prentice's short-yardage woes in the second half started on the team's first possession when Gumz was stymied on third and one from the 20. A penalty and then a short punt gave the Knights great field position at the Hawks' 36, but Scheithauer pulled down Sauerwein for a 5-yard loss and Yanko sacked him for a 6-yard loss on third down to force a punt that pinned the Hawks on their 11. Borchardt's 5-yard scramble came up a yard short on third and six, forcing the Hawks to punt.
This time, the Knights took advantage of their field position, going 50 yards on six plays, highlighted by a 13-yard run from Sauerwein and a 14-yard run by Brock Flater. Sauerwein's 4-yard touchdown run and his two-point run gave the hosts a 14-0 lead with 1:41 left in the third quarter.
Three plays into the fourth quarter, Lake Holcombe-Cornell's defense made another big stop, stuffing Gumz on fourth and one at the Knights' 35.
"We get stuck in fourth and ones and we're not afraid to go for it on fourth and one," Campbell said. "But a lot of times we were just deep in our own territory. You can't do it on your 30."
Scheithauer's hit on Sauerwein forced a fumble that Thiede recovered at midfield with 7:21 left. But losses of 8 and 2 yards on the next two plays were too much to overcome. The series ended and time quickly started to run out on the chances for a potential comeback.
The Hawks got the ball back one last time with 2:52 remaining at midfield. Borchardt hit Michael Quednow for 23 yards on fourth and 16 to keep hope alive. On third and 22, Borchardt threw a strike down the middle that Gumz hauled in at the goal line despite tight coverage by the Knights to break up the shutout with 56 seconds left. Thiede had nowhere to run on the two-point conversion.
The Hawks didn't come close to recovering the onside kick and the Knights were able to finish things off with two kneel downs.
"The attitude and effort were there," Campbell said. "They pretty much knew we're going to throw at the end and we throw however many pass plays and end up actually hitting on two, one for a touchdown. We knew the guys weren't backing down even though at that point 14-0 kinda felt like a lot to overcome when you had stalled out on offense so many times."
Overall, Gumz ran well when he had room against Lake Holcombe-Cornell's defense. He finished with 85 yards on 19 carries. Overall, the Hawks ran for 140 yards on 39 carries. Already without injured senior Logan Sarkkinen, the Hawks lost junior lineman Grant Craavack to a knee injury early in the fourth quarter. Another problem for the Hawks was the pursuit of Knights' linebackers Sauerwein, Flater and Sam Ewer, who quickly filled several big holes that seemed to be there after the snap.
"Their linemen and linebackers were very good at defeating blocks," Campbell said. Even if they didn't trigger right away, they were attacking who was blocking them, getting their hands off. All of sudden they had three, four or five guys on top of the ball making tackles. Both defenses were decent in swarming to the ball."
The passing game struggled on a cold night in Holcombe. Both of Borchardt's completions came on the final drive as he was two for nine for 68 yards. Ashton Keiser started the last drive with a throwback pass that went for a 6-yard loss.
Scheithauer and Thiede had strong games defensively for the Hawks. Scheithauer was credited with 6.5 total tackles, including five solo stops, two of which went for losses. Thiede had two solo stops, eight assists, a tackle for loss and the two fumble recoveries. Jordan Yanko added three tackles for losses among his four total tackles.
The Knights had 252 total yards.
"We bottled them up quite a bit," Campbell said. "In a full game, only giving them 14 we felt pretty good about that. We stepped up to the challenge defensively."
The Hawks were scheduled to wrap up their shortened regular season Friday with their lone home game, a 7 p.m. kickoff against Flambeau in Prentice. But Flambeau was forced to pull out of the game on Tuesday, leaving the Hawks in search of a new opponent at mid-week.