Posted on
Top-seeded Macks too much for Gilman in regional semis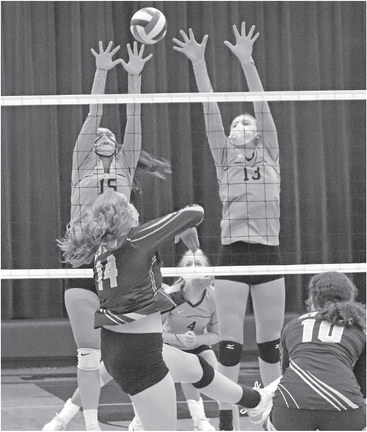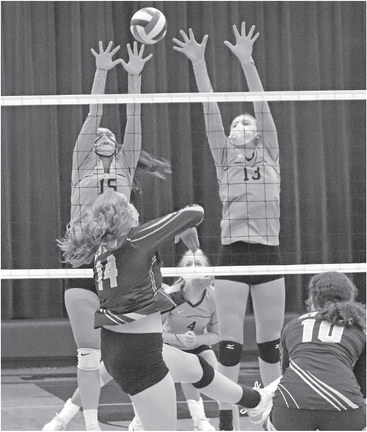 WIAA DIV. 4 VOLLEYBALL
The Gilman Pirates took their best shot Thursday and got closer in each set, but the top-seeded McDonell Central Macks just weren't going to be beaten in the WIAA Division 4 regional semifinal match.
Led by 33 assists, eight digs, seven aces and three kills from standout Maggie Craker, McDonell took care of the Pirates 25-8, 25-14, 25-20, ending Gilman's shortened season at 5-6.
"They were ranked second in the state in Division 4 going into the playoff stretch," Gilman head coach Janice Komanec said. Last year, Gilman was taken out by number-one ranked Clear Lake. "We talked before the match about the importance of bringing our best –– our best play, our best aggressiveness, our best teamwork and to be dependable and accountable to one another. This group can play a high level of volleyball, but right now it is in stretches. We need to improve upon that so we are at our highest level at all times. That comes from experience but also confidence."
Aubrey Syryczuk and Tatum Weir were Gilman's leaders in kills with five each. Emma Grunseth had four, Gracie Tallier had three, while Ava Gunderson added two and Hannah Vick had one. Madisyn James had eight assists and Grunseth had seven.
Syryczuk also was the team's ace leader with three. Tychelle Duellman served two, while Ellie Drier, James and Grunseth had one each. Syryczuk had 10 digs and Drier had nine, followed by James with five, Tallier with four and Duellman with three.
Marley Hughes and Sidney Rice had 10 kills apiece for McDonell. Ella Haley had four aces.
McDonell (18-1) went on to sweep second- seeded Cornell 25-16, 25-15, 25-19 in Saturday's regional final. The Macks are the second seed in the sectional bracket and host third-seeded Northwood to- night, Thursday, in a semifinal match. Fourth-seeded Mercer and top-seeded Turtle Lake meet in tonight's other semifi nal.
Gilman, meanwhile, had no seniors on its roster this season and could bring everyone back in 2021, which everyone hopes will feature a more normal format and off-season this summer.
"Overall, we had some great volleys and moments against McDonell where our girls shined as a team," Komanec said. "The girls could see the areas they were strong and successful in, and I hope those moments and the pride that came with them give them motivation to reach the potential they are capable of next year."
Gilman 3, New Auburn 0
In the regional opener, which was postponed a day to Wednesday, Oct. 21, fourth-seeded Gilman had little trouble with fifth-seeded and visiting New Auburn in a 3-0 sweep.
Gilman took advantage of the sophomore- dominated Trojans with strong serving and more aggressive play at the net to earn 25-13, 25-11 and 25-18 set wins.
"We were able to control the pace of the match with New Auburn for most of the night," Komanec said. "We had to focus to make sure we played at our level and speed of play regardless of New Auburn's pace. Our serving was strong and able to earn points for us."
The serving make its mark immediately as James served the Pirates to an 11-0 lead in game one. Half of those points came directly on the serve as James either hit or spot or the Trojans misplayed the receive. Kills by Gunderson and Syryczuk helped stretch the lead to 17-6. Weir got a block kill and an offensive attack off an Grunseth assist for a 20-7 lead. Grunseth faked a set and got a tip to fall and Weir got an easy tip off a free ball to make it 23-9. Weir added a kill and Gunderson's push got the clinching point.
The Pirates were a bit sluggish to start game two, but they found their stride midway through. After they trailed 6-4, Grunseth served them to a 12-6 lead, aided by three aces. New Auburn got within 13-8, then the Pirates went on a 12-3 tear to win the set, highlighted by kills from Weir and Syryczuk.
Tallier had a couple of big kills early in game three as Gilman took a 9-5 lead. Strong serves by Morgan Berg pulled New Auburn within 17-14 before Syryczuk connected on a back-row attack, assisted by Tallier, and Syryczuk banged a Gilman
kill off a blocker to restore order for Gilman. Kya Dietzler and Syryczuk added late kills as Gilman closed things out and improved to 5-5 for the season.
James led the servers with six aces. Grunseth had three, Tallier and Drier had two each and Duellman had one. James also had nine assists, while Grunseth added seven.
Syryczuk notched six kills, Weir had five, Tallier and Grunseth had four each, Dietzler had three and Gunderson had two.
Syryczuk had 11 digs and Tallier had six. Weir and Grunseth both had two blocks and Vick had one in a match that didn't have the intense feel of a typical playoff contest.
"We talked about needing to gain momentum and confidence in that match to carry in to our potential Thursday evening match with McDonell as the atmosphere and level of play was going to be much different," Komanec said.