Posted on
Pirates clinch outright CWWC title with big first quarter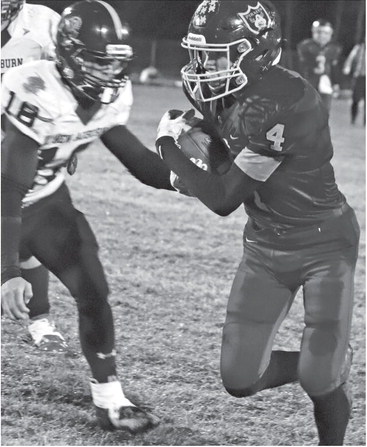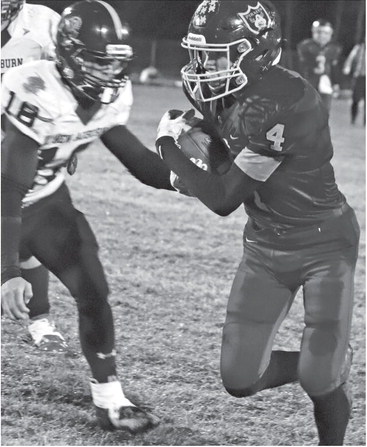 GILMAN 65, NEW AUBURN 6
During the summer and early fall when they were waiting out a WIAAmandated COVID delay, the Gilman Pirates felt they were in a state of preparing for the unknown as they got ready for their first fall of eight-player football in the Central Wisconsin West Conference.
Five weeks in, one thing is crystal clear now. The Pirates had no equal in their first year of eight-man conference play.
Gilman completed league play at 5-0 Friday with a 65-6 win over New Auburn that was basically over a few plays after it started. The Pirates were up 30-0 after one quarter and 45-6 at halftime despite running only 14 offensive plays, a result of the defense and special teams setting the offense up in great position to score.
The conference championship is Gilman's first title in football since 2010.
"It means a lot," senior co-captain Brayden Boie said. "Watching us progress throughout the entire season, even with freshmen stepping up and coming in when we had kids down and injured, it means a lot."
"I had a good feeling about this year," the other senior co-captain, Kade Kroeplin said. "I knew we were going to do good. We had fast kids."
Speed certainly mattered more than size for Gilman in its dominant run. The Pirates outscored their five CWWC opponents 255-14. The Pirates used their athleticism to create big plays on offense and make themselves virtually unblockable on defense.
"You don't need size to play football," Boie said.
"We honestly play with heart too," Kroeplin said.
"We didn't know what to expect from anything this year," head coach Robin Rosemeyer said. "I think it showed that we had some very athletic kids as opposed to some other teams. Maybe other teams had more numbers-wise or sizewise, but our athleticism maybe sticks out a little bit. We have some versatile kids. They're intelligent and they're athletic. So that put us in a good spot when we'd step out onto the field to be successful because of those three qualities that our players bring with the versatility, athleticism and intelligence.
"It's a good accomplishment for the team not knowing what to expect and making a good showing in those first five games like that."
Boie and Kroeplin said the defensive philosophy has been to make opponents feel like they're playing against an 11man defense.
"It looks like we're playing with 11," Boie said. "Everybody's doing their job. On the defensive line everybody's filling their gaps, so they can't run right up the middle. They have to bounce it outside where we've got outside linebacker help. If anything gets past the outside linebacker we've got safeties, cornerbacks. Everybody is coming in to help to get the guy stood up."
The tone in Friday's win was set by two impactful punt returns.
The defense forced a quick three-andout and Kroeplin's 38-yard punt return put the ball on New Auburn's 9-yard line. Kroeplin lost a yard on first down but quarterback Julian Krizan, who was able to take snaps with a protected left hand after breaking a bone the previous week, rolled left and scored from the 10 on second down. He passed to Kroeplin for the two-point conversion and an 8-0 lead just 2:37 into the game.
After another quick stop by the defense, New Auburn punter scrambled to pick up the football after a high snap and got off a short kick that was headed right toward the sideline.
An alert Bryson Keepers located the ball, caught it and ran 41 yards up the sideline to the end zone. Krizan's twopoint pass to Boie made it 16-0.
"On the first (return) there was a nice wall for Kade that allowed him to get to the sideline and get down to the nine," Rosemeyer said. "On the second one, we were yelling at (Keepers) to get away on the short punt. He made a good decision to catch it and go because he did have some space to operate. It was a heads up play."
The next two Gilman touchdowns were set up by the defense.
First, Zack Marion recovered a fumble on the Trojans' 37. A 25-yard pass from Krizan to Keepers set up a 4-yard touchdown run for Boie. Krizan ran in the two-point conversion. Two snaps later, Branden Ustianowski intercepted a tipped pass and returned it 22 yards to the 10. On third and goal, Krizan hit Boie at the right pylon for a 6-yard touchdown to make it 30-0 with 4:09 still left in the first quarter.
New Auburn answered with its main offensive highlight of the night, a grindit- out, 17-play, 70-yard touchdown drive that took 9:55 off the clock and marked the first first-half points Gilman has allowed this season. The Trojans converted three fourth downs on the drive and eventually ended the drive with a 7-yard touchdown from Braden Johnson with 6:14 left in the half.
"Give them credit," Rosemeyer said. "When it was 30-0 they put together a nice drive in the second quarter to score. They got four first downs, they converted three fourth downs on that series. They didn't quit after getting down. They kept fighting."
Unfortunately for New Auburn, it took Gilman just two plays to get those points back when Krizan rolled right and went 65 yards for a touchdown. Krizan ran the ball only two times in the game, but both went for touchdowns.
"That was just good boot keep," Rosemeyer said. "We got a good hook block from the tight end, Bryson Keepers, and then the two guards (Braeden Person and Bryce Chovan) and were able to get outside and take care of the cornerback and safety. It just opened up down the sidelines for him. Three big blocks were needed to spring him to the outside. All three guys got it done and Julian had the speed to finish it off."
A dropped punt snap gave Gilman a short 20-yard drive that resulted in a 19-yard pass to Kroeplin and Kroeplin's 1-yard touchdown with 35 seconds left in the first half.
After a good kickoff return by Krizan to start the second half, the Pirates went 45 yards in six plays, getting a 4-yard touchdown run from Keepers. A fourthdown stop led to a 31-yard drive that included a 5-yard penalty and then a 36yard scoring burst from Grady Kroeplin that made it 58-6.
Freshman Troy Duellman scored on a 30-yard touchdown run to close the scoring with 9:57 left.
Gilman had just 19 rushing attempts, but the Pirates gained 215 yards on those carries. Krizan ran for 75 yards and Grady Kroeplin ran for 66. Krizan completed all three of his passes for 60 yards.
New Auburn gained 143 yards and lost a yard on its only pass completion. Bruiser Nick Walker led the Trojans with 58 yards on 20 carries.
Gilman moves on to non-conference play for the next two games starting with a 6 p.m. game tonight, Thursday, at Clayton.
"It's nice to step out of conference now," Rosemeyer said. "We're treating this as a Level 1 playoff game because this could have been a possible matchup with us being undefeated and maybe getting a higher seed and Clayton was 3-2 in their conference. Normally we'd probably be hosting in a situation like that, but we're excited about the opportunity to go up there. We've only had one road game this year. It will be nice to get tested on the road. I think the kids are looking forward to that."