Posted on
Falcons clipped by Knights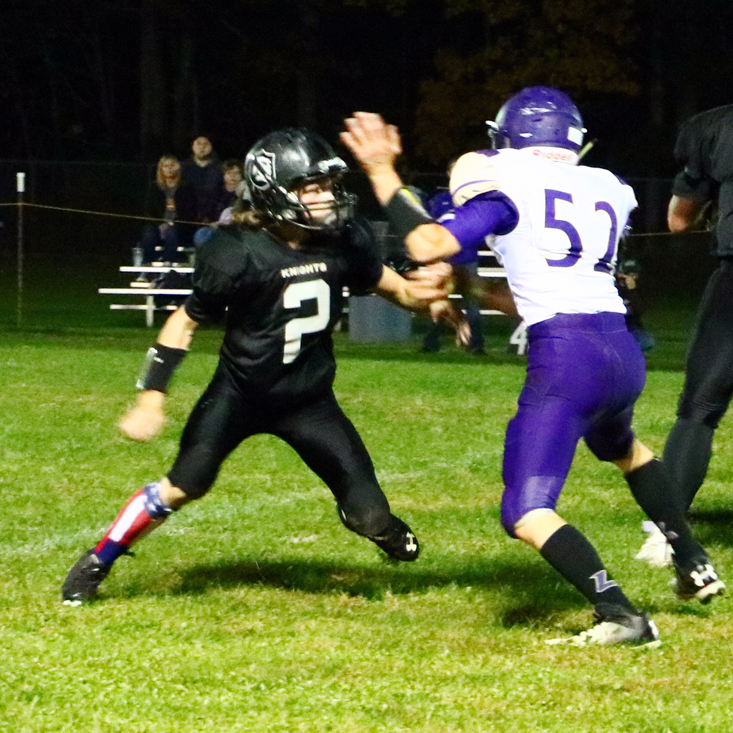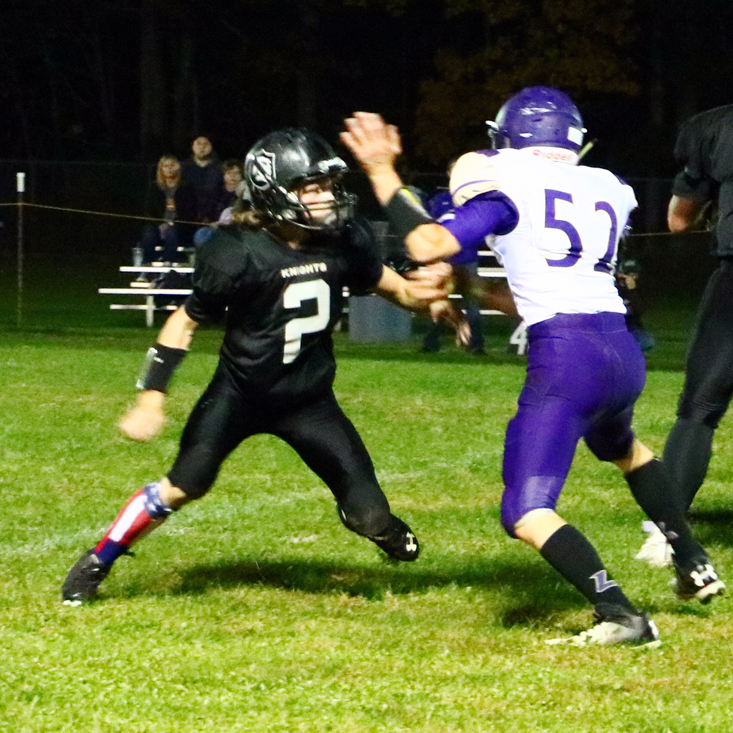 By Ginna Young
The Flambeau Falcons came to call on Cornell-Lake Holcombe football team, Oct. 23, in an East Lakeland Conference match-up. On Lake Holcombe's snow-spotted field, the Knights dominated over their opponent.
In the first quarter of the game, neither team scored, but things starting heating up before halftime.
The Knights struck first in the second quarter, with a 5-yard pass from junior Colton Minnick to senior Tate Sauerwein, for a touchdown completion. The two-point conversion was good and Cornell-Lake Holcombe was up, 8-0.
Flambeau answered back with a touchdown of their own and a two-point conversion, to tie the game. That would be it for the Falcons on offense.
Coming out of halftime, the Knights again saw Sauerwein connect with the endzone in a 66-yard run. The extra point was good and Cornell-Lake Holcombe was up, 14-8.
Sauerwein wasn't finished there, as he ran for 75 yards in the fourth quarter, for yet another touchdown. That made the score 20-8 and that's the way it stayed, as the Knights improved their record to 3-2.
The Knights ended the game with 267 yards and while Flambeau had 183, the Knights' defense wouldn't let the Falcons capitalize on their yardage.
Finishing the night, Sauerwein led his team with 223 rushing yards, while senior Brock Flater added 4 yards. Sauerwein also had 5 yards receiving and 34 yards passing.
Minnick recorded 10 yards passing. Junior Sam Ewer led with 34 yards receiving and sophomore Avery Turany ended with 5 yards.
On kick returns, senior Austin Bowe had 8 yards, while sophomore Max Sauerwein returned for 4 yards.
On the defensive side, Sauerwein had 6 tackles and senior Ian Lebal had 5. Ewer, Minnick and sophomore Parker Miller contributed 2 tackles each, while Flater and senior Will Kliegle chipped in with 1 each.
Cutline: Senior Ian Lebal looks to block his opponent during a play Oct. 9, as Cornell-Lake Holcombe hosted Ladysmith. The home team prevailed, picking up their first win, 22-8. Photo by Ginna Young