Posted on
After one-day delay, Medford is girls runner-up, Sullivan wins subsectional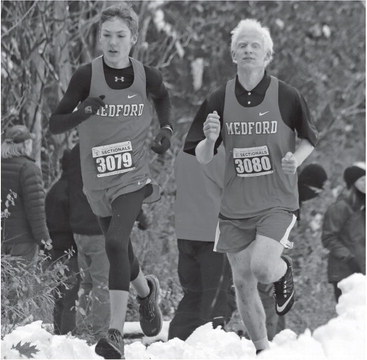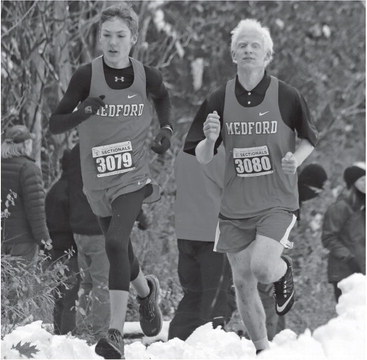 WIAA DIV. 1 MEDFORD SUBSECTIONAL
SPORTS
Medford's WIAA cross country postseason began with a bump up to Division 1, an October snowstorm, a one-day postponement and a meet where no one was certain how they stood when they ran or when they finished.
Welcome to the bizarre year of 2020.
Nine teams, split into two groups competed in the WIAA Division 1 Medford subsectional on Wednesday, Oct. 21. When all the results from the two sessions were compiled a couple hours after the meet was done, the Raider girls qualifi ed for a team spot in the sectional meet, hosted by Chippewa Falls on Saturday, while Joe Sullivan also made it as the subsectional champion.
The meet was held a day later than anticipated due to the Oct. 20 winter storm. Lots of volunteer work went into getting the actual course trail cleared of snow by Wednesday's 1:30 p.m. first race. Spectators, however, had to trudge through a couple inches of snow on the rest of the grounds to get to their viewing spots.
"Having the meet be two completely separate events added another layer or uniqueness to the event," Medford head coach Kevin Wellman said. "After the first two races concluded, no one knew what to think until after the final two races. This was also impossible for spectators as they were not allowed to be at both events. When the running finally ended and the last mud puddle was trodden a few things seemed very clear."
For the first time this fall, the girls didn't win their meet. But their 51 points easily earned them the top-two finish required to advance as a team. Marshfield won the meet with 42 points. No one else was close as Mosinee (107), Lakeland (112), Wausau East (134), Wausau West (159), Rhinelander (164), D.C. Everest (170) and Merrill (218) rounded out the field.
Marshfield ran with the early group and Medford ran in the late group, so runners and fans weren't truly able to compare the teams head to head. But, in the second race, Medford was the clear winner. Freshman Meredith Richter had one of the most impressive in her short prep career, finishing second among the group and fourth overall once the times were tallied at 20:29. She pulled away from Great Northern Conference champion Kate Melms, beating her by 15 seconds. Medford's senior standout Alicia Kawa was fourth in the group and sixth overall at 20:59. Jennifer Kahn made a strong push at the end and caught Lakeland's Grace Kern to finish 11th overall in 21:15. Bryn Fronk (21:36), Ellee Grunwald (21:46) and Brooke Rudolph (22:10) finished consecutively as the seventh through ninth finishers in group two. They were 14th, 16th and 18th overall. Medford's Ella Daniels placed 41st out of 63 runners. The freshman had a time of 23:15, just 10 seconds off her season best despite the slow track.
Merrill's Elizabeth Schmidt blew away the group-two field with her time of 19:39. She won the meet with a time that was six seconds faster than groupone winner Sara Mlodik of D.C. Everest. They earned two of the five individual sectional berths from this meet. Melms was fifth overall at 20:44 to advance. Mosinee's Kate Fitzgerald, who was 10th overall at 21:12, and Kern (21:15) also moved on.
Coming off a fight to the finish with Tomahawk's Noah Buckwalter in the Oct. 15 Great Northern Conference meet, Sullivan had no trouble in the group-two boys race, finishing in 17:33, 52 seconds ahead of Lakeland's Owen Clark. In the final results, he was declared the winner by six seconds over D.C. Everest's AJ Appel and nine seconds over Everest's Lucas Allen.
The boys knew moving up to Division 1 would be a big challenge for them. They finished fifth in the meet with 124 points, winning the sixth-man tiebreaker with Wausau East. Mosinee (181), Merrill (194) and Rhinelander (incomplete) finished behind the Raiders. Wausau West (46) and D.C. Everest (68) earned the sectional team berths. Lakeland (77) and Marshfi eld (107) were third and fourth.
The group-two boys race was the last of the day on the course and the times were certainly off the usual pace for most runners.
Tanner Hraby closed his stellar freshman season with a solid 14th-place finish out of 60 runners with his time of 18:58. He was five seconds away from the top 12 and 15 seconds away from the top 10. The 10th-place runner, Zander Nilles of Wausau East (18:43) was the last of the five individual sectional qualifiers.
Senior Jack Tlusty was 34th in 19:58 and senior Logan Searles had a bounceback meet after the GNC race, taking 38th in a solid 20:15, considering the conditions.
Freshman Logan Gubser was 41st in 20:21, sophomore Tristan Price hung in the upper half of the group as long as he could before tiring late and taking 43rd in 20:23. Freshman Nathan Willman was 55th at 21:49.
Wausau West's Caleb Cychosz (17:49) and Ben Stangel (17:56) were fourth and fifth overall. Also advancing to the sectional were sixth-place finisher Henry Hoerneman of Marshfield (18:11), Clark, who was seventh in 18:25, and ninth-place finisher Scott Balas (18:42) of Lakeland.